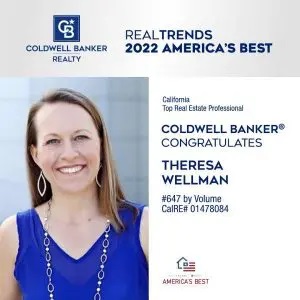 Theresa Wellman runs the Homeowner Experience real estate sales team in San Jose, California. Theresa is a highly-driven business woman whom clients say is extremely organized and efficient, yet personable and fun.
Starting as a full-time real estate agent in 2005, Theresa has refined and developed custom processes over the past 18 years to guide client's step by step through their home buying or selling experience. Theresa is a self-professed data nerd with skills developed from her BS in Mechanical Engineering from Santa Clara University, as well as 6 years in the Silicon Valley high-tech corporate world at Hewlett Packard and Agilent Technologies. Once an engineer, always an engineer and you will see this in Theresa's detailed understanding of the local market data as well as process checklists to make sure no detail is missed! It's rewarding how real estate provided an opportunity for her to merge statistics, technology, and community altogether!
Theresa consistently achieves top agent recognition with the last 2 years including top 1% nationwide status! 65-70% of Theresa's business is representing sellers with the balance being home buyers.
Theresa offers full-service process guidance for both buyers and sellers whether first-timers or those with some experience. Theresa's passion is to provide an exceptional real estate service above and beyond the norm using experience and facts (including market stats and marketing analytics). Theresa's listing package includes marketing targeted at today's tech-savvy buyer including video, 3D tours, floorplans and a full professional suite of marketing offerings that far exceeds the typical agent's marketing plan.
Personally, Theresa loves gardening, cooking, playing sports with her kids and being active outdoors whenever she can including her regular HIIT (High-Intensity Interval training) workout class early in the morning.
Theresa knows the intense demands of a Silicon Valley tech job today since her husband works at Apple. She's a typical on-the-go tech-savvy working professional in Silicon Valley, connected via mobile phone and Apple watch, enabling her to be reachable and efficient at keeping in touch with clients.
Theresa and her family live in Almaden Valley of South San Jose, CA and have two school-age kids. As a family Theresa, Ryan and her kids love to float in their backyard pool, entertain friends and escape in their RV for camping and exploring fun. The whole family also loves hitting the Tahoe ski slopes together! Theresa is currently a member of Santa Clara County Association of Realtors, California Association of Realtors, and National Association of Realtors. She's also active in the community and continually volunteer with her kids' schools, beautifulday.org, the Martin-Fontana Parks Association and TJ Martin Park Neighborhood Association.
Theresa serves San Jose CA including Almaden Valley, Cambrian, Willow Glen, Blossom Valley and Campbell CA.