Where is the Almaden Valley Community Center Located?
The Community Center sits right in the center of the Almaden Valley, off Camden Ave near Almaden Expressway at 6445 Camden Ave, San Jose, CA 95120.
Overview of the Community Center
The Almaden Community center is not only centrally located but diverse in opportunities! Enjoy various locally funded programs, including the Almaden Branch Library and the attached park, Parma Park. The community center also offers adult computer classes, Almaden Senior programs, summer camp options and more.
Almaden Valley is an area that is physically split, being about half urban city-like setting, and half rural green areas, and the Almaden Valley Community Center and park perfectly creates a mini version of the larger Almaden Valley area. Enjoy the green park covered in natural scenery, and the large modern community center right nextto the park splitting the area in half. The contrasting sides show the natural beauty of the Almaden Valley, to the present-day urbanized hub of homes and businesses.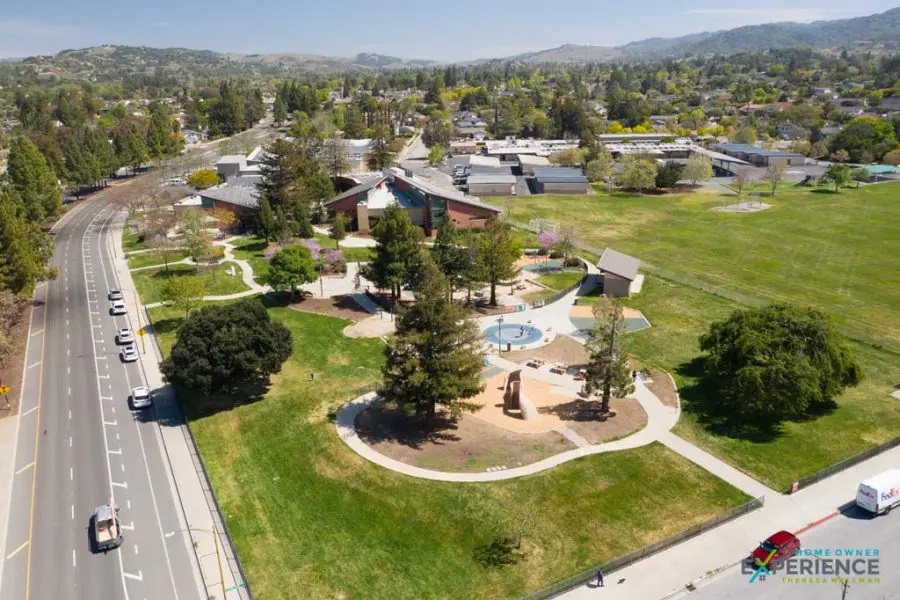 About the Almaden Valley Community Center
This Almaden Valley community center has many public offerings, such as the amazing green field surrounding the main building, the water park, rock climbing area, a gym and a dance studio. There is an abundance of parking for people to enjoy many different publicly funded activities, as individuals or as families. There are specialized activities for all age groups, from elementary to high school children, and even specialized programs catered towards senior citizens. Here you can learn about nutrition, computers, arts and crafts, or simply enjoy the atmosphere.
The surrounding area is warm and inviting, the community center is situated right besides an elementary school, and the neighborhood is visually appealing and seems to have a sense of community. In the area, you will see families out and people with their dogs and other pets taking walks around the neighborhood or visiting the park.
This community center feels like a central community center for the greater Almaden Valley and can be the location for many great memories. Bring your family and friends for picnics, birthday party celebrations, and just a day out in the sunshine. The center itself has wifi and a small cafe, making this center great for a coffee break away from work, or even calming atmosphere outside of the house to boost your productivity.
The park's scenery is great for one to sit outside and enjoy the weather, especially during the bright spring or summertime, and the community center's artsy modernist architecture makes the location feel more welcoming and attractive. Find a reason to stop by and check out the park and interior of the community center, you won't regret it. Whether you want to bring your children to a new learning atmosphere, exercise alone, or enjoy a nice day outside without having to travel too far from home, the Almaden Valley Community center is a great public area for individuals and families of all ages to enjoy.