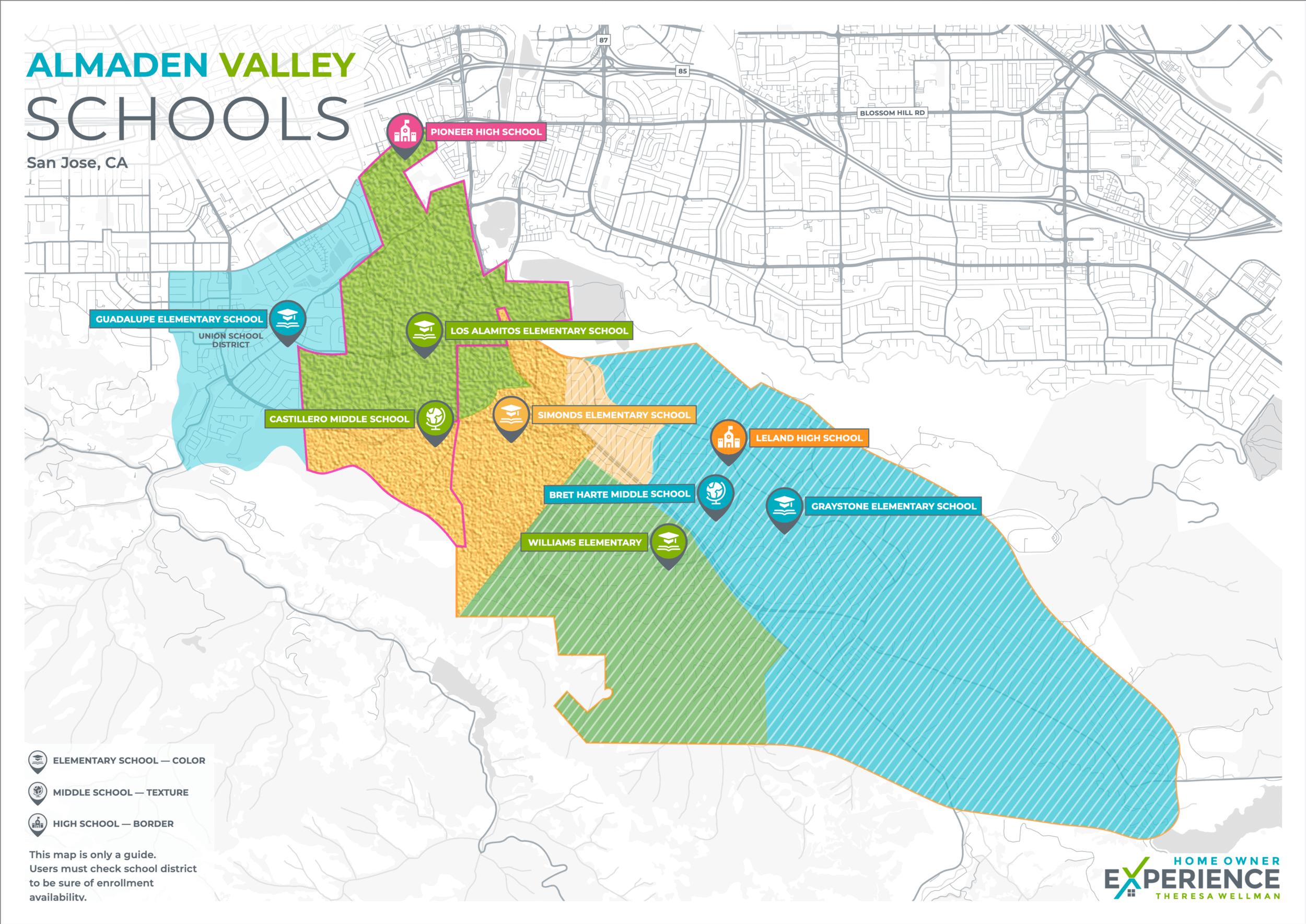 Almaden Valley School District Map

Almaden Valley Schools are a huge reason many people move to the Almaden Valley area. As shown on the Almaden Valley School District map above, this highly-sought-after area is located in the southern Santa Clara Valley foothills with a wide variety of home options. The 55,000+ residents appreciate this area as one of the Best Neighborhoods in San Jose. The school district is called San Jose Unified School District with a small portion covered by Union School District.
Find the homes available for purchase today on the Almaden Valley Homes for Sale page.
Watch our videos giving an overview of Almaden Valley including the Schools and Neighborhoods.
For an overview of each school, visit the Almaden Valley schools page.
Are you looking for a place to call home within the Almaden Valley school district?
Rentals in Almaden Valley schools are tough to come by. There are no apartment communities in Almaden Valley so rentals will be individual properties. These properties can be searched for on public websites or by using a property manager who focuses on the area. Please let us know how we can support you with these local connections.
If you are looking to purchase a home in Almaden Valley schools, there are a wide variety of home types, sizes and budgets. Be sure to always check the address of your target property on the district school locator site to verify attendance.
Condos and townhomes are located in several areas throughout the district for more affordable Almaden Valley homes for sale. Watch our video on Affordable Neighborhoods in Almaden Valley where we highlight some of the neighborhoods that have the best deals.
Served by Los Alamitos Elementary, find the Peppertree townhomes off Meridian and Kooser area. Also the Villas of Almaden are larger townhomes off Meridian Ave between Coleman Rd and Redmond Ave. Find duplexes off El Paseo Drive on Kelez Dr and Court.
Served by Simonds Elementary take a look at Sunrise Almaden townhomes off Redmond Ave, near Almaden Expressway.Also there are several townhome communities on Trinidad Drbehind Country Inn or just off Trinidad on Trevino Terrace. You can also find some duplexes off Crown Blvd too.
Served by Graystone Elementary there are townhomes at Almaden Village near Almaden Village Lane.
Served by Williams Elementary find the Copperwood Community at the corner of Crown Blvd and Trinidad Dr, or nearby duplexes on Crown Blvd (school line is in the middle of Crown Blvd). Also there are homes in the Silvercrest condo community off Rajkovich and Calcaterra Dr or California Ridge on Copper Peak Lane and neighboring streets.
There of course are many single-family homes as well ranging from 3 bedrooms, 2 bath about 1600 sqft all the way up to large estates behind the Almaden Valley country club. Budgets for single family homes start at $1,400,000 and up. Explore the different areas of Almaden Valley by taking a driving tour on our YouTube channel or reaching out for a custom buyer discovery call.
Our personal favorite areas in Almaden Valley Schools are the Country Club area, Almaden Meadows or Jeffrey Fontana Park neighborhood.
Depending on your home budget, we can help find the right area for you. Please let us know how we can support you in your Almaden Valley Schools home search.
Find the homes available for purchase today on the Almaden Valley Homes for Sale page.