A Home Warranty And Home Insurance: What's The Difference?
Posted by Theresa Wellman on Friday, October 8, 2021 at 7:02 AM
By Theresa Wellman / October 8, 2021
Comment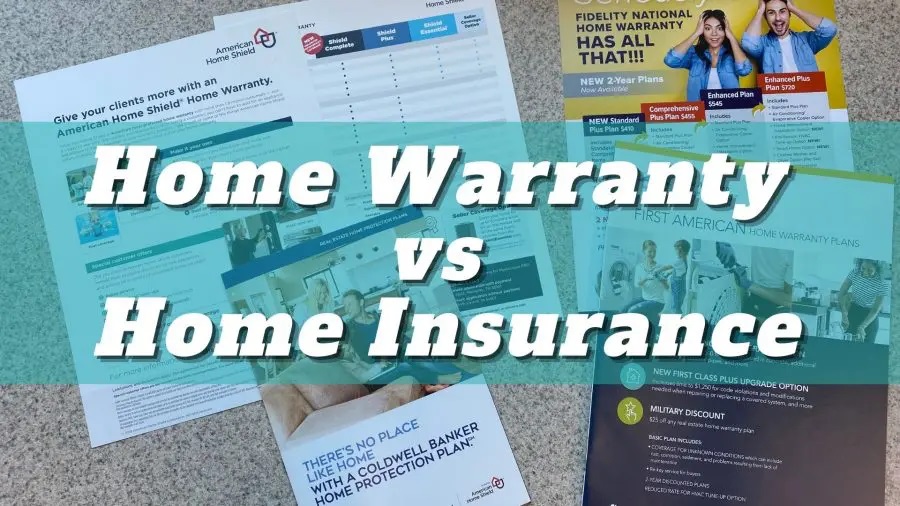 Many home buyers ask about home warranties. Is it worth it? Who pays for it? What's the difference between a home warranty and home insurance?
What is Home Insurance?
Home insurance is what banks require to insure your home against sudden hazards. For example, a storm, a fire, a burst plumbing pipe. Those are things that you need home insurance on because they're drastic changes that likely caused big damage and your bank's going to require to protect your investment.
What is a Home Warranty?
A home warranty is an optional service contract on your property to fix any maintenance or repair items that are necessary. These are not necessarily sudden changes but items that are smaller but affect the function of the property.
You may wonder, is this really needed? With Theresa Wellman's (and Homeowner Experience team) 16+ years of real estate experience, there have been many times where a home warranty has come in extremely handy.
Here's a real-life example. Theresa sold a condo and on close of escrow day, the hot water heater burst! So, whose responsibility is it considering that's the day of transfer? Is it the buyer's responsibility or the seller's responsibility? Thankfully a home warranty was in place and it got fixed, no blame and no hassle.
Imagine if the heater stopped working in the middle of winter, who would you call? If you have a home warranty, they can identify a repair person for you and have them come out for one low fee. You call and pay the service charge for someone to come out and fix it without much hassle. If it's a significant failure, the home warranty might even replace the item for you, all-inclusive in that program.
Here's another actual story from one of Homeowner Experience's clients. Theresa has several situations where the seller is staying in the property after the closing of escrow (the seller negotiated a lease back from the new owner to help with their move transition) and something has failed in the property. The seller no longer is the owner and is trying to focus on their move. The buyer hasn't moved in yet, but technically the buyer's a landlord for a short amount of time. So, what happens when something breaks during this scenario? Who's responsibility is it? Technically, it's the new home buyer's responsibility.
A home warranty is great because you pay the service charge, and someone is scheduled to come out and fix it.
Who Pays for the Home Warranty?
In terms of who covers and who pays for a home warranty, it's negotiable in the California residential purchase contract.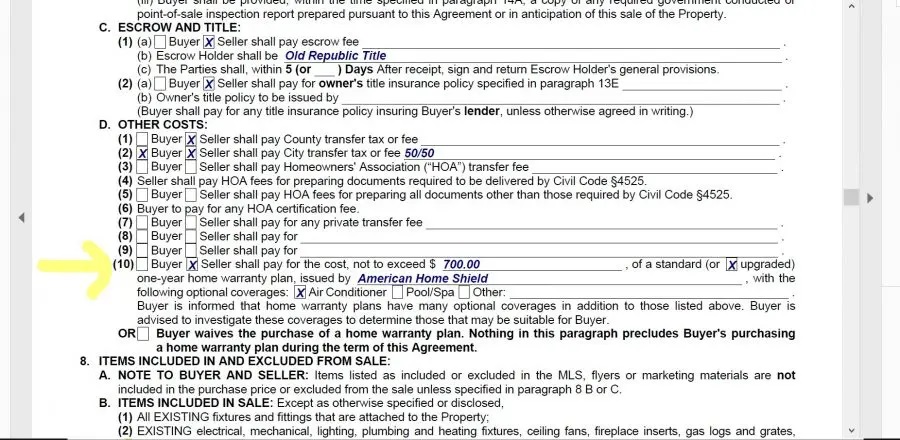 As you can see here, there's a check box in paragraph 7D10 for you to check whether the buyer is paying, the seller is paying, or if the buyer chooses to waive the home warranty.
The only reason to waive a home warranty is when you have enough funds to cover unexpected repairs and you're comfortable as a homeowner with your favourite contractors to call on. If you're a first-time homebuyer, you want a home warranty.
What Do Home Warranties Cover?
There are several different companies that are available to provide home warranties to buyers through the escrow process. Home warrantied go into effect the day of the close of escrow. A common question is, how long is the warranty good for? The warranty is good for one year (unless renewed again).
Usually, home buyers feel pretty settled in their homes after a year. They understand how things are working and if any repairs are necessary after that, they feel like they know who to call, but that might not always be the case. You may still want that assurance that you just have to pay a certain amount for someone to fix it and not worry about finding your own contractor or service person.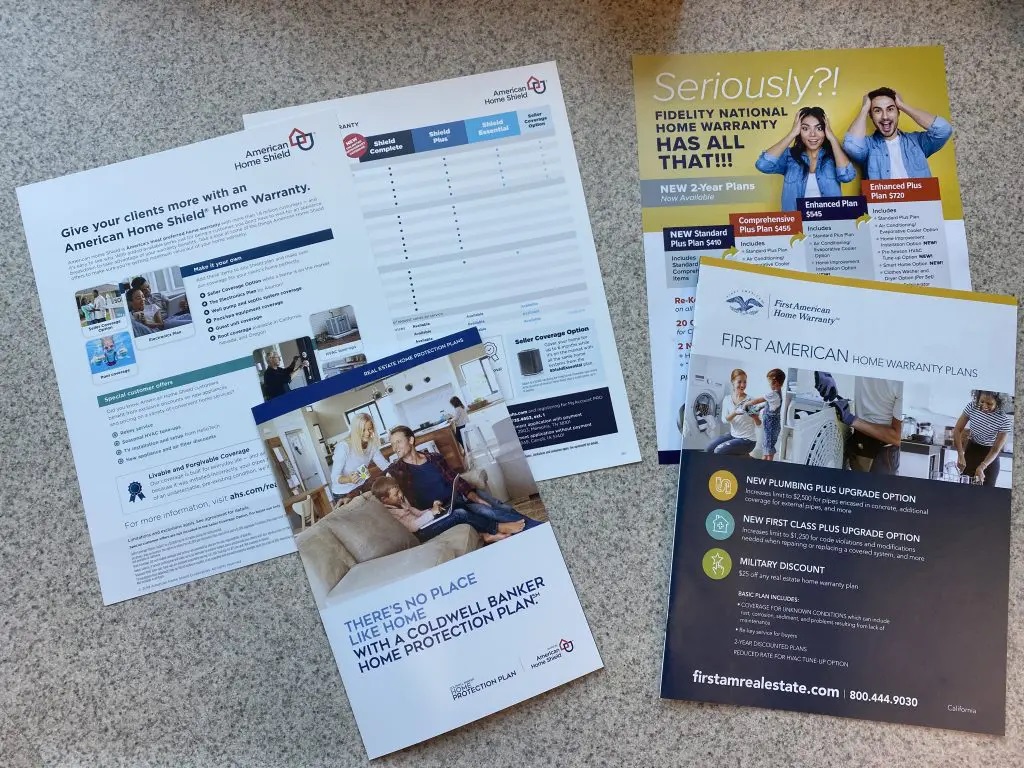 Home warranties cover big items in a house, for example, any plumbing, repairs or stoppages, the heating system, electrical items, garage door openers, appliances, fans like exhaust or attic fans. Please reference the details of your home warranty for specifics. Some services provide a re-key option, which is really valuable as a new homeowner. To protect your investment, you should re-key the whole house.
Frequently Asked Questions
⦁ Do I need a home warranty? Is a home warranty required?
⦁ No, not required, only recommended.
⦁ Do realtors get commission on home warranty?
⦁ No, they don't get paid. But they have some favourite or highly recommended companies. For example, if Coldwell Banker has a relationship with American Home Shield (but the realtor itself does not get a commission).
⦁ Who pays for a home warranty? Buyer or seller?
⦁ That's negotiable.
⦁ What is the duration of a home warranty coverage?
⦁ One year. It's renewable for a year or more if you want.
⦁ Does a home warranty cover plumbing leaks?
⦁ Yes, it does.
⦁ What is the best home warranty for sellers?
⦁ Well, there are several home warranties with seller coverage. If you're worried as a seller about something breaking as you've got your property in escrow, or you're preparing it for sale, a seller's home warranty is highly recommended to take away any added surprise expenses. During that period, there are many different options and your realtor can discuss that with you.
Theresa Wellman is a San Jose real estate agent who has knowledge and experience working with buyers and sellers in the Almaden Valley, Willow Glen, and Blossom Valley areas of San Jose. She has many high reviews from clients she's worked with. If you're thinking about buying a home, check out the free homebuyer reports and videos on her site.
Are you curious about what else should be on your home inspection list? DOWNLOAD Home Inspection Checklist for FREE.