Almaden Cabana Clubs – More than a Fun Summer Activity
Posted by Theresa Wellman on Tuesday, July 27, 2021 at 7:53 AM
By Theresa Wellman / July 27, 2021
Comment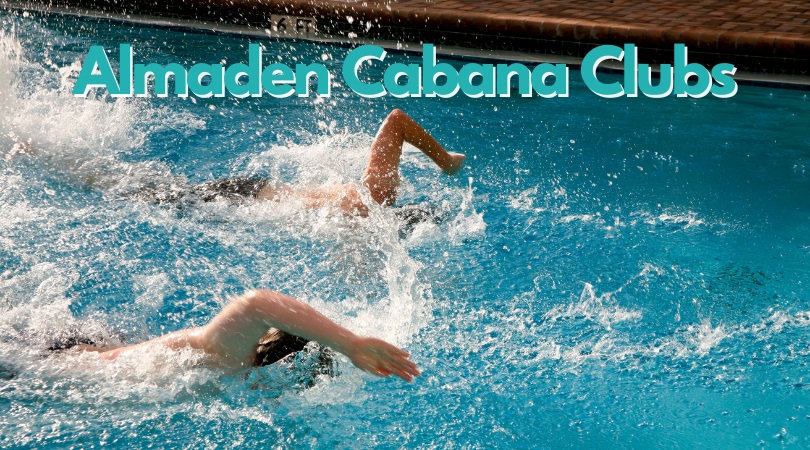 Guest Author: Elizabeth Long (local Almaden swimmer)
In the summer cabana clubs offer a place to bond or have fun with friends and family. All the below Almaden cabana club locations offer a swim team, a great way to be active and outdoors in a carefree or competitive atmosphere. Every one of these clubs operate on a member system, and some on a year-round basis, meaning the membership use does not end with summer.
What makes a swim team enjoyable? Through cabana club swim teams, I have developed friendships beyond swim teams. In practice I would race against my friends and spend a lot of my time hanging out with them. As a competitive person, swim team was a great way to stay active. I wanted to improve my swim times and beat the rival team with friends. The number of memories I have lining up for my swim events with friends or racing them other to get the hottest shower in the locker room after practice. Overall, it was a great community with a lot of opportunities to have fun.
With the competitive atmosphere two different swim leagues are included. The first swim league has the ACC Gators, Oaktree Sharks, Montevideo Piranhas, and not on the list; Belwood Dolphins, Silver Creek Sharks, El Pac Penguins. The second swim league includes the Crossgates Gators, Almaden Cabana Club Dolphins, Shadowbrook Sharks, and not on the list; Pinehurst Piranhas, Creekside Cudas, Santa Teresa Sea Otters.
ACC Gators
The Almaden Country Club "ACC" is a private club in the Almaden valley hills. This club has an eighteen-hole golf course, tennis courts, and a swimming pool. In the summer, the ACC hosts a cabana club team for members to sign up their kids ages six and under through eighteen. This team is called the Almaden Gators and they compete with five other local cabana teams (These teams including Oaktree, and Montevideo.) throughout the summer. Throughout the summer swim meets would be held to compete against every other team. Then ending in a championship meet with all six total teams present and competition. Practices are held in the morning and separated by age group, and swim meets against other teams are held on the weekend. Excluding swim events, other bonding experiences are offered such as team barbecues, or an end of season party. Parents can volunteer to time swim events, help line up kids for their events, put all event times into the computer, etc.
WEBSITE: MP | Public Home - Almaden Golf and Country Club (almadengcc.org)
Oaktree Sharks
The Oaktree Sharks is a cabana club swim team held in the summer. This cabana club is open for kids ages four through eighteen. Practices and individual meet events are separated by age group. The sharks compete against five other local cabana clubs and promote a fun competitive environment. The swim schedule would be swim meets against every other team and ending in a championship meet with every team present. At swim meets parents can volunteer several ways including the meet director, computer record and scoring, hospitality, ribbons, set up & cleanup crew, snack bar lead, etc. The pool is located at 6101 Castello Drive, San Jose, 95120. Oaktree has a membership system made up of the Oaktree Park homeowners, and you can apply for membership when available. Members have access to the pool, and guest memberships have limited access to only swim team-oriented events.
WEBSITE: About | Oaktree Sharks Cabana Swim Team
Montevideo Piranhas
The Montevideo Piranhas is a swim team serving the nearby Montevideo residents. The Piranhas compete against five other swim teams (Includes Oaktree.) over the course of the season. Swim meets are held at the other teams pool every weekend. Montevideo operates with a member-based system, the team is open to residents of Montevideo ages five to under nineteen with basic swimming skills. Parents are involved in the sim team by means of volunteering at swim meets, and other team-oriented events/parties. You can become a member if there is sufficient space, returning members have priority over new members. Non-residents of Montevideo can access the pool if they are accompanied by a member with a guest fee. The pool is located at 1585 Monteval Lane, San Jose, 95120.
WEBSITE: Montevideo Piranhas: About (teamunify.com)
Crossgates
Crossgates is a homeowner association, its pool also hosts the Crossgates Gators. The Gators compete against five other swim teams, this team is not in the same group as Oaktree and Montevideo. The homeowner's association consists of 157 houses in the surrounding area and was formed in 1966. Crossgates cabana operates with its homeowner association and its members. The pool is open for members as well as reservations. The cabana is located at 1297 Peralta Drive, San Jose, 95120.
WEBSITE: Crossgates
Almaden Cabana Club
The Almaden Cabana club is located at 6975 Bret Harte Drive, San Jose, 95120. Almaden Cabana Club is also the home pool of the Almaden Dolphins. This club has a membership system, the associate members have access to join the dolphins, are invited to social events, can reserve space for parties, etc. Annual memberships have access to the same perks however they are not eligible to join the Dolphins. The Almaden Dolphins compete against five other teams (including the Crossgate Gators) over the summer swim league.
WEBSITE: Almaden Cabana Club - Home
Shadowbrook
Shadowbrook is a private member pool located at 1079 Shadowbrook Drive, San Jose, 95120. This cabana club hosts the Shadowbrook Sharks. The sharks compete against five other local swim teams (includes Crossgates, and Almaden Cabana Club) over the summer season. The membership system includes an associate summer membership. Memberships span year long, and through the summer season which is Memorial Day Saturday through Labor Day Monday.
WEBSITE: Shadow Brook HOA and Swim Club | Home of the Shadow Brook Shark Swim Team
Almaden Swim and Racquet
Almaden Swim & Racquet is a cabana that offers a pool as well as six USTA championship tennis courts. QSS (Quicksilver Swim) is a year-round competitive swim league offered at Almaden Swim & Racquet. QSS is a successful swim team and offers a path to compete on an international level. There are six tennis courts offered free of charge for members, and for non-members require an entrance fee. You can reserve courts in advance all year round, and tennis lessons are offered. An adult league if offered through Almaden Swim & Racquet throughout the year. For members only a fitness center if offered from six am to ten pm every day. ASRC is not open to the public, you need membership to gain access to everything. When becoming a member at ASRC you own 1/300 of the club, this grants you access to the pool, tennis courts, and high-class tennis coaching. ASRC is located at 6604 Northridge Drive, San Jose, 95120.
WEBSITE: Family Club, Tennis Lessons, Swimming Classes | Almaden Swim & Racquet Club, San Jose (almadensrc.org)