Almaden Valley Real Estate Market Perspective October 2022
Posted by Theresa Wellman on Friday, October 21, 2022 at 5:18 PM
By Theresa Wellman / October 21, 2022
Comment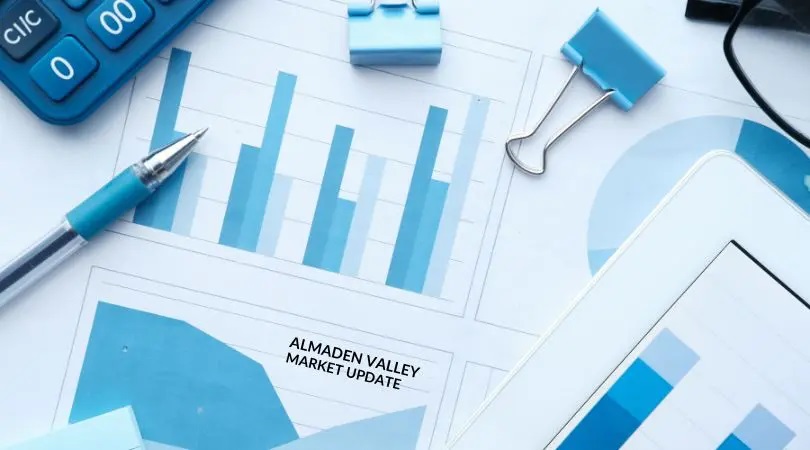 Almaden Valley of San Jose, CA follows a traditional spring to fall sales cycle with the peak number of sales in early summer. Closed sales typically peak in May or June with about 38-40 homes in this peak month. This cycle is driven by the first day of school starting mid-August. Has the pandemic and high interest rates affected this cycle? Read on and find out.
How has the Almaden Valley market performed over the last several years?
With the extremely low inventory experienced in all areas of San Jose in late 2017 and early 2018 (see yellow line in below chart), Almaden Valley experienced multiple offers. This low inventory and strong demand spurred a quick increase in home prices. In June 2018 inventory increased back to normal levels and sales slowed, shifting the intense market momentum.
Spring 2019 in Almaden Valley started off as a typical sales season with ramping inventory and increasing sales. In April 2019, inventory continued to increase as usual, but sales slowed down to the lowest number for April in the past 5 years. This kept prices low in 2019.
2020 started off as an extremely healthy market with drastically increasing pending sales and a strong number of home sale closings. There was a small impact in the market due to Shelter-in-place (which started locally on March 17, 2020) but then sales picked up again and held strong through the end of 2020.
2021 started off with very low inventory which could not seem to build due to the extremely strong number of sales. The 3rd quarter of 2021 finally showed some signs of inventory increasing, but by the end of the 4th quarter, we were greeted with record low inventory instead! The low inventory started a supply and demand challenge and overbidding took off.
2022 started off with still low inventory which could not keep up to the extremely strong number of sales. Multiple offers and overbidding became the norm which drove a 6.9% increase on the average prices of homes from January to March 2022! The average price in March 2022 was at $2,505,320 making it one of the strongest sellers' market we have ever seen, but then rising interest rates and decreasing stock prices took many buyers out of the market. As you would expect sales numbers reflected this financial adjustment, drastically decreasing below normal levels for July and August. During this adjustment period, prices dropped to a level low enough that by August buyers were enticed to jump into the Almaden Valley market bumping up sales to normal levels again in September.
What are current Almaden Valley prices?
The median price in September 2022 for Almaden Valley was $1,940,000. The average price in this same month (September 2022) was $2,050,000. The average sales price to list price ratio came in at 99.2% of asking price.
Compared to Almaden Valley prices 2 years ago, the market today is up 14.11% (September 2020 median, $1,700,000).
Please note that prices in Almaden typically peak each spring due to school years. Also prices vary month to month quite a bit due to the large range of sales price and low number of sales. To see the general direction of market prices, please refer to the fuchsia dotted line which depicts the 6-month rolling average of the median price. For current month market statistics and metrics, visit the raw data below or watch my monthly Almaden market update video.
Which direction is the market trending?
Days of Inventory (DOI) is a monthly metric I follow to understand the speed and direction of the market. Days of inventory is a simple calculation using the inventory and current rate of sales. This metric quantifies how long it would take to sell all available homes on the market. As of September 2022, the DOI in Almaden Valley was at 32 days. It is still a sellers' market which means prices will likely now level and hold. (sellers market since all inventory would be gone in about 1 month at the current sales rate, where 3 months is considered a neutral buyer-seller market.)
What is the market outlook?
The overall trend of the Almaden Valley market is positive moving forward. Almaden Valley is a sought-after neighborhood for families looking for good public schools and an outdoor lifestyle. I expect the current market to continue to hold in value in the fourth quarter of 2022 since there is still a shortage of inventory.
2022 appreciation may end up slightly negative but still maintain a healthy appreciation over the past 2 years. This prediction is based on the metrics below in conjunction with rising interest rates, and decreasing seasonal demand heading into the holiday months. High-tech-employed home buyers can afford Almaden Valley and are mostly working remotely for their jobs or moving back to the office only a few days a week. The larger lots and views of the hills plus numerous corporate development projects in downtown San Jose (less than 10 miles away) continue to bring home buyers to the Almaden area.
Sellers who have lived in Almaden Valley more than 2 years are experiencing nice equity gains. Buyers are particular about the options in Almaden Valley. Today's homebuyers are looking for updated and move-in ready homes unless the property is priced very aggressively.
This article is updated once a quarter (next one mid-January 2023 with data through end of December 2022). To listen to more recent monthly updates on video, visit my Almaden Market update YouTube playlist or the latest market metrics are below.