Benefits of Downsizing — How to Know You are Ready to Downsize Real Estate
Posted by Theresa Wellman on Sunday, November 24, 2019 at 6:47 PM
By Theresa Wellman / November 24, 2019
Comment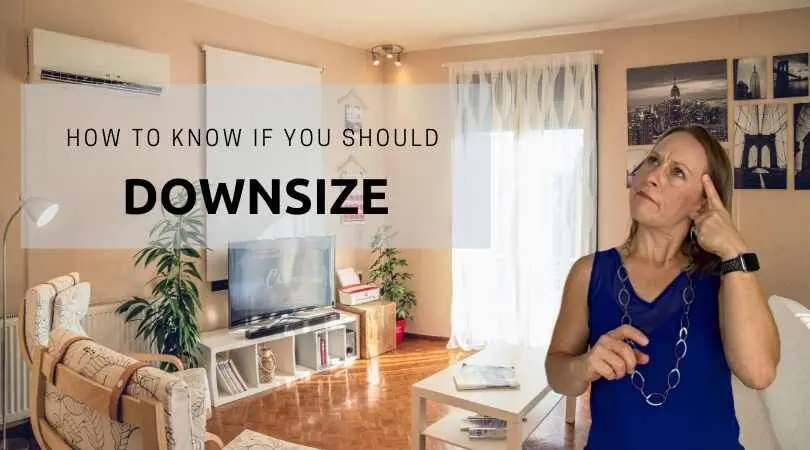 Are you thinking about downsizing or right-sizing your living environment? Are you not sure if you should or when might be the best time? Is downsizing in your 60s the right time? If not, when? What are the benefits of downsizing? Here are some downsizing tips to consider and think through.
CNBC published an article that stated that most homeowners and empty nesters are reluctant to downsize because of the emotional aspects of that move. They feel comfortable in their current house where their children grew up and they have a lot of memories. They don't want to make a big change and find it hard to imagine downsizing from house to condo since it is unfamiliar. Yes, change is daunting, but it may be the right move for you to actually improve your lifestyle.
There are four points that you should consider when reviewing the benefits of downsizing to help you decide when is the right time to make a move.
A. Your Financial Situation
There are two financial aspects to consider when downsizing real estate.
Do you have adequate funds to enjoy and live your life as you would like?
How much money are you wasting on extra space that you don't use?
For example, do you have rooms that aren't being used, but you're paying to heat and cool? Do you have a large yard that you don't use and/or you're having to pay a gardener to maintain it? Are you wasting money in these areas by just simply being in a house that's too big for you? Are you able to keep up with the repairs and the maintenance or are you letting them go?
Not maintaining your property can have a significant impact on the value of your property.
If these apply to you, maybe it would be better for you to simplify your life, so that financially you have a little more freedom.
B. Your Daily Lifestyle
Healthy contact with other people is important for your physical and mental health.
Are you as actively engaged as you used to be in your current neighborhood? Do you relate to people there? Do you have activities that keep you mentally sharp and engaged? Do you have enough social interaction to enjoy your day to day life in your neighborhood? Is your current neighborhood adding to or subtracting from your daily life?
Location is really key as you get older. How far is it to the grocery store, to the doctor's, and to your friend's house? If you have less responsibility with your house in the financial department as mentioned above, what would you do with those extra funds? Would you go out to eat more often? Would you see more movies? Would you go golfing? Would you travel?
All these things are something worth considering to enhance your daily life to reap the benefits of downsizing.
C. Your Dreams
When you were still working and imagined your golden years, what were you doing? Did you see yourself traveling? Were you doing some of your personal passions? Are you living that out today? One thing I have heard from family, as well as clients, is to enjoy and take advantage of the healthy years that you have left. What is on your bucket list that you would like to check off? What can enable you to do that?
You have the power to make the best decision for you and to live the life that you always dreamed of during your golden years. Is downsizing real estate worth achieving your dreams?
D. Your Health
Making a move while you are still in good health will make the moving process a whole lot easier for a couple of reasons. Also, if something catastrophic happens to your health, it may impact your ability to move.
If for example, if you take a bad fall, you will lose all choice as to when and how quickly you're going to be able to move. You then become at the mercy of that injury and reliant on your family's support to be able to make a move. Is that a situation you want to put yourself and your family in? Or do you want to take control and make a move to where you want to be and within the timeframe you choose?
Hopefully, these steps have helped you think about if downsizing from a house to a condo or a smaller home is right for you. If you are thinking about downsizing real estate or would like more discuss this further, please contact our office to work with an experienced and knowledgeable San Jose real estate agent.
Curious about other articles on this topic?
Read At what age should seniors downsize? Or 7 Undeniable Signs its Time to Downsize
Interested in an assisted living facility? Check out the Caring.com site for more information about locations in San Jose.
DOWNLOAD my San Jose Relocation Guide for more tips as your advantage. It's 100% FREE!