Selling a Home in San Jose: Best Home Improvements for Resale
Posted by Theresa Wellman on Wednesday, August 12, 2020 at 2:56 PM
By Theresa Wellman / August 12, 2020
Comment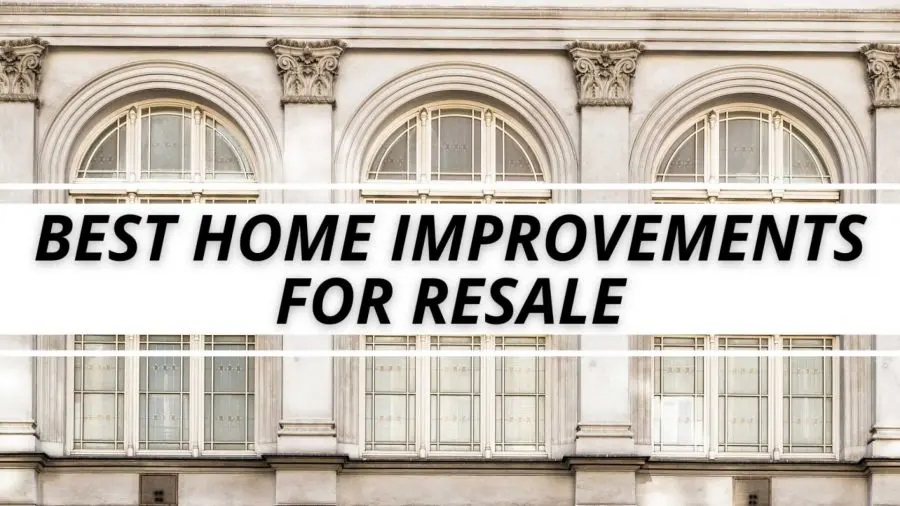 Are you researching the best home improvements for resale? Or do you want to know what buyers think are the cool things every house should have? Read on for research statistics that cover these topics.
Most home buyers age 22-64
Homebuyers age 22-39 (GEN Y AKA Millennials) are likely to have or be planning on young children. This group targets larger homes or good school areas and approximately 80% are college-educated.
WHAT AGE GROUPS WOULD BE ATTRACTED TO YOUR HOME?
If you're planning to sell your home, you must understand who is the potential buyer for your home and what they find attractive.
WHAT DO HOME BUYERS LOOK FOR IN A HOUSE?
Most recent buyers who purchased new homes were looking to AVOID:
renovations
problems with plumbing or electricity.
Make sure these areas are up to date and fully functional in your property.
HOW CAN YOU IMPRESS TODAY'S HOME BUYERS?
Home buyers are excited about properties that are move-in ready, fashionable and up to today's standard. As a seller, it makes sense for you to prep your house to make it most attractive to these buyers.
To start the home sale preparations, purge, clear space, neutralize and lighten up. Consider improving your paint, flooring, and landscaping. If you want to dig deeper into this topic, watch my 8 steps to getting your house ready to sell video.
TOP FEATURES THAT HOME BUYERS ARE LOOKING FOR
Trulia, a major real estate website, did a research recently about men and women's preferences. These 7 features were top on home buyers' list.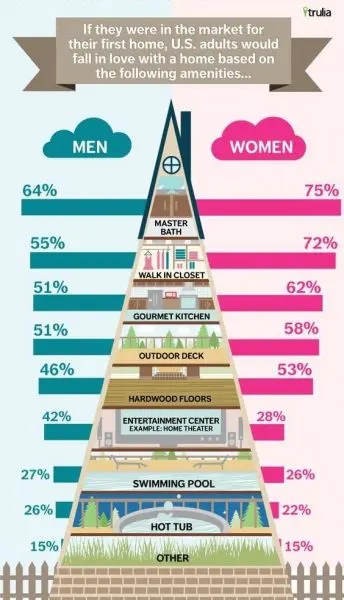 Homebuyers want a relaxing master bath. While investing in a home, buyers want to feel the reward. Create a space where they can feel good by making your master bath a relaxing retreat.
This isn't a common feature with the older homes in San Jose. If you can maximize the closet space with fancy organizers, this will add value!
Kitchens are the heart of the home and step the tone and impression of your property. Consider hiring a professional painter to update your cabinetry to add value and a modern feel in your kitchen.
Outdoor Deck or Patio Space
Developing this part of your property is a great way to make your backyard look more attractive. Younger buyers love unique and fun spaces, so create a memorable and relaxing outdoor area.
Today's home buyers like clean, eco-friendly materials. They don't feel carpet is very clean or eco-friendly. If you have other solid surface floors, that's an improvement to carpet.
Home Entertainment Center or Theater Room
It's important for each room in your house to have a defined purpose. Multimedia is such a part of life today that home buyers like to see a place dedicated to it. Create a defined and comfortable gathering space with a large screen.
Several buyers search for a swimming pool, or at least a neighborhood cabana club (pools are area dependent of course. In Almaden Valley, access to a pool is more popular) If you have this feature, great! Make sure the pool and equipment are in great condition to be an asset to your property.
If you don't have a pool, it is NOT worth a return on your investment to add it for resale.
There's a lot of important features when your selling your property. Help home buyers visualize what they could do with each space and how they can use it. A crucial start is to neutralize and purging your space so buyers can envision their own life there.
Looking for more tips to improve your curb appeal? Download my 10 Tips to Improve your Curb Appeal for FREE.