Buying a Home in San Jose During Winter: Less or More Competition?
Posted by Theresa Wellman on Friday, November 20, 2020 at 10:28 AM
By Theresa Wellman / November 20, 2020
Comment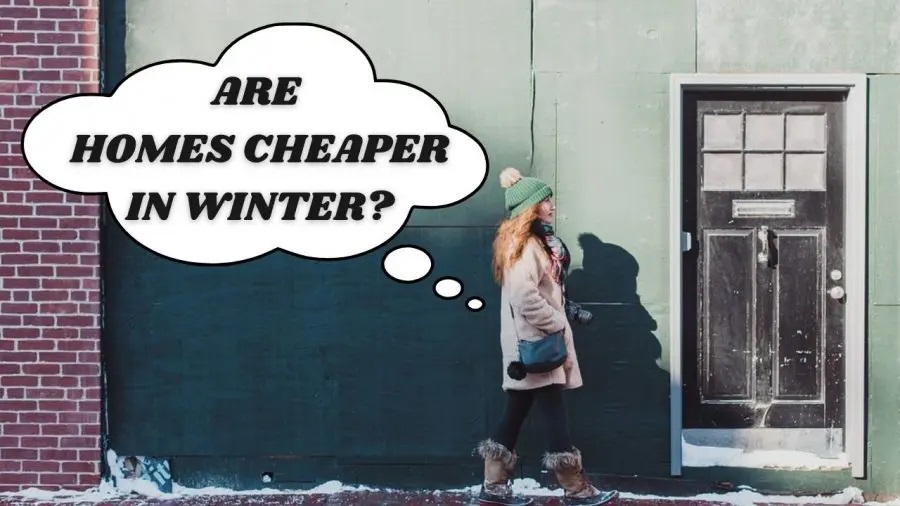 Winter is right around the corner and you may still be out shopping for a home. Is winter a good time to buy? What is the best month to buy a house?
Below are some benefits of buying a house when the weather outside is a bit chilly (at least for Californians!)
Less Competition
Okay, last week I discussed how home sales slow to a slushy pace during the winter. https://homeownerexperience.com/is-the-winter-a-good-time-to-sell/
But what does the slower sales rate mean for you as a buyer? The obvious of course, you won't have to deal with as many competing buyers! The 2020 San Jose CA market has been full of multiple offers and therefore very competitive for buyers. Winter means a little relief if you are still out shopping! If you can find a house that works for you this time of year, you likely won't have to worry about bidding wars. It's similar to Thanksgiving prior to COVID where the pumpkin pie and whipped cream have to be shared with more people! But in 2020, smaller Thanksgiving gatherings mean you get first pick on the dessert! 😊
More Negotiation Power and Money Saved
Since both supply and demand shrink during winter months, buyers might be able to reduce their move-in cost! Maybe that means the seller will credit you for outstanding repairs or you can negotiate more on price since there is less buyer competition.
Don't believe me? The median sales price of homes sold from December through February was around 10% lower than homes sold from March through May in San Jose. See the data below pulled from my San Jose Real Estate market trends data.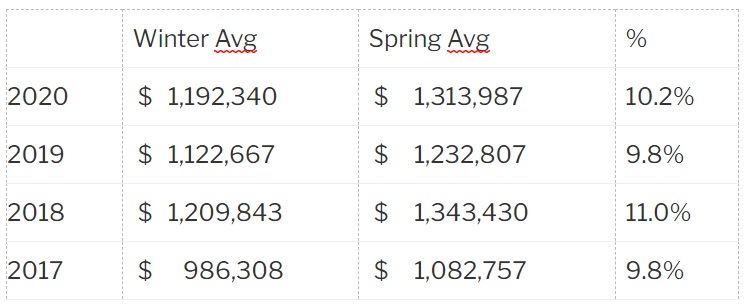 That means people who bought their homes during winter saved a lot of money compared to those who bought in spring, on average $100,000 in recent years! That might make any challenges of buying during the wintertime worthwhile.
Mortgage Rate Advantages
A major factor in affordability when buying is the current interest rate (if you are getting a mortgage). Having a lower interest rate will save you money each month and allow you to afford more home. Current 2020 interest rates are at record lows, so definitely consider this factor if buying in winter 2020. Keep in check with current interest rates on the Freddie Mac home loan page to see if interest rates are to your advantage to buy.
See the Bad
House shopping in the worst weather of the year gives you a chance to see how your potential new home handles it. Does water puddle somewhere on the lot? Are there areas in the house where the furnace is not as effective? Seeing the home in the least ideal weather conditions lets you know the house can handle it or what areas need attention.
What is the Best Month to Buy a House?
Many factors make it the best month to buy a house, so there is not one answer for everyone. Home prices do soften in the winter, but so do home options. If you can't find a house that meets your needs in winter then those months will not work for you. Also consider your personal reasons for moving. What is the best time for your household? Are you moving for a job? When does that job start? Are you moving for schools? What are your options for transitioning kids from one school to the next? The best month to buy a house is when the move will be most convenient and your find the right house.
Tips for Buying in the Winter
Okay, here are a few tips to be extra-ready for buying a home in winter:
Be confident. Remember, there isn't much buyer competition shopping in the winter. Sellers will probably be willing to work with you, so ask. If the home inspection brings up some issues, don't be afraid to address these with your agent and make a proposal to the seller.
Prepare for winter days. Daylight savings allows less daylight to explore a property. Plan time in your schedule to visit the property during daylight. Also be prepared with a flashlight for views of the ceiling or other areas that might not be as visible during cloudy days.
Watch my Home Buyer's Videos for your advantage or download more tips in my Home Buyer's Steps & Tips guide. It's 100% Free!