The Ultimate Checklist You Need for Buying a House in San Jose
Posted by Theresa Wellman on Wednesday, July 17, 2019 at 5:23 AM
By Theresa Wellman / July 17, 2019
Comment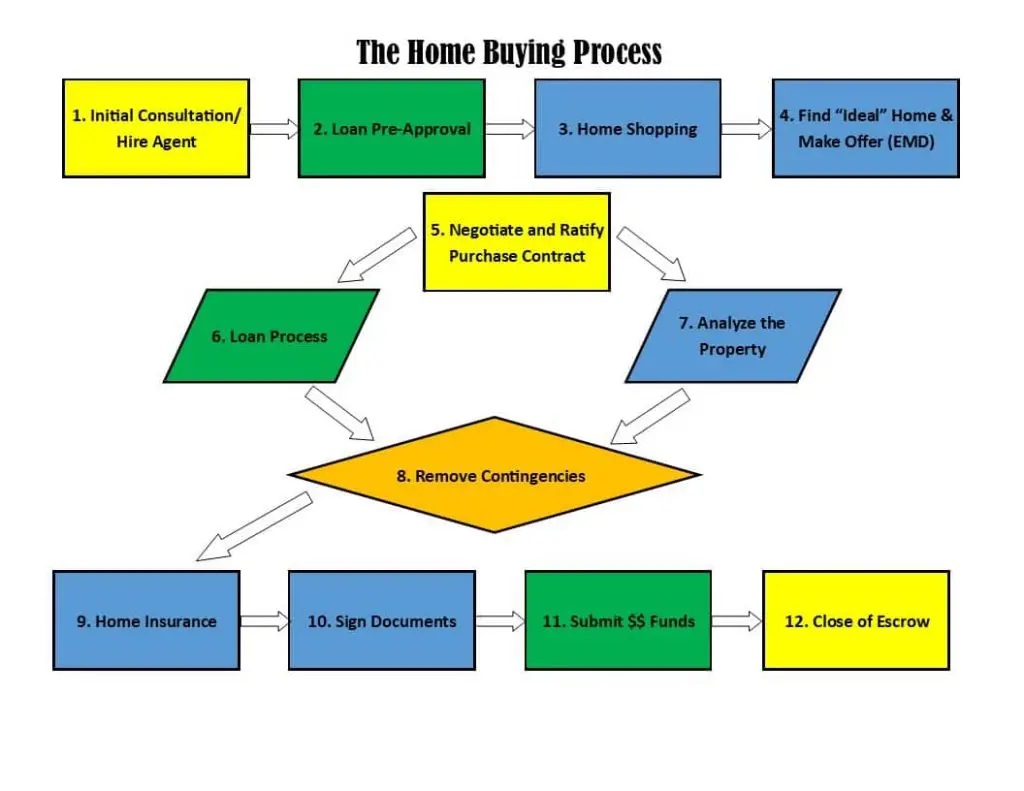 Are you wondering what steps it takes to buy a house? Below is a buying a home checklist including an explanation of the main steps and a flow chart of the home buying process.
There's a lot of detail involved in the home-buying process. I recommend you work with an experienced real estate agent as your personal guide, but below is a high-level process so you know what to expect.
HOW LONG DOES IT TAKE TO BUY A HOUSE?
Home buying can go quickly and take just six weeks. But realistically, the process will take you several months, maybe even a year.
I have outlined 12 steps, divided into 3 sections, to lead you through the process.
The preparation/home shopping phase can vary greatly in time from one buyer to another. How do you shop? A. Intently to buy something quickly or B. are you a thorough researcher who takes time to weigh all your options? Because everyone is different, the time to complete the first phase can vary quite a lot from one buyer to another.
Phase 2 typically is 5 days to 3 weeks. Phase 3 takes 1 to 2 weeks.
WHY WORK WITH AN REAL ESTATE AGENT?
Homebuying is a detailed process that involves a legal contract with deadlines and potential financial consequences. In the San Jose area, a lot of money is also involved, so you should work with a professional, local real estate agent.
A real estate agent can also provide you with resources and information to aid in your home-buying decision. Buying a house in Silicon Valley means you are spending at least half a million dollars ($500,000). So do you think it is beneficial for you to make an informed decision?
Do you know which purchase contract to use and which area each is preferred? What are all the details of the contract that you must follow to complete the purchase process? When your deposit money is at most risk? A realtor will help you answer these questions and really understand the contract so you can comply to the terms.
Lastly, a real estate agent can educate you on the current market conditions for a given area and how to write your purchase contract to coincide with those conditions.
12 STEPS TO BUYING A HOME
There are 3 phases and a total of 12 steps to go through the entire home buying process.
Phase 1- Preparation and Shopping
1. Initial consultation/hire an agent
To start, talk with several different agents. You can research local agents online and then formally meet them. Or visit open houses to find out who you connect with. Ask yourself: is the agent very informed in the area that you're looking in? Is this agent somebody you would enjoy working with? Is the agent able to answer your questions and advise you? Remember the home-buying process could take several months, so you should enjoy working with the agent you choose. Setup a time to have an initial conversation with Theresa about home buying in the San Jose CA area.
There are a couple of parts to getting pre-approved for a loan.
First, shop around and understand who you would connect with. Start with recommendations from your agent and possibly even your friends who have recently made a home purchase. Before you find a house, understand which lender/loan agent is going to have the best rates for your qualifications.
Second, understand the different levels of loan qualification and approval. Which level is going to be the best for you in the given market? You have probably heard "loan qualification" and "loan pre-approval", but do you know the difference? There are even more loan pre-approval terms which all mean different things. In certain markets or situations, the various levels of loan approval can be more effective. Please understand, in conjunction with your lender, which pre-approval level is the best for you to go forward with for your timeline.
3. Home shopping
Many home buyers think home shopping is the first step, but it is crucial to prepare with steps 1 and 2 first. Until you have formed a support team, you should not jump into the home shopping process.
I recommend the home shopping process be approached with information and knowledge and not pure emotion. To accomplish this, you need to sit down and make a list of needs and wants for your home.
"Needs" are what you must absolutely have in order to live your lifestyle or live with your family. For example, it could be you need a minimum of 3 bedrooms or you need a garage.
"Wants" are nice to have features. For example, maybe you want to have indoor laundry or you want to be close to a park. Wants are not a must or need item, but "wants" would really enhance your life or make your day to day lifestyle better.
Work with your lender and agent to incorporate your budget to filter your home search. Using your budget, find out which neighborhoods are going to be the best fit for you. Once a neighborhood or a few have been narrowed down, begin your home shopping.
Home shopping can be done at open houses or with private showings along with your agent. Work with your agent to figure out what is the best shopping method related to your timeline and personal day-to-day schedule.
4. Find the ideal home
It is really exciting and fun to find "the house"! I can see it in my buyers' faces and reactions, but the emotional connection is only part of the process. If you have done your preparation properly, you can check your emotions with your wants and needs list. Do you satisfy most or enough of your wants and needs with the house you are excited about? Check in with your agent for their opinion on the property and how it matches what you want as well. Remember that buying a home in San Jose area is a HUGE investment, so make sure it is the right one for you.
If you have done a sanity check and your wants and needs list matches your emotion, then figure out the right terms and price for your offer. Your agent will research what the seller is looking for, what comparable properties are selling for and then you can decide how to write your offer to hopefully make a match. There is a lot to this first phase of this process. Feeling overwhelmed? Setup a time to have an initial conversation with Theresa about your home buying plan in the San Jose CA area.
Phase 2 – Contract and Contingency period
5. Negotiate your offer
Depending on the market and how close you are able to come to the seller's ideal offer, you may experience some back-and-forth negotiating with the seller. If so, you may receive a counter offer. It could take several days or even a week to finalize the contract depending on the contractual response times you're working with and the market that you're in.
Once you are in contract, you will be putting down an EMD (or earnest money deposit) to demonstrate your seriousness and willingness to complete the transaction. In San Jose area, the EMD is typically 3% of the purchase price. The EMD is to be deposited within 3 business days (or less if the contract is modified).
6. Processing your loan
Now that you have identified a property and have a ratified contract, your loan agent begins to process your loan. Depending on the type of loan approval you have, you likely will be submitting all your updated financial paperwork to your loan agent.
Also your realtor and loan agent will gather items specific to the property such as the preliminary title report, homeowner association (HOA) information and the property appraisal. All of this detailed paperwork is submitted to the bank for approval.
There is likely a loan contingency time period in your contract which gives you time for this loan approval process. Once approved, you and the property have full underwritten-approval and the loan contingency can be removed.
7. Detail analysis of the property
In parallel with the loan processing step above, you will explore the property in detail. Typically you have a timeline in the contract called "property contingency" to complete the following steps. This property analysis step may include ordering expert inspections, reviewing in detail the inspections that the seller already provided, reading through seller disclosures and verifying any details you want to know about the property. If the market conditions are strongly in the seller's favor, this step will likely have to be completed BEFORE you make an offer.
Sometimes a result of this exploration phase and the expert inspections is some repairs that need attention. Consider with your agent if you should request the repairs to be completed before close of escrow or if you should ask for a credit for the repairs. Discuss your options and the market conditions with your realtor to decide what is best for you.
One more step of the detail analysis of the property is to verify any details about the property that you are interested in or concerned about. Drive around the neighborhood to get a really good feel for it. Do you want to test out your commute or meet neighbors? Have you called school districts to verify attendance? Can you get home insurance on the property? Any items specific to the property and your decision to move forward should be explored in the property contingency timeline.
Ready for a guide to help you through this process? Did you know a buyer's agent is paid for by the seller? So setup a time for a free initial conversation with Theresa.
8. Removing contingencies
This is a critical contractual date where you officially acknowledge you are committed to purchasing the property. By removing contingencies, you are committing that the loan, property condition, any other detail (maybe there's an HOA) has been reviewed in detail and all steps are satisfied to move forward.
Removing your contingencies, puts your EMD at risk if you don't close escrow. So this is a really big decision point that you need to make to move forward on the purchase. Working through these steps with the expertise of an experienced agent is very important.
PHASE 3 – Finalizing the Purchase
9. Line up home insurance
Hopefully in step 7 you verified that you have several choices of home insurance providers. If so, now shop rates and check out your options. Contact referrals from your agent, friends and also contact your current auto insurance provider. Make sure you're getting full and complete insurance on your property for a good price.
10. Signing documents
Signing the loan, property title, and property transfer documents is an appointment where you visit the escrow company. You're going to sit down with a notary and sign a big stack of loan paperwork as well as a few escrow instructions, an estimated net sheet and property deed transfer forms. This appointment will probably take you one hour to complete.
If visiting the escrow company office does not work with your personal schedule or contract timeline, you could have a notary come to your choice of location. Typically, a notary visit is going cost a little bit more money, but the convenience may be worth it for you.
11. Down Payment and Loan Funding
One to two days before close of escrow your closing costs are due to the escrow company. Closing costs include:
your remaining loan down payment (the balance left after the EMD since that is already deposited in escrow-step 5), loan fees, escrow and notary fees, any county or city transfer taxes, property taxes owed to the seller for the days after you close escrow (if seller has pre-paid for days after you own the house) etc.
The final amount due to escrow will be given to you at your signing appointment (step 10). Once you have this amount, you can either wire the money directly into the escrow account or hand-deliver a cashier's check. All money from the buyer and the loan needs to be cashed in the escrow account the day before closing in order to proceed on schedule.
12. Close of Escrow
In San Jose CA, close of escrow is the day when the escrow company finalizes the escrow process. There is no official meeting or gathering on this day. The escrow company will disperse the funds to the sellers and others due, as well as record the property title in your name with the county recorder.
The most exciting part about close of escrow as a buyer…you get the keys to the property! This is a big day for you, definitely one to celebrate! Ideally at the end of this entire process, both you as a buyer and the seller are very happy and ready to celebrate. Are you ready to start this process? Work with an experienced and professional local guide, setup a free buyer's consultation with Theresa.
WHAT'S NEXT?
A common question I get often from buyers is how do I get started? Homebuying is a big step and can be overwhelming. So why not hire a guide to professionally walk with you through the entire process? Contact us with your questions or inquire about a home buyer consultation meeting with one of the best San Jose real estate agents to get started!