Cambrian Real Estate Market Trends October 2022
Posted by Theresa Wellman on Friday, October 28, 2022 at 5:09 PM
By Theresa Wellman / October 28, 2022
Comment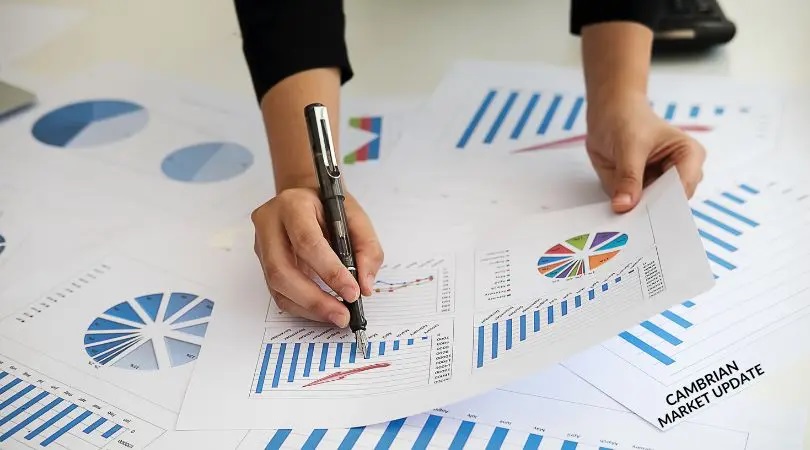 Cambrian, an area of San Jose, CA, typically follows a traditional spring to fall sales cycle with peak sales in early summer (around May to July with 75+ sales) due to the push for the first day of school in mid-August. The sales then slow significantly down in November, December and January (with a low of 25-30 closings in January).
How has the Cambrian market recently performed?
In all of 2017 Cambrian experienced extremely low inventory (see yellow line for inventory in the graph below), and multiple offers. These multiple offers spurred a quick increase in home prices.
In late April of 2018, inventory shot back up to normal and the record high prices plus increasing interest rates had buyers waiting on the sidelines. With the number of sales decreasing earlier than typical in the year's sales cycle, prices softened through the rest of 2018.
Record-low inventory returned in 2020 and 2021, while demand and closed sales were really strong. With low supply and high demand, prices again increased in 2020 and throughout 2021, recovering the price dip of late 2018 and adding to it. The 2021 peak price in October was 19% over the April 2018 peak (although the condo and townhome market has not recovered so well). The number of sales closed in 2021 was stronger than any recent years.
2022 started off with the lowest inventory on record yet, pushing buyers to pay on average 20% above asking price to "win" a house. May 2022 had noticeable interest rate increases and a sharply declining stock market, forcing many buyers out of the price point to buy a home in many areas of San Jose. Due to this decrease in demand (and low Q3 sales to prove it), home prices adjusted back to prices of 2021. Then in August, buyer interest sparked again with the new lower list prices and September closed sales showed an average of 102.8% over asking price again. Cambrian single-family homes closed out Sept 2022 with a year over year appreciation of 3% on average.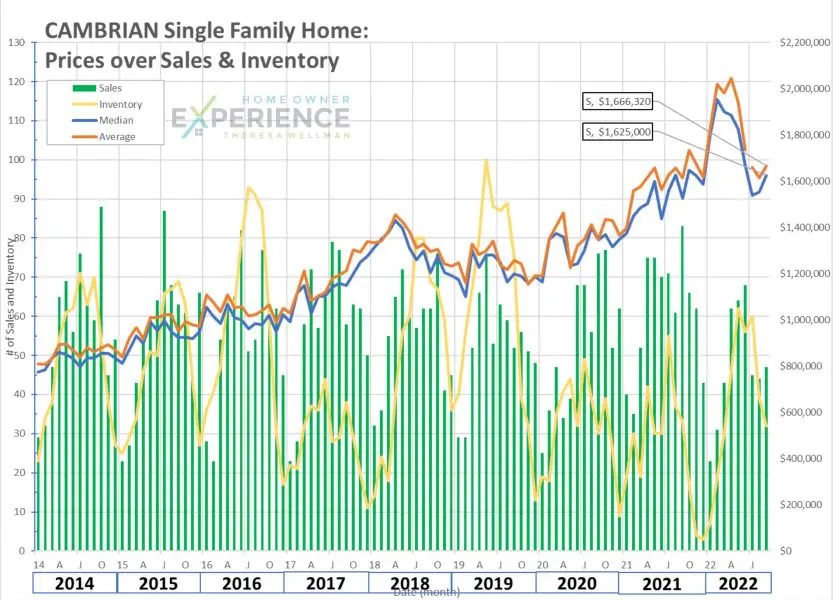 What is the CURRENT average price?
The average PRICE (orange line) in September 2022 for Cambrian was $1,666,320 . The average sale price to list price ratio came in at 102.8% of asking price. The Cambrian average price peaked in April 2022 ($2,044,930), and then depreciated due to the quick rise of interest rates and decrease in the stock market. Comparing March 2020 at $1,407,360 average price (pre-pandemic prices) to today's prices, homeowners in Cambrian have seen an 18% increase in home values during the pandemic! Check out the current month's data in the stats below.
Which direction is the market trending?
Days of Inventory (DOI) is a monthly metric I follow to understand the speed and direction of the market. As of September 2022, the DOI in Cambrian is at 20 days (lower than most of San Jose); still a very strong sellers' market. Hopefully more sellers will take advantage of the low 4nd Quarter inventory and sell to help satisfy buyer demand for Cambrian.
With interest rates currently at 6.7% for September 2022, many buyers are looking at 7 year adjustable rate mortgages to make a home purchase more affordable on the monthly pocket book. I expect prices to level through Q4 and hold strong due to the low inventory.
Hopefully the immense equity gain over the past 10 years will encourage sellers to continue to supply the market with inventory, so buyers have options. The strong unemployment numbers help to keep up buyer demand.
This article is updated once a quarter (next update mid-January 2023 with data through end of December 2022). To see more recent updates take a look at the Cambrian market metrics below or watch my overall San Jose Market overview video.