Chief Economists view - What Every Home Owner needs to hear about COVID-19 and real estate
Posted by Theresa Wellman on Wednesday, May 27, 2020 at 4:06 PM
By Theresa Wellman / May 27, 2020
Comment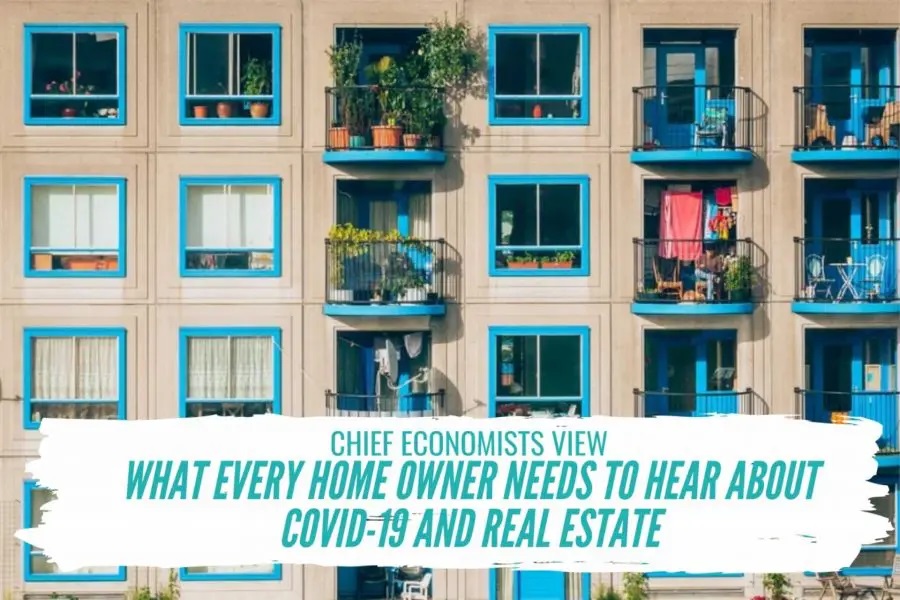 Dr Lawrence Yun, chief economist of the National Association of Realtors, was recently interviewed on his perspective of today's real estate market amid COVID-19 and the spike in unemployment. Dr Yun provided some important perspectives related to the effects COVID-19 is having on the economy and housing and this perspective is very important for homeowners to hear. Read below for highlights of this interview from May 5, 2020.
Dr Yun stated "We also have to understand that this is a government-imposed lockdown. The first couple of weeks, there was a degree of shock factor but the buyers are slowly coming back to the market."
Why are buyers jumping in during these changing and uncertain times? "70% of the workforce has secure employment. [These buyers] are looking at historically low mortgage rates" says Dr Yun.
"A lot of millennials who are a key part of the market are saying it's time to buy….people would be surprised to see how much activity is actually going on in the market in real world terms." Stated Dr. Yun. Have you been tracking the local real estate market in San Jose? I have been tracking week by week and yes there is a strong amount of buyers in the market. There is a significant change from the first 3 weeks of shelter-in-place, to weeks 4-7 and then again another shift the last few weeks.
Dr Yun continues "What people are recognizing is that to buy a home, to do it online and maybe visit a couple of homes,…is far safer than visiting grocery stores. People are becoming accustomed to the new normal of social distancing. In some places, the sales activities are down only moderately, while other states with stricter lockdowns, just because of governors' orders, it is down more dramatically just because people simply cannot go outside."
According to a recent survey of potential buyers and sellers, they are indicating that they are not out of the market, "but simply delaying the entry point. They just want an all clear signal from the governor before re-entering the market. It's simply a delay in some places where the economy is slowly reopening. It is simply a pause button, but as the economy, hopefully, safely reopens, there will be more real estate transactions, more people interested."
Interestingly, the survey found there's no panic among home sellers. Buyers and sellers are agreeing to "pre-pandemic" prices. April 20th, 74% of 90,000 realtors were surveyed, and said "no reduction in list price, and sellers remain calm…there's no panic selling".
Brian Buffini who is interviewing Dr Yun carefully points out that "People are projecting how they view stocks into something that's important to people as where they live. We know that 71% of sellers have stopped open houses. 55% of sellers are delaying the process a couple of months, and 44% of buyers have delayed the process a couple of months. This data actually suggests that this summer will act like springtime in real estate"
Dr Yun responds "Hopefully, that will be the case, but nonetheless, the term spring buying season is there because many families with school-aged children, want to complete the deal before the next school year begins, so that they don't want their children to be disrupted in the middle of the school year. If the path of the virus is such that we are in a lockdown for a longer period, the summer season will certainly be better than what it is now because people are becoming more accustomed to social distancing protocol. But if we miss the spring buying season, it's going to be a little tough to fully make up for it."
Brian Buffini points out that "27% of the agents surveyed, were able to complete transactions, respecting social distancing, and they used e-signatures, virtual tours, messaging apps, and exterior home appraisals, which shows how creative the real estate people are."
Dr Yun predicts that "In 2020, the sales activity will be down about 10% to 15%. That is not too bad, considering that we hit a pause button for several months, but the prices, we're going to set an all-time high. Last year was an all-time high in terms of prices. Even if we squeak out a 1% or 2% price gain, that is still a new high, but the home prices will not decline because of the inventory shortage that we have."
"Coming to 2021, we have all this pent-up demand. The sales will increase about 15%, and the prices rising 3% to 5%." These predictions were explained by Dr Yun to come from his extensive study on past disaster events including Hurricane Katrina's effect on New Orleans and 9/11 effect on New York City as well as other similar events.
Brian Buffini concludes that "It's great for people to know that housing is so stable. The stock market had come down 30%, and since then, the stock market has come up in just the month of April alone, the Dow is up 11%, the S&P is up 12.8, and the NASDAQ is up 15%. That doesn't happen in real estate. It doesn't happen in real estate like what happened in 2008, which is the complete capitulation of the mortgage market and all of those types of dynamics. It's great for people to know that there is something they can count on. The housing market, such a crucial part of the economy, that its pricing is stable, and we're still in a housing shortage, and people are still having babies, and people still have to move." To listen to or read the full interview visit : https://www.thebrianbuffinishow.com/the-podcast-every-homeowner-needs-to-hear-an-interview-with-dr-lawrence-yun-214/
For another perspective by a different economist, see a local economist's view of today's market interviewed by our local real estate board.
Download my Home Buyer's Guide for more as your advantage It's 100% FREE!