Has COVID-19 changed Bay Area housing prices?
Posted by Theresa Wellman on Monday, March 30, 2020 at 5:21 PM
By Theresa Wellman / March 30, 2020
Comment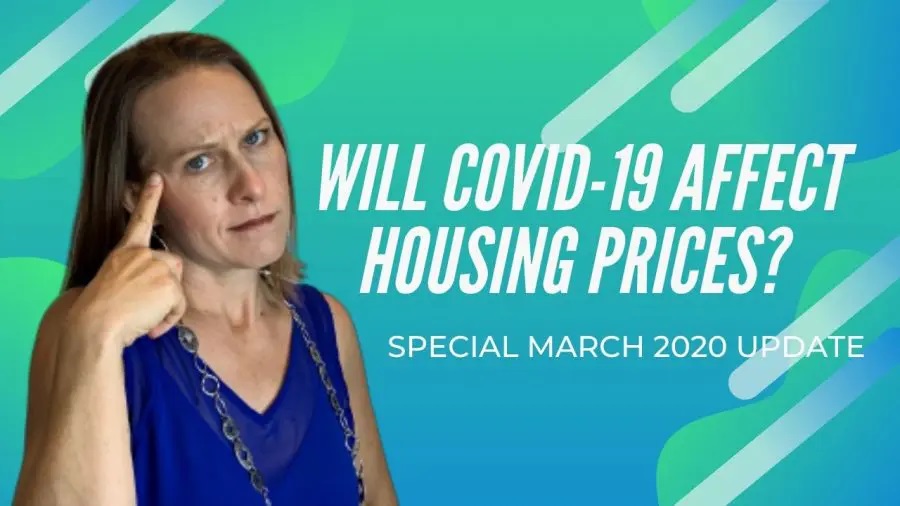 Has COVID-19 changed Bay Area housing prices?
Weekly data tables updated May 27, 2020 (after that no more weekly updates, instead check out my market updates on YouTube)
There is a lot of fear with the shelter-in-place due to coronavirus. Part of that fear is related to questions about the real estate market and fears that this health event will collapse our strong housing market. Fear is not something that should guide or warrant financial decisions, rather facts and real data should be carefully weighed to decide what is the best decision or move for you.
The simple answer to "has or will Coronavirus change bay area housing prices/" is its too early to tell yet, but trends are starting to form.
Let's take a deep dive into the facts and review history to guide us through a factual process to determine logical answers.
Look below at the Bay Area housing prices graph. Prices in Santa Clara county and the greater bay area have been fluctuating quite a bit over the last 2 years and more. February 2020 closed sales showed prices were back up. Looking at the data, it is evident that the prior 3 years have been fluctuating quite a bit with the valleys close to prices in early 2017 and no recent peak as high as May 2018.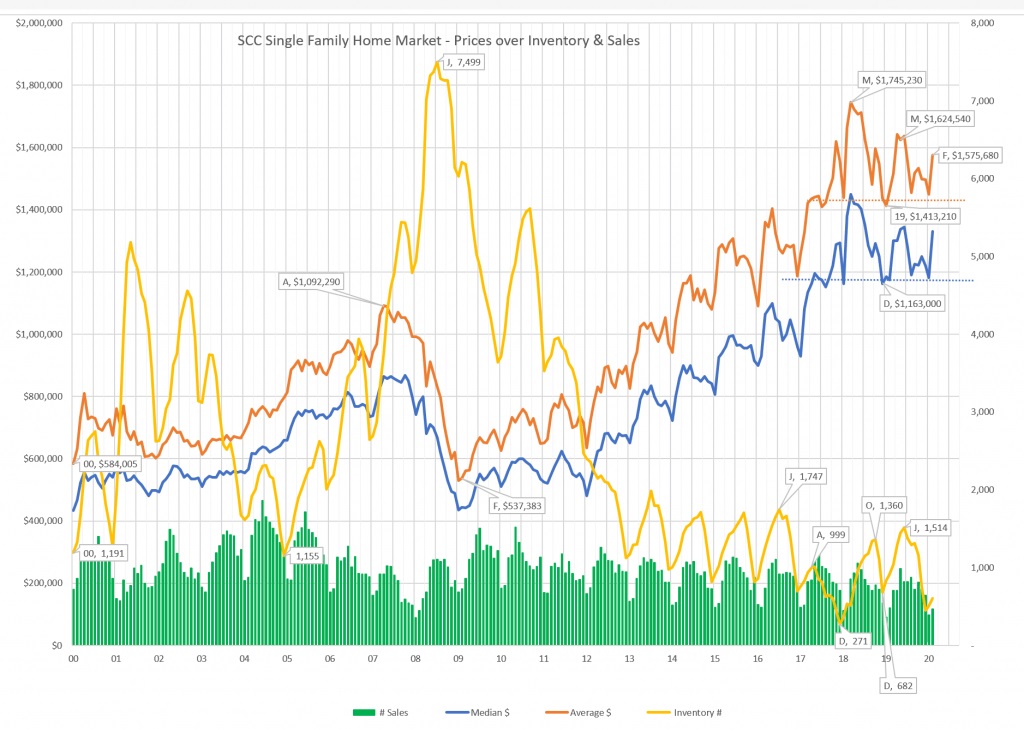 Will Coronavirus put the US in a recession or housing crisis?
Let's not get ahead of ourselves…housing prices do not fluctuate daily or weekly as much as stocks. If COVID-19 blows over soon, it may not create a housing market slowdown. The length of the coronavirus shelter in place will play into the overall economic impact. The reality is that local Santa Clara county home prices do tend to fall during economic recessions, but the extent to which that happens can vary by area.
Read about what happens to Santa Clara County home prices in a recession where I review past recessions and home prices.
Or listen my explanation of this blog post via video:
San Jose Real estate market before Coronavirus
As shown in the above Santa Clara County chart and this San Jose chart, the south Bay Area was in a very low inventory (yellow line) sellers' market starting out 2020. With strong buyer demand against low inventory, many properties for sale were receiving multiple offers. 2020 was shaping up to be a strong home sale year with similar characteristics to early 2018.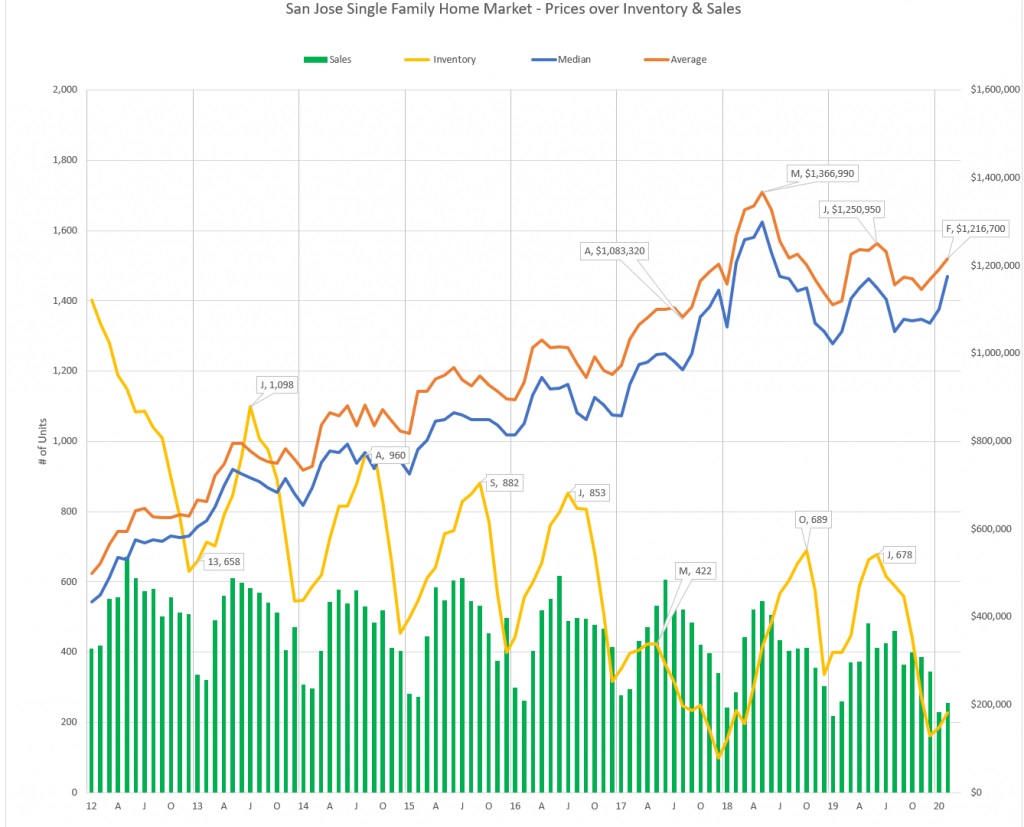 Stay informed of the current market and the changes seen in the field with a monthly San Jose Market update video email.
How do we know if COVID-19 has an affect on prices?
Home prices in bay area, as shown above in the housing market graph, are actually a slightly trailing indicator of the market. February 2020 home price data reports sales closed in February 2020. But the February closed sales likely initiated/went into contract in January 2020. So the housing price graph above trails from 4-6 weeks behind the actual market performance.
Properties selling today will not close and be part of the stats until April monthly data is compiled. Also with the changes in the processing of sales due to shelter-in-place restrictions, many sales are taking longer than 30 days to close. The start of the real house price impact due to the coronavirus shelter-in-place will likely not be documented until end of May 2020.
WILL THE HOUSING MARKET CRASH in 2020?
If you're not looking to buy or sell right now or in the next year, the market fluctuations don't matter. Real estate has always been a long-term purchase and hopefully the coronavirus impact is minimal. History tells us no matter the impact, we will recover from it.
But if you are planning a move soon, how can you make the best decision?
Looking at real market facts and indicators to understand home prices in the bay area is critical to making informed decisions.
First follow the leading housing market indicators on a regular basis.
Second, consider local history to help you understand what might be coming. Read on for details of each.
Leading Indicators of Housing Market change
What are the housing market leading indicators?
Below is a list of several indicators I watch with a detailed explanation of each. Also read on for a snapshot of what each indicator looks like after a couple weeks of Shelter-in-place.
Stay tuned to the future changes with a monthly San Jose Market update video email.
The San Jose house price history shared above is a trailing indicator since those properties sold 4-6 weeks prior. With 15 years' experience in San Jose area real estate, I can attest that a lot can change in 2 weeks. Typically those changes and leading indicators are seen in the field first.
To understand where the market is potentially heading, here are some leading indicators I gather out in the field as well and through close monitoring of the market metrics.
- Traffic through properties – first indicator
- Numbers of offers received on prime properties
- # of properties going into contract each week and # of properties closing each week
- Relationship of supply and demand, also called Days of Inventory or Attrition
- Local unemployment rates
- Mortgage Interest rates
- Stock Market performance
What leading indicator changes are noted since March 17 Shelter in place date?
With the shelter-in-place in effect as of March 17, 2020 in Santa Clara county and surrounding Silicon Valley cities, we saw a sudden shift in many leading indicators. As mentioned above, the early 2020 market in San Jose area was very strong, so read on for details of how things have changed so far.
a. Traffic through properties
Traffic through properties dropped to ALMOST NONE! The local mandate stated that no one should be outside their home except for essential needs, so it is expected that house showings would disappear. The shelter-in-place mandate is a very unique community condition and does not truly reflect the demand today. All open houses were cancelled and visiting a property took on a new form. Some vacant properties did continue to have a few showings where agents were creative enough to abide by the social distancing guidelines and provide virtual showings.
The best indicator available today that correlates with this is number of online tours or views of walkthrough options compared to before COVID-19.
b. Numbers of offers received on prime properties
Through my business and networking with other agents, it is obvious that the number of offers has decreased on prime properties. Personally I had a listing go into contract on March 18th with a few offers, but it is likely if this property was listed just one week prior, we would have gathered 8+ offers.
c. Number of properties going into contract and closing each week
Many home buyers are pulling back and waiting to abide by shelter in place guidelines as well as to watch what happens with the housing market. However, there are still some buyers that need to make a purchase since they have already sold their current home and are now stuck in transition. Other buyers see this as an opportunity to get in with less competition and great interest rates.
But as noted below, the data shows that inventory and new pending sales are down since the Shelter-in-place, but not at zero. Inventory the first week was down about 15% in the county and San Jose. New pending sales were 31% down in the county and just 17% down in San Jose. Week two decreased in sales even more, yet there was an increase in inventory. Week three was a breakthrough when buyers, sellers and agents figured out how to work in this new environment. Each week since, new pending sales have continued to increase. Inventory continues to modestly increase as well. May 26 inventory was ~30% LESS than May 2019 through the entire county and 32% less in San Jose. New pending sales in the current market are about 75% of the sales seen in May 2019.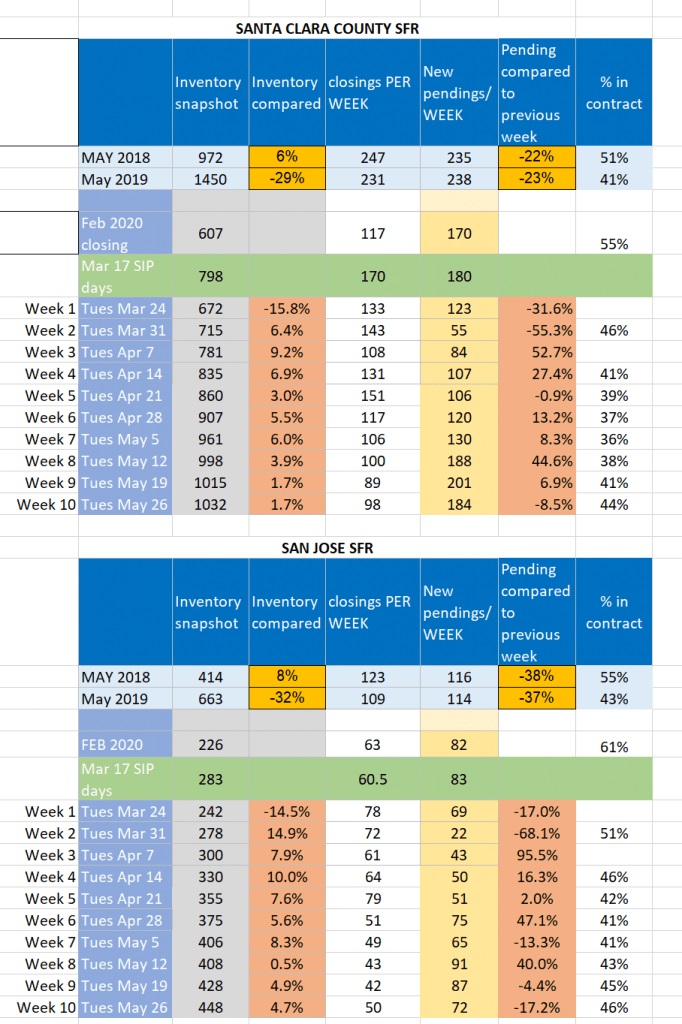 d. Relationship of supply and demand, Days of Inventory
Days of Inventory (DOI) can be calculated with current market stats or by looking each month as shown on my San Jose Real Estate Market Trends page. February 2020 ended with 25 days of inventory, a very low seller's market value! This stat is calculated using number of closed sales and current inventory.
A leading indicator calculation can also be done with pending sales and current inventory to show if the market is shifting from the previous months sales. If we use February 2020 San Jose pending data, the Days of Inventory worked out to 19 days of inventory, telling us the market was heating up even more!
DOI Changes after Shelter in Place
Per the above real inventory and sales data, the market has shifted due to the Shelter-in-place order. To attempt to quantify the market change, I can use the first week of shelter-in-place pending sales rate versus the current inventory to indeed confirm the market has slowed. The calculation reveals a snapshot of 25 days of inventory. This shows a shift in the market indeed, but still a healthy sellers' market at the current rate of sales.
It will be crucial to watch the rate of sales week by week and the longer the shelter-in-place is in effect, likely the bigger impact that will be seen. As you can see in the below data the difference in inventory and sales increased. The opposition of these two stats in week 2 (ending Mar 31) of the Shelter-in-place created a DOI metric that is indicative of a neutral market. As mentioned above, week 3 was a turning point. Since the week ending Apr 7, the DOI metric has continued to improve. The extremely strong real estate market BEFORE Shelter-in-place has slowed a bit but seems to have found a new rhythm. Currently the county and San Jose markets have just over 1 month of inventory at this slower sales rate. As you can see from this REAL data, the Silicon Valley market is still very strong and showing great improvement these last few weeks.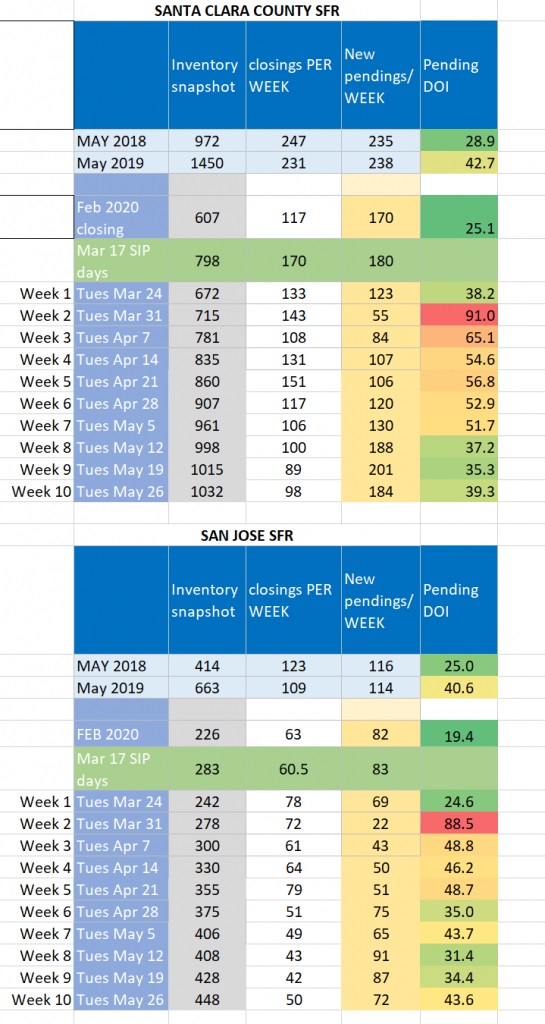 But put this in perspective of the Santa Clara county market history. Yes, the current extreme health crisis has caused the DOI to increase. Yet the DOI is not a buyer's market. The current levels represent a negotiating market with some properties in desirable areas still experiencing multiple offers.
The Santa Clara county market was a full buyer's market for many years prior to 2012. Referencing the price chart above, home prices modestly appreciated in 2010-2012 even still.
Also you have to wonder with these unusual circumstance, are we creating a lot of pent up buyer demand that will rush out to buy once the Shelter-in-place is lifted? I believe this health crisis is helping us all realize the value of home as a safe place for our family. Will this increase the desire for Americans to buy a home?
e. Unemployment and Mortgage interest rates
Local unemployment rates will be changing as the coronavirus shelter-in-place extends and small businesses must reduce staff or shut down. A housing market impact is more likely if the unemployment rate significantly changes. However, most San Jose area homebuyers are high-tech employed. Local high-tech employees have transitioned to working at home to weather this health crisis. Truly the San Jose area market is fueled by the top income earners, who may be less likely to have their jobs impacted during this shelter-in-place time.
Mortgage interest rates continue to fluctuate near record lows and do provide incentive for buyers who are financially stable to get into the market. The US government is monitoring the federal funds rate and using it as a tool to support our economy during the coronavirus. The federal funds rate is not directly connected to mortgage interest rates, but it does have an influence. The low mortgage interest rates we see today and are likely to experience for a while could help ride out of the impact of coronavirus.
f. Stock market performance
High-tech employed buyers with down payments from stock options largely fuel the local real estate market. Many of the local buyers work at large US companies headquartered in Silicon Valley including: Apple, Google, Facebook, Adobe, Visa, Oracle, Intel, Cisco, NVIDIA, Netapp, Netflix, Wells Fargo and more.
Buyer's stock holdings compose at least part of their down payment. Silicon Valley real estate market is therefore tied to the stock market performance, at least somewhat.
I track the S&P 500 companies performance in relation to the local real estate market. There is an obvious correlation in home prices and stock market performance, see the chart below.
Consider local history and Correlations with the Stock market
The S&P 500 versus Santa Clara County average home prices charted below reveals 20 years of home price history. This chart can possibly help us predict home prices in the bay area.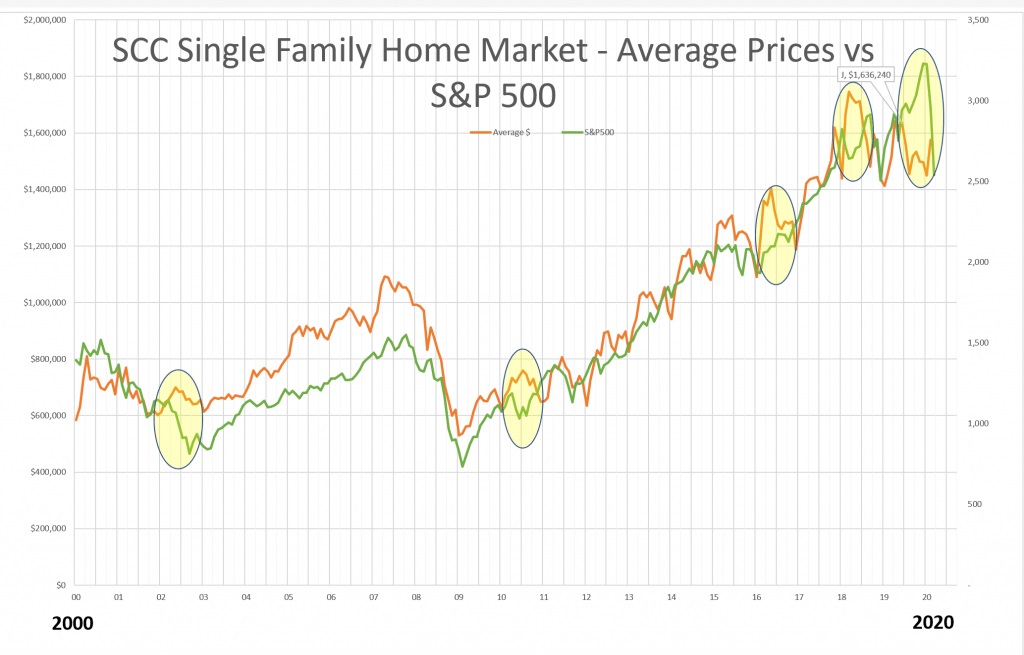 As identified in the yellow circles, there are a few instances in the last 20 years when the S&P 500 (green line) headed in an opposite direction of the housing market prices (orange line). The largest of these was in the past year.
Below is a close-up of the chart over the last few years with the darker vertical lines indicating 6 months time.
As noted in the chart, June 2019 was the most recent housing price peak (since the peak of May 2018). At that point, the S&P 500 continued to see extensive appreciation (as well as the stock market as a whole) and yet local Santa Clara County home prices softened. For the past 8 months, the house prices and S&P 500 have been in opposition.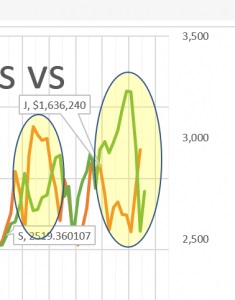 The recent decline in the stock market value due to the Coronavirus impact across the globe has subtracted that huge stock market gain of the last several months, bringing the stock price back inline with local housing prices.
As is evident from this chart, the stock market and local real estate prices have seen several peaks and valleys over the last few years. Today both the S&P 500 and the local housing prices are near Fall 2017 values.
Will the COVID-19 Crisis Push Home Values Lower?
It is true that COVID-19 made the stock market crash. This pandemic is also putting people out of work and possibly setting us up for a recession.
Today's San Jose real estate market is nothing like 2008 or even 2001. We are in a health crisis which started during a very strong real estate market (low inventory and low interest rates). There's still healthy local large corporations and a balanced and controlled banking system. There are no signs of a real estate "crash" on the horizon though we may experience some price softening due to a recession.
Strong local market fundamentals, shown in February and early March 2020, will help weather this health crisis. Even though the intensity of the real estate market will likely cool, a healthy market will still exist that is easier for buyers to get in to. The stock market and home price history have closed the gap from the last several months and are now more in alignment.
Homeowners may not see their property values go down at all in areas of high demand. And with mortgage rates being so low, prospective buyers, whose income doesn't take a hit in the coming months, may try to capitalize on the opportunity by purchasing property sooner rather than later.
Indicators today show that our strong real estate market will be able to weather this storm, but only time will tell if home values trend even lower.
As shown in the updated weekly data above, the market is still moving forward. The weekly market metrics show that Silicon Valley real estate is truly weathering this health crisis. Stay in touch with these leading housing market indicators reviewed in the San Jose Real Estate Market Trends updates, visiting my YouTube market updates or sign up for my monthly market update videos by subscribing to my market trends email list.
Stay healthy and shelter-in-place so we can get through this health crisis and continue where we left off.
Check out my What is My Home Worth? It's absolutely FREE!