COVID-19 Safe Real Estate Transactions
Posted by Theresa Wellman on Monday, April 6, 2020 at 5:09 PM
By Theresa Wellman / April 6, 2020
Comment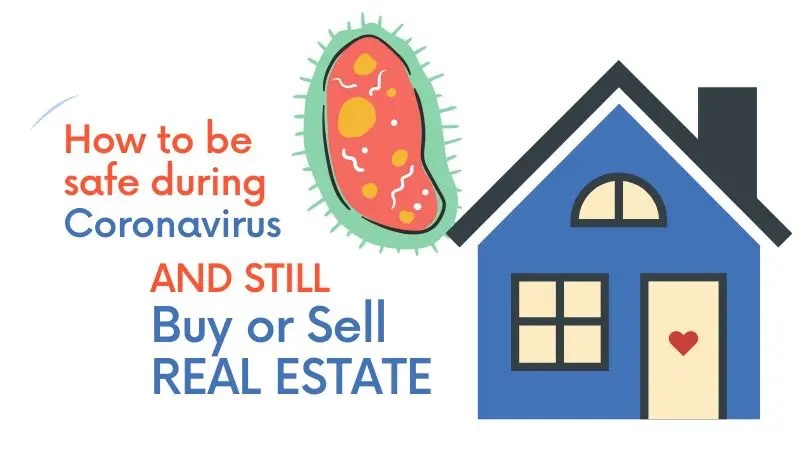 --UPDATED May 20, 2020 with new Next Phase May 22 health order (orders issued after this date have not changed the details on real estate transactions)
Coronavirus sure isn't making it easy for people who need or really want to find housing.
It's a nerve-wracking time for everyone, but especially for buyers and sellers as they try to figure out how to make real estate work while still staying safe.
Homes are still selling during all the coronavirus changes and precautions. (Stay up to date on the latest market data by listening to my monthly video update.) Buyers are taking advantage of low interest rates and less competition than they would normally face during the spring real estate season. Many sellers, who had plans prior to the shelter-in-place to sell, are proceeding on schedule.
The main difference with real estate today versus usual, as stated in the county orders below, is virtual tours MUST BE done FIRST and that live/in-person showings when necessary are:
only by appointment,
only for properties where the seller is not present, and
can only include one real estate agent and 2 buyers (from the same household) who are social distancing and wearing masks.
(version May 18, 2020)
The order of the Health Officer of Santa Clara County states "Service providers that enable real estate transactions (including rentals, leases, and home sales), including, but not limited to, real estate agents, escrow agents, notaries, and title companies, provided that appointments and other residential real estate viewings must only occur virtually or, if a virtual viewing is not feasible, by appointment with no more than two visitors at a time residing within the same household or living unit and one individual showing the unit (except that in person visits are not allowed when the occupant is present in the residence);"
How we are serving SELLERS:
First, all client appointments are being held on the phone or a scheduled video call whenever possible. We will setup a zoom call, Facetime call or other video options. If your property is vacant (or able to be vacated), then we can proceed with inspections and marketing as usual. If your property can not be vacated, please contact Theresa to discuss your options and how to limit your potential exposure.
Our current seller marketing and photography package has expanded to accommodate more thorough virtual showings.
We offer our already above-normal FULL exposure custom marketing package PLUS these additions due to the increased demand of virtual tours-

360 walkthrough video –

experience this

!

360 Matterport, doll house virtual self-paced walkthrough

Higher than typical quantities (2-3x) of listing announcements mailed to the neighborhood. These tri-fold brochures are delivered in a silver envelope for impact and open rate.
Targeted online ads on Facebook and the web to buyers in the area
TV ad on CB Homes on Sunday evening at 4:00 pm on ABC channel 7
I was recognized as a PIVOTMASTER "a Realtor Thriving in a Virtual Showing World" and served as a Panelist for other realtors in the area.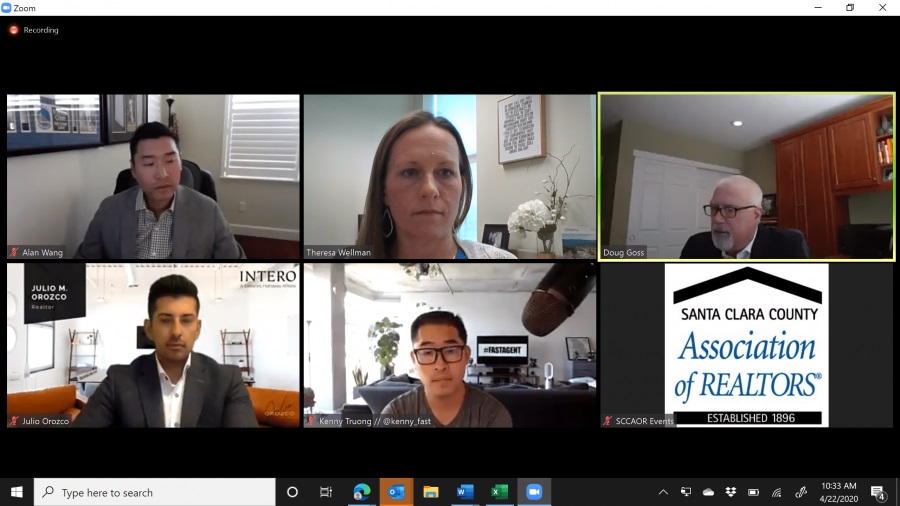 Here I am participating on a Zoom panel about how I am thriving in a virtual world.[/caption]
How we are serving BUYERS:
We are still continuing frequent virtual or phone meetings with our buyer clients. New appointments for buyer consultations are occurring virtually with Zoom.
If you are an actively shopping buyer, we want to MINIMIZE YOUR IN-PERSON HOME TOURS and SAVE YOU TIME!
I don't recommend that you personally tour a house unless you are very interested in it. Today this is especially important so that you minimize your potential exposure.
To help buyer, we take these steps:
We discuss virtual tours and disclosures before any visit to the property.
If you are still interested, I preview the target properties alone (using CDC guidelines) and take video tours of these properties for you. I create a walkthrough video (or 360 video) which give you more information to decide if the property is a match.
You then watch the videos and sort the options into "contenders" and "eliminations"
Then, I'll leave the next step decision up to you.

Schedule a live video walkthrough (private virtual showing) with me at the property contenders
Make an offer Subject to Inspection at a later date or
Make an offer sight unseen after carefully reviewing videos, floor plans, photos, etc. (It does happen that some buyers never set foot in a house before they purchase it.)
We schedule an in-person visit (if you're COVID-19 symptom free). The county guidelines allow in-person visits for properties where no one else is present. The county guidelines also limit visitors to one agent and 2 buyers only (2 buyers from one household only). A mask is required and hand washing or hand sanitizing when entering and leaving a property.

If you find a home you love and want to write an offer, I recommend building a bit of extra time into the contract. This time is to account for the potential slower turnaround times or delays due to COVID-19 working conditions. I have a couple options for addendums to account for this unique environment.
WHY WORK WITH THERESA WELLMAN – Homeowner Experience?
Use of top TECHNOLOGY to enable informed decisions in less time!
GUIDANCE through the process of preparing and closing your home purchase. Including practical moving and home repair experience since I'm a longtime homeowner myself!
STATS & EDUCATION focused, provide "KEY INSIGHTS" to help you make informed decisions
Over 15 years experience as a full time realtor and ranked in the top 3% of agents for production level
SERVICE and CLIENT SATISFACTION – read our online reviews… "RELIABLE", "PATIENT", "DILIGENT" "PROFESSIONAL" – a "PARTNER" you can TRUST!
Great REPUTATION and NETWORK with local agents to provide off-market opportunities as well as extra incentive for listing agents to consider your offer.
Please reach out if you want to discuss how our Safe Real Estate Transactions plan can work for you!
Download my San Jose Relocation Guide. It's 100% FREE!