Guadalupe Elementary School | Almaden Valley Schools and Neighborhoods
Posted by Theresa Wellman on Friday, July 1, 2022 at 3:01 AM
By Theresa Wellman / July 1, 2022
Comment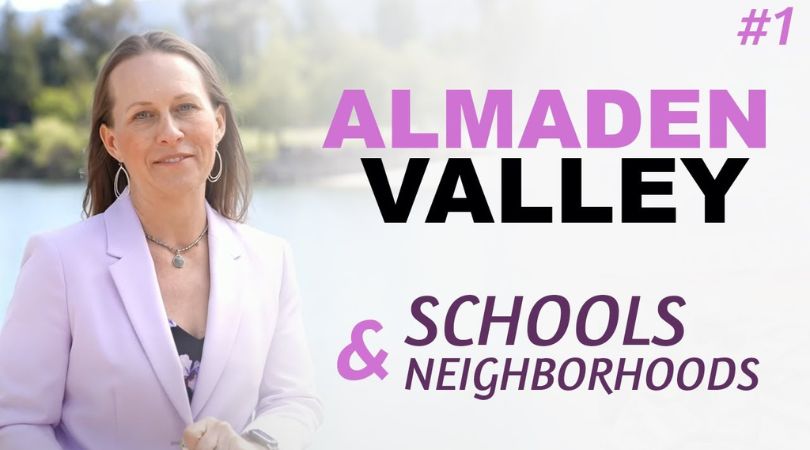 Almaden Valley is a Southern section of San Jose known for top-rated schools, wonderful neighborhood, and unique lifestyle.
In a series of 5 blogs with related videos, I will review each of the 5 elementary schools which service the families living in 95120 San Jose CA.
First, let's explore Guadalupe Elementary School, the small corner of Northern Almaden, part of the Union School District. The other 4 schools (Los Alamitos Elementary School, Simonds Elementary School, Graystone Elementary School, and Williams Elementary School) are part of the San Jose Unified School District. In this blog, we will discuss the schools and scores, neighborhoods that feed to this school, local parks, and the lifestyle of this area.
SCHOOLS AND SCORES
Guadalupe Elementary School, rated an 8/10 by greatschools.org, feeds into Dartmouth Middle School, Branham High School, or Leigh High School since it's part of a free zone in Campbell Union High School District.
Much more goes into picking the area to live in than just school scores, so let's talk about these other factors.
NEIGHBORHOODS
The neighborhoods that feed into Guadalupe elementary school and have the 95120 zip code are Oak Canyon, Montevideo, TJ Martin, and Campana. These neighborhoods are all in the northwestern corner of Almaden Valley, located off Camden Avenue near Coleman Road.
Another area worth highlighting is the Almaden Winery, which is technically Cambrian with its 95118 zip code but very close to Dartmouth Middle school; plus, it's a newer & larger construction style home that many people who are attracted to Almaden Valley appreciate as well. So, if you're looking for Almaden or Guadalupe Elementary School, that's a great neighborhood to consider.
Oak Canyon was constructed in the early 1980s and is its own section with only 2 entrances into this neighborhood. This area was built on the meadowlands off of Guadalupe Creek and is surrounded by some natural beauty.
Montevideo was built in the mid to late 1960s and is known for its famous Cabana Club as part of its community offerings. This area is nestled right around the elementary school.
TJ Martin neighborhood was built in the early to mid-1970s and larger 8000+sqft lots. This area has many 2000 sqft. size homes of various layouts, including single-story, 2-story, and tri-level floorplans, plus it's close to the local park!
Campana neighborhood is a newer construction built in the late 1990s. These homes are mostly larger than 2000sqft but built on smaller lots under 4000sqft, so you have less yard to maintain.
Almaden Winery is similar to Campana but centered around a park; many homes have lots closer to 5000sqft.



NEIGHBORHOOD PARKS

Some things you'll surely love about the Guadalupe Elementary area of Almaden Valley are the neighborhood parks. So many great parks in this section of Almaden enhance the lifestyle in this area. TJ Martin Park is a long park with a playground, many walking paths, and many open grassy fields. There are dog play groups that gather here in the open grassy areas. Almaden Meadows and Jeffrey Fontana Park are other parks worth mentioning in the area since they are just a short bike ride away! One of my favorite features of the local parks is that TJ Martin Park connects via pathways to Jeffrey Fontana Park and then all the way up to Guadalupe Oak Grove Nature preserve. You can enjoy a long walk or bike ride on these paved pathways or veer off to some hiking trails at Guadalupe Oak Grove to add cardio to your outdoor exercise! You can continue the outing by crossing McAbee Road to pick up pathways to Almaden Lake Park and the Los Alamitos Creek Trail. When my kids were little, we would load them in the bike trailer and make several stops, including lunch at Almaden Lake. You can leave your front door and go for a nice long outdoor getaway through all these open public spaces.

LIFESTYLE

Now let's talk about LIFESTYLE to see if this is a match for you! In the Guadalupe neighborhoods, many families gather to have fun outdoors. It is a common sight to see groups at the playground, walking their pets on the local park pathways, and to see groups playing baseball or Frisby in the grassy spaces. During the summer, many couples or moms and kids set up a picnic blanket to enjoy some of the shade under a park tree. Friends often gather to hike on the trails at the edge of Oak Canyon or to the hilltop at Almaden Meadows, or even bike over to Guadalupe oak grove for a walk among the majestic oak trees. There are so many great natural environments in this area to enjoy, and that's one of the things that highlights the lifestyle in the area.

What's not to love about the convenience of local shopping and the schools? The main shopping center is located at the corner of Meridian Ave and Redmond Avenue, less than 1 mile from any area in Guadalupe neighborhoods. Dartmouth Middle School is on the way out of Almaden Valley, so you can drop your kids off to school (on the way into the office). Coming home from the office, I personally really enjoy the view of the lush green foothills. It is such a nice way to unwind as you head home after a day out. And don't forget that this section of Almaden Valley is off Camden Ave, one exit closer to most tech companies.

I hope you found this information valuable and informative. Take a look at the properties available in Almaden Valley and review the Almaden market stats. Depending on your home budget, we can help find the right area for you. Please let us know how we can support you in your Almaden Valley Schools home search. Contact us to set up a personal buyer consultation.

ADDITIONAL RESOURCES