Guide to Finding the Best Realtor in San Jose
Posted by Theresa Wellman on Thursday, July 6, 2023 at 10:30:44 AM
By Theresa Wellman / July 6, 2023
Comment
Are you wondering how to hire a real estate agent in San Jose to help you with your home search? Navigating the San Jose housing market can be overwhelming, with its numerous costly properties for sale. Let us assist you in finding the perfect home by connecting you with a trusted and knowledgeable real estate agent.

The right real estate agent can make the process as seamless as possible as you strive to buy a house in San Jose. They'll have deep knowledge of the area you want to buy in, be abreast of the latest market trends, and have a solid process for ensuring your experience is smooth.

So how do you find the right real estate agent in San Jose? Read along to find out.

Finding the Best Real Estate Agent in San Jose

Ask for referrals
To start the process, begin by asking for referrals. A recommendation from a friend or colleague is a great start. You likely have friends or colleagues that have bought a house in the area despite the challenges of the Silicon Valley housing market. Who did they work with? What was their experience like? Would they recommend their agent? Why or why not? If you get solid referrals, definitely consider interviewing these agents.
Just remember– it's important to have an agent who is focused in the right San Jose neighborhood. San Jose is a really big city so you want to make sure you're finding someone who really specializes in the area you want to buy in.

Learn about our buyer's consultation. Even if your move is 3-6 months away, this free meeting will prep you with valuable insight that will save you time and money! This buyer consultation meeting is focused on planning and educating you with insider tips! We enjoy putting the best plan together with you to create the best outcome. Book an appointment today.

Turn to Google
If seeking out referrals doesn't generate a short list of 2-3 real estate agents, start with a simple Google search. We recommend searching the neighborhood you're interested in + real estate agent. For example: Blossom Hill SJ real estate agent or Willow Glen SJ real estate agent.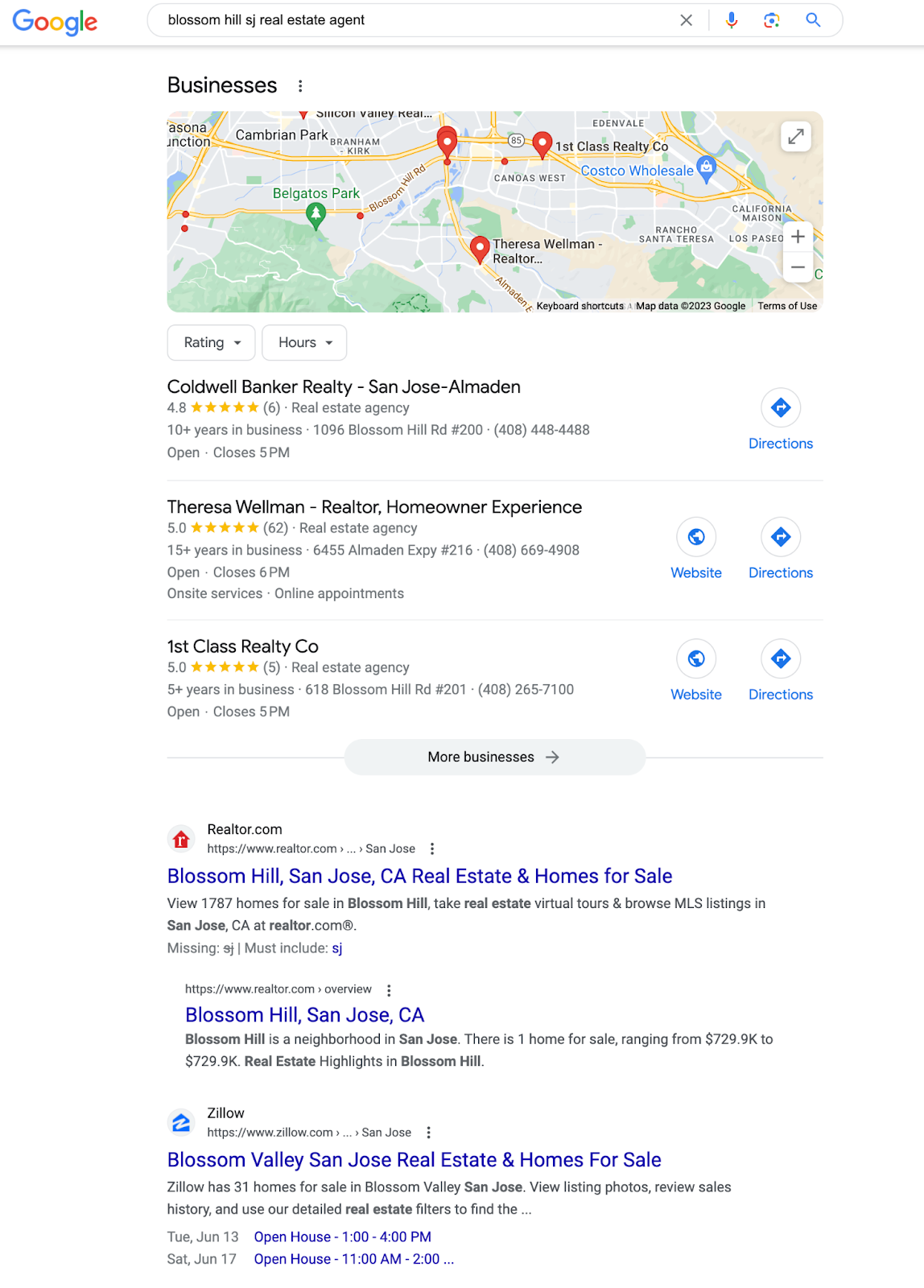 This type of search query will showcase highly-rated agents and yield lists from Yelp, Zillow, and other sites. Rather than looking for a company, look for individual agents. Read through a number of reviews and make a list of five agents to do some further research on. From there, strive to whittle it down to 2-3 to actually interview. We find it helpful to create a simple spreadsheet to keep track of the agents you're interested in.
Interview a few agents
Once you've narrowed down your list to 2-3 agents, it's time to set up home buyer consultations to conduct interviews.
You'll want to make sure that the agent you choose has an established process, is well-versed in your neighborhood of interest, has been involved in real estate for several years, and takes their business seriously.
You'll also want to make sure the communication style works for you and gain an understanding of whether you'll interact only with the real estate agent or if some of the processes will be in the hands of their team.


13 Must-Ask Questions for Your Agent

Here are the questions we recommend asking the real estate agents that you interview.

1. Can you send me some information about yourself?
Before setting up a buyer consultant, ask the real estate agent to send over some information about their experience. Look for professionalism and consistency in their communication. What they send over will reveal a lot about how they conduct their business– do they have a San Jose home buyers guide to share? Or do they simply respond to your email with "Let's have a call"?
2. What do you do that is different from other agents in your area?
Look for a business person that has a strategy and strives to serve their client. You want an agent who treats their business like a business, not a hobby. Any San Jose real estate who takes their business seriously will have a well-thought-through approach about how to work through the process.
3. How many homes have you closed in the past year? What % were buyer sales?
Look for an agent who is active in your area and at the top of their industry. Part-time agents are simply unable to keep up with the ever-changing demands of the market. A good rule of thumb is a minimum of 15 transactions per year. Why settle for less? You can search for an agent's production on the local MLS. For Santa Clara County, go to MLS Listings and type in the agent name. You can also search on Realtor.com.
4. What neighborhood(s) are you most comfortable selling and why?
You want an agent who can tell you local things like school district lines, traffic patterns, and what typical types of homes are available in the area, such as: where are townhome communities? Are homes single or two-story? When were different communities built?
5. How long have you been in business?
Longevity in the industry does not always mean success. However, look for an agent that has been in the business for a minimum of three years. The fall-out ratio for agents in business less than 3 years is over 80%. While experience is important, accomplishments are more important. How many homes have they sold in the area you are looking at? Realtor.com agent lookup will display the agent's past 2 years on a map for an easy visual reference.
6. Do you have a personal assistant or other support staff working for you? What steps and people can I expect to work with?
Most top agents employ (out of their own pocket) an assistant or staff. It is imperative that the agent has support to take care of the details of the transaction. Ask about their process and whom you will work with along the way. Even though support staff is a great addition, you don't want to be passed between the agent and their assistant without proper communication.
7. What will you do to keep me informed?
Do you want daily or weekly reports from your agent? Will the agent be able to meet these expectations? Determine how much communication you want, and then find an agent who will give you the attention and time you want and deserve.
8. Can you provide me with further resources and referrals to contractors or inspectors?
The best agents have built strong relationships with their "Service providers" and can often get expedient service or be able to "cash in a favor" to get you answers sooner.
9. Can you give me some references from other clients you have worked with? And what do your clients say they like about your service?
Don't be afraid to ask for references. An agent who provides raving fan service and is proud of their work will be happy to provide references. Look at their ratings and reviews on sites like Google or Zillow.
10. What is the best way for me to get in touch with you? Do you have set working hours?
You should know exactly how to get through to your agent. There's nothing worse than being interested in a property and not being able to find the person who can get you in the door.
11. What does a typical home tour with you look like?
You should know what to expect when working with your agent. Will their style work for you? How fastidious are they? We often offer home video tours of properties to help buyers that can't make it to every single showing.
12. What awards or accolades have you received in the past couple of years?
Make sure that your agent is professional, well-regarded, and at the top of the industry. They will be more knowledgeable and will be able to best represent your interests based on experience and reputation.
13. Are you a fiduciary? And how will you represent my best interests?
Absolutely do not hire someone that you don't believe will always represent YOUR best interests. Have your agent give you examples of how they represent their client. Remember that finding the home is the easy part, true representation begins when you sign a contract and continues through negotiation and closing. Ask around for horror stories and you will find that they don't involve the home search BUT after the contract was signed.

Get Ready to Meet Your Realtor in San Jose

Finding and choosing the right San Jose real estate agent takes a bit of elbow grease, but will save you time, money, and stress in the long run. Buying a home in San Jose is a lengthy process and a major purchase, so it's essential to have the right team on your side.
Interested in working with us? Schedule your buyer consultation today so we can talk more about your home-buying goals. Curious about the home buying process? Read our guide to buying a house in San Jose.