How Much Does It Typically Cost to Sell a Home in San Jose?
Posted by Theresa Wellman on Friday, October 13, 2023 at 8:00 AM
By Theresa Wellman / October 13, 2023
Comment
We're often asked how much it costs to sell a house in San Jose. What will you owe your real estate agent? What is paid through escrow? Are you going to owe capital gains taxes? What is Measure E? We're here to address and answer these questions.
Although we're providing information in this article, we explain as much of this as we can when we first meet with sellers. We can offer more specific information about your situation. We also highly recommend watching our video on costs for selling a house in San Jose as we walk you through two scenarios with accompanying spreadsheets for each.
Costs for repairs and updates
Before you list your house, you're likely to spend some money on repairs and updates. Here are some typical costs* that San Jose sellers incur:
Pre-inspection fees - These include a property inspection ($600), termite inspection ($375), roof inspection ($200), and the legally required Environmental/Hazards report ($143– this one is paid through escrow). The total for the pre-inspection fees is roughly $1318.
Professional staging - Professional stagers bring furniture and decor into your house to make it look like a model home. In San Jose, professional staging for a property less than 2000 square feet typically ranges from $3500 to $5000 depending on the property size.
Updates and repairs - Putting in a little bit of time and money into updates and repairs before you sell can maximize the amount you get for the property. Costs vary a lot based on what you'll need, but sellers typically spend between $5,000 and $40,000. Our goal here is to get $2 back for every $1 spent. For example, if we spend $3000 on fresh paint, we expect to make $6000 back when we sell.
Wondering what kind of updates we help with? Here's a video about bathroom and kitchen remodels in San Jose. We share costs and show the transformation.
*Keep in mind that all these amounts are estimates. Prices for these items may vary depending on the circumstances.
Costs for a broker
In a typical real estate sale in San Jose, 5-6% of the sale price goes to costs for the real estate broker and the agent. Roughly half of this goes to your listing broker who helped you list and sell the property (a portion of this goes to your real estate agent), and the other half goes to the buyer's agent
This means that if you sell your house in San Jose for $2,000,000, $120,000 will go to the brokers, who will each receive $60,000.
Transaction costs and fees
Just like buyers, sellers are subject to closing costs. These include items such as title insurance, transfer tax, and recording fees.
This graphic shows the transaction costs and fees you can expect in San Jose. Note that any home over $2M will include an additional .38% for Measure E.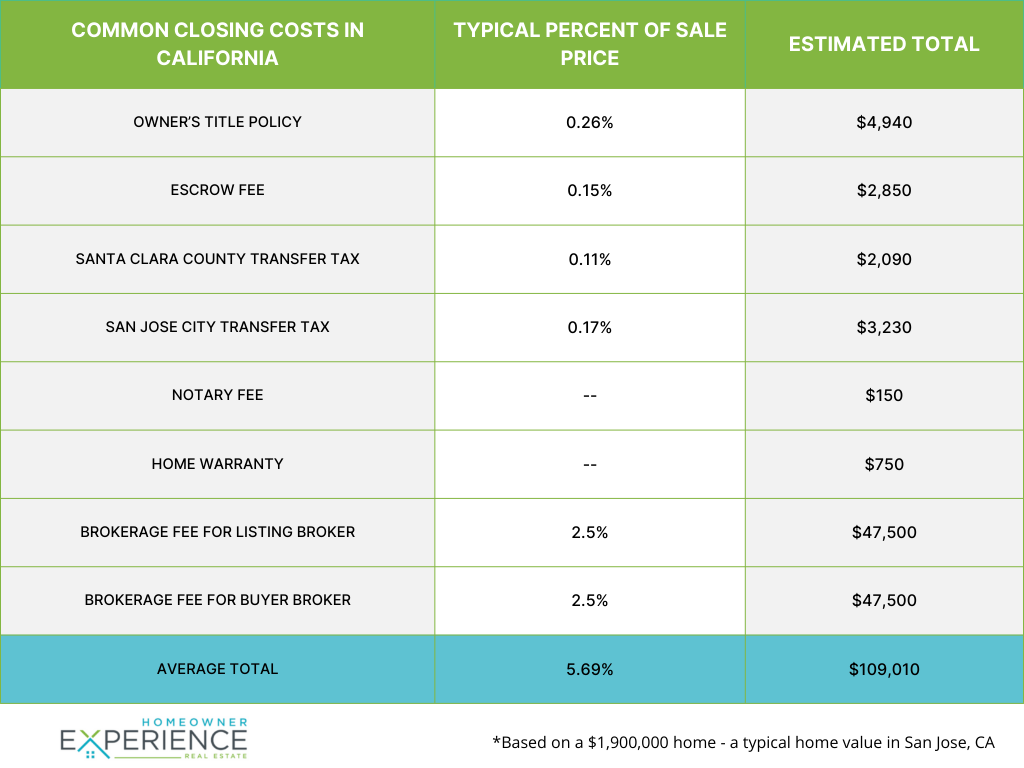 Taxes
Taxes are usually wrapped into your closing costs, but it's helpful to consider what the taxes will be.
When you sell a property in San Jose, you're subject to city and county conveyance taxes (or transfer tax). Transfer taxes can vary by city and county, so be sure to ask your agent what the taxes will be for your property.
If your home sells for over $2M in San Jose, Measure E, a property transfer tax specific to San Jose, comes into play. You will owe $7.50 per $1,000 of transfer value on properties priced between $2 million and $5 million when you sell.
Depending on how long you've had your property, you may also be subject to capital gains tax. If you're an individual, any gain over $250,000 is taxable. If you're married/registered domestic partner, any gain over $500,000 is taxable. The State of California Franchise Tax Board outlines this information and provides a worksheet to help you gain an understanding of what you'll owe.
Understanding costs for selling a house
There are a few different factors that go into determining your costs for selling a house in San Jose. Remember, you're not alone! Although we're providing information in this article, we explain as much of this as we can when we first meet with sellers.