How to Buy or Sell a House in a Social Distancing World
Posted by Theresa Wellman on Tuesday, April 7, 2020 at 5:06 PM
By Theresa Wellman / April 7, 2020
Comment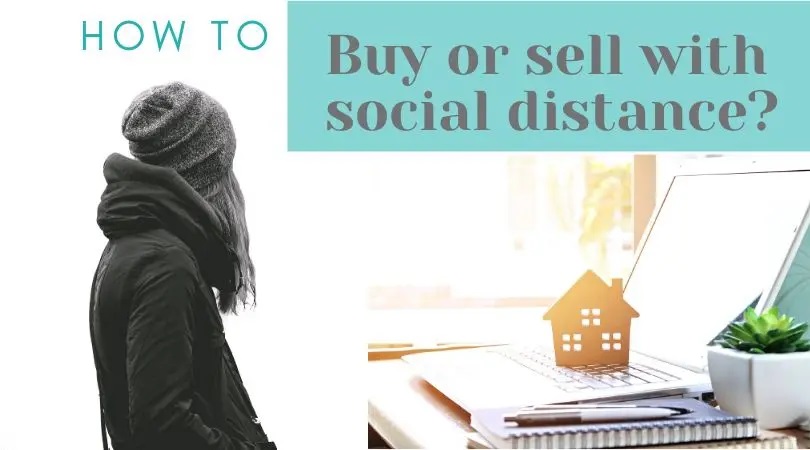 If you feel as though the Coronavirus has turned your world upside down, you're not alone. In California, the shelter-in-place order has disrupted many lives and businesses.
One of the industries that's been significantly affected is real estate. The normally fast-paced world of home sales has slowed considerably, and the pandemic already has had an impact on San Jose real estate market trends and on individual transactions themselves.
The illness caused by the Coronavirus, COVID-19, has not totally stopped home sales from occurring, but there are some things to know about buying or selling a home in a world of social distancing.
Real estate transactions
There are quite a few moving parts in any home sale, and COVID-19 has sort of gummed up the works. The biggest issue for transactions right now is the involvement of businesses that are considered "essential" and "non-essential" per shelter-in-place policy.
Escrow and title companies, as well as banks and notaries, are currently considered essential businesses. Inspectors and, in some cases, appraisers are considered non-essential. What does it mean for buyers and sellers? It mostly depends on where you are in the process.
If you're involved in a pending sale, and home inspection and appraisal have already been done, you stand a good chance to close on the agreed-upon date. One slight delay you might experience is at the county recorder's office, which is only processing e-recordings and has limited hours and staff.
If you're involved in a transaction and the process has not yet included a home inspection or appraisal, you will likely experience delays. The California Association of Realtors has written and approved an addendum that can be added to any contract affected by pandemic-related delays.
Active listings
If you're currently active in the market as either a buyer or a seller, there are definitely some changes you'll notice.
First, in order to comply with the shelter-in-place order and restrictions on group gatherings, there will be no open houses. As for individual showings, there may be opportunities to see a property in person if it's vacant. If someone is living in a home for sale, it's unlikely buyers will be able to tour the home.
Sellers should talk to their listing agents about what rules they have for showings and about marketing tools such as virtual tours. If you're thinking about putting your home on the market but haven't yet, it might be a good idea to postpone, unless your move timing is critical and your property can be vacated. Vacant properties are specifically pointed out in the new March 31, 2020 Santa Clara county health code as acceptable for limited showings.
Buyers should get used to shopping for homes exclusively online for the time being and make use of video walk-throughs. If you're working with a buyer's agent, ask them about what virtual tools are available to view homes. Also ask your buyer's agent if they are willing to host a personal virtual walkthrough tour for you.
Market trends
It's probably no surprise that COVID-19 has had an effect on market conditions.
When it comes to San Jose real estate market trends, activity has slowed and will likely continue to be slower than usual while people shelter in place. However, the area has been such a seller's market recently and the inventory of homes for sale remains very low.
In fact, the first two weeks of March saw a 28-percent increase of single-family homes for sale in Santa Clara County. By the third week, there was a decrease of 14 percent. Some sellers have pulled their homes off the market.
The low supply, coupled with higher buyer demand as mortgage interest rates have plummeted, should mean that San Jose area home sales will rebound quickly when this is over or even continue at a perhaps slower-but-steady pace through the pandemic. Even in these trying times, people will need to sell or buy a home. Read how the Homeowner Experience team is supporting buyers and sellers during the shelter-in-place.
Theresa Wellman is an experienced and knowledgeable San Jose CA real estate agent who has worked with many clients in Almaden Valley, Willow Glen, and other neighborhoods in San Jose. Check out the YouTube video she created that shows what a walkthrough of a virtual listing looks like. For more details on changes in real estate due to COVID-19 look at the following YouTube video or read about market changes seen during the Shelter-in-place.
Download my San Jose Relocation Guide. It's 100% FREE!