Choosing the Right Listing Agent When Selling a Home in San Jose
Posted by Theresa Wellman on Saturday, August 3, 2019 at 5:13 AM
By Theresa Wellman / August 3, 2019
Comment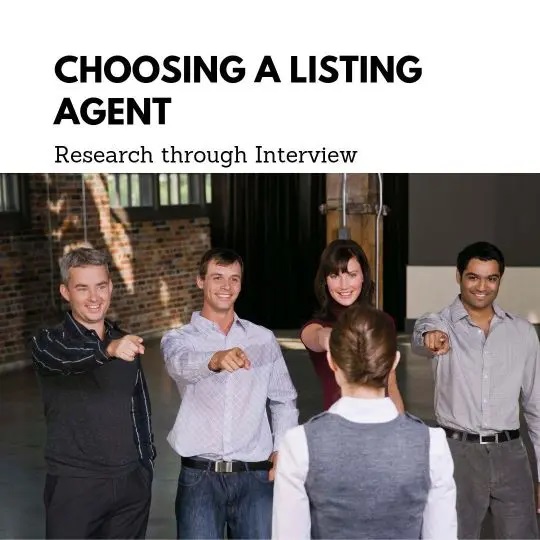 Are you wondering how to choose a real estate agent for selling your property?
Do you want a list of questions to ask a realtor as well as a list of items to research ahead of time?
In San Jose, your property is likely one of the largest assets you have, so don't you think it wise to hire the best option out there for you?
Consider these 6 steps for finding the BEST listing agent for you and YOUR property:
1. Research the Market
It is important to have some context regarding the current market and what marketing is available in your area. Do your research
Personally check out the local housing market. Go through some open houses in your local area.
Search online for LOCAL real estate updates such as "San jose real estate blog" or "Almaden valley real estate trends". Are there local agents who share market updates online?
WHAT TYPE OF MARKET IS YOUR AREA IN? Is the current market a sellers market, buyers market, or changing market? How to tell? (see point 4)
What properties stand out from the all the properties for sale/currently available? How does your property compare? Will you have to make changes for your property to compete?
2. Gather a List of Potential Agents
Use several sources to create a list of agents to research. Since your property is likely one of the largest assets you own, don't you owe it to yourself to hire the best agent for the job?
Start by creating a list of agents who might be good options.
Ask friends for recommendations - make sure these recommendations have local expertise and are full-time
Search online. Look for agents active in your neighborhood/area "Willow glen real estate agent" or "Almaden Real Estate agent". Possibly you ran into some in step 1b that you should add to your list.
Check your neighborhood listings. Who did your neighbors hire? Do any of these agents/properties impress you with their presentation?
3. Compare Agents Online
You must research several agents to narrow down the choices to those you will talk to. Using your list of potential agents created in step 3, keep notes on the below characteristics for each.
You can search each agent by name on Google. To gather the below information, check several sources. Consider the agent's personal website, Google business profile, Zillow profile, LinkedIn profile, online reviews and other information Google finds about them (such as YouTube videos or Realtor.com profile).
RESEARCH THESE CHARACTERISTICS ONLINE:
Agent reviews: check google reviews, Zillow reviews, realtor.com, yelp
Experience: How many sales do they close a year? What % of these is listings? Also check the Zillow agent profile or the local MLS for these details.
Single agent or team: Do you prefer hands-on, personal service? Or do you want to work through the process with a large team?
What does the agent offer for their marketing plan? Any information online?
How do their listings look online? Consider the presentation, photo quality, property specific website or virtual tour, special or unique marketing. Look at current or recent past listings from their website (AKA "Featured listings") or Zillow profile or local MLS.
4. Narrow Agent List
Review your notes after researching the agents online.
Based on this information, filter through the list to identify your top 3-5 agents. You want to interview approximately three agents in person.
If more than 3 agents are still on your list, visit your target agents at open houses. A live open house visit will give you a preview of how they work and help to narrow the list to no more than 3. While at the open house, observe:
How do they present their listing at an open house?
How do they engage with you and buyers?
What materials do they provide at the open house?
5. Interview Agents
Observe their personal style and also ask the right questions in a personal interview.
OBSERVE:
The interview process begins with your first point of contact. Test their communication skills. Do they return calls? How quickly? Is the agent communicating clearly? Are you prepared for what to expect?
Do you connect with this agent on a personal level? You will be working with them for a few months, so don't make it difficult on yourself! What does your gut tell you? Are they honest? Do you like them? Is it easy to communicate with them?
Does the agent present themselves professionally?
Is the agent enthusiastic about your property and confident in their ability to market it?

ASK THE AGENT:
How many houses do you typically sell a year? What % of your experience is listings? How many sales this year so far?

Be aware that some agents focus on listings and others on buyers, so ask for the split in their type of business specifically. Compare their answers to your online research.
Most noteworthy, consider the agent's experience in your given market. It is always better to hire an agent with local expertise. Local expertise is especially important if it is a changing market or a unique area.

How many of their sales are LOCAL? If you live in a unique area with close school borders or other features such as railways, busy roads or powerlines, be sure the agent has experience with these items.
How long have you been selling real estate? Are all these years full-time? What education background do you have?

What do you do to network with other agents?

The Agent's reputation in local area is important to getting the word out. You want your property to have maximum exposure. It is also important that other agents are comfortable working with them. Use your gut here as well.

Can you show me your custom marketing plan? Do you have samples?

Ask for a sample property brochure/flyer, postcards, photos of yard signs etc. Make sure you are happy with the quality level used.

Who do you think will be the potential buyer for my property? How will you target them?

Do you have a social media plan?

Note details and how the agent tracks these results or reports to you that the items are in process

How much do you spend on our property marketing?

Will you guide us in preparation or updates to make our property more attractive to today's buyers?

Does the agent have connections to handymen, landscapers and painters? Will the agent give you a specific to do list?

Can you share your recent track record for listings including list price to sell price ratios and days on market?

Are these results better, worse or same as market average?

What is your brokerage fee for our sale? Are there other costs I should be aware of? Do you have a net sheet?

Keep in mind, the difference between 5% and 6% is only 1%. So please ask yourself how you come out ahead, if your sale price ends up reduced 2+% because you chose a lower-fee agent? Rather an experienced agent, with a great track record, can make you more than that extra 1% you spend in hiring them.

What are your hours of availability? What is the best way to contact you if I have questions? If you are not available, who can I contact or how fast can I expect to hear from you?
HIRE YOUR TOP AGENT and GET STARTED!
Hiring an agent is just one step to Getting your House sold. Are you prepared for the process? Visit my 8 Steps in the home selling process.