Selling a Home in San Jose During Winter: Good or Bad?
Posted by Theresa Wellman on Friday, November 13, 2020 at 10:34 AM
By Theresa Wellman / November 13, 2020
Comment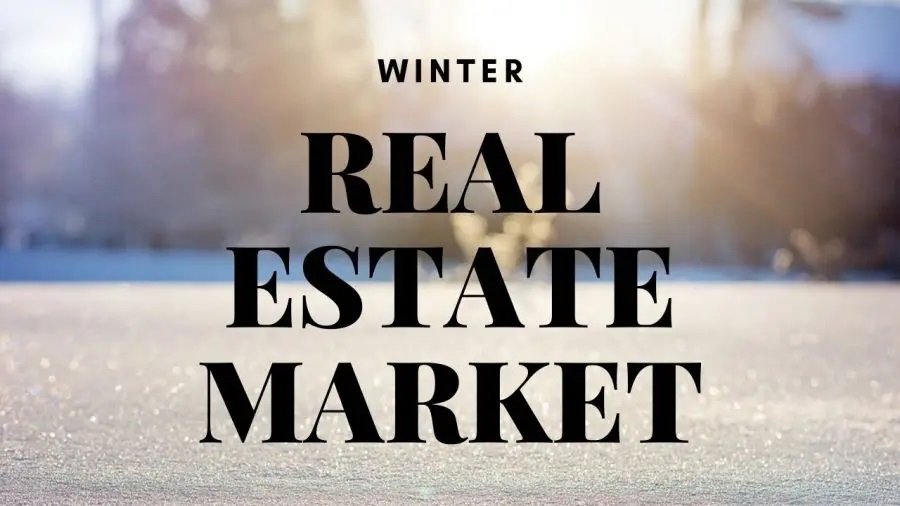 Nobody buys or sells a home in the winter. Right? … Wrong!
In fact, the numbers tell the truth!
I enjoy raw market data, since it really tells the story. For Santa Clara County the truth is the winter (December, January, February) equates to 15-18% of a given year's sales…that's a significant portion, only a little lower than the 25% of time those months cover in a year.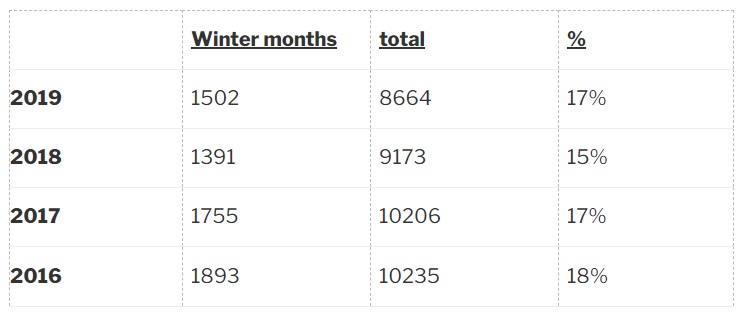 So, if you're wondering if you should put off buying or selling a home until spring, ask yourself why? You may be surprised to learn that there are actually some advantages to buying or selling during the winter season.
Advantages of Selling a Home in Winter
Okay, home sellers, let's talk about the perks of selling in the coolest months.
Online Has No Season
You probably already know that most buyers go online to search for homes, especially after this year's 2020 COVID-19 changes. In fact, nearly all buyers (93%) used the internet during their home search last year2 and my experience is that is up for 2020. Even if the weather is wet or chilly, buyers can explore properties with advanced 3D tours and detail marketing without having to leave their couch.
While late spring to summer is still the hottest home-buying season, serious home buyers are always watching and alerted of new options—checking the latest listings on their smart phone once they receive an email or pop up that there is a new match. So even though the weather may be changing, buyers will still be shopping.
Less Sellers
Come spring, inventory will increase and some years it shoots up fast! But in the winter, you've got a limited number of sellers on the market, which means less competition if you are selling. For Santa Clara County, see the yellow inventory line in the chart. The bottom of the inventory valley is typically December each year.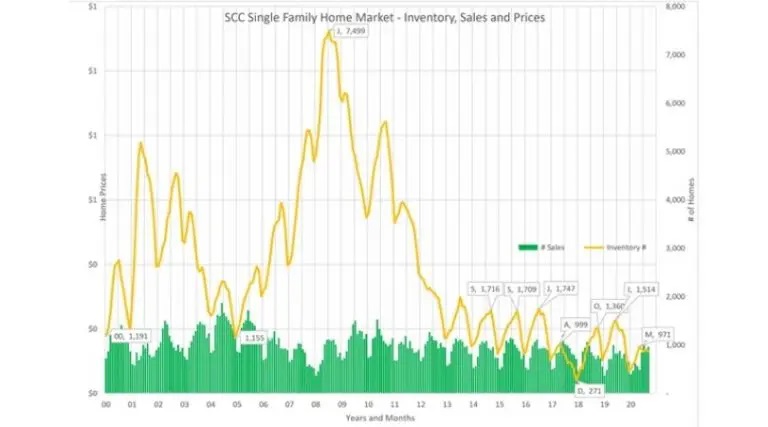 That is a lot less competition on the market if you list your home during the winter! Buyers have fewer homes to choose from, which means you could sell faster. 2020 is an especially great winter to sell with many more buyers in the market due to low interest rates and the desire for more space due to COVID-19 changes at home. Watch my latest update on the local San Jose real estate market trends on my Youtube channel.
Winter Buyers are Serious!
Many people have more social commitments during the holidays and want to cozy up inside the rest of the time. Buyers out looking in the winter are not looky-loos! Many winter buyers either did not find the right house in the fall, or are working against a deadline to find a match, so they are apt to make quick decisions if the house is right for them.
Less work, so more shopping?
Around the holidays, many employers give time off. Several local high-tech companies give days around Thanksgiving off and even more time around Christmas and New Years. This extra time off work leaves more time for house shopping! And with the thoughts of a new brighter New Year, buyers dream…and make plans, so buyers can be extra motivated to take action right away!
Why Winter 2020 is even more attractive!
Today's local San Jose real estate market is a strong seller's market. With only 3 weeks of inventory in November 2020, the market is moving fast and most sellers are receiving multiple offers! The average sale price is 3.8% over the asking price!
Also there is very little competition for seller's right now! Your immediate neighborhood may only have 1 other house for sale. Currently in November 2020, there's only 356 single family homes for sale in the entire San Jose city limits! The average inventory since 2003 in San Jose is 1,214. Today is only 30% of that average!
2020 has brought a new perspective and need for home. Home is our safe place, family gathering space, work and school too in 2020! Many families are finding a need to move to accommodate all the new uses for their home. So if you are considering selling, why not take advantage of the excellent winter seller's market!
Ready to Sell Your Home in Winter?
With all these advantages on your side, hopefully selling your home in the winter won't feel so daunting. We know you've probably got a lot on your plate this time of year though. So, we've put together some resources to help you check everything off your list.
Use our free Home Sellers Guide.