Los Alamitos Elementary School | Almaden Valley Schools and Neighborhoods
Posted by Theresa Wellman on Friday, July 15, 2022 at 2:53 AM
By Theresa Wellman / July 15, 2022
Comment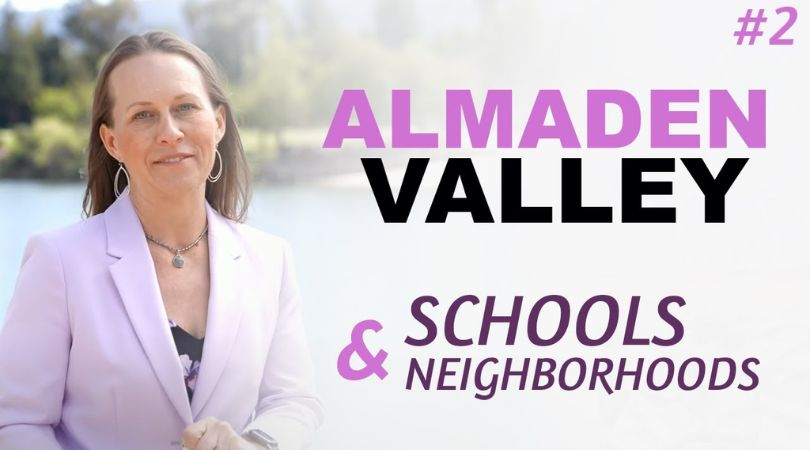 Almaden Valley is a Southern section of San Jose known for top-rated schools, wonderful neighborhood, and unique lifestyle.
In a series of 5 blogs with related videos, I will review each of the 5 elementary schools which service the families living in 95120 San Jose CA.
We have previously published a blog where we explored Guadalupe Elementary School. Please check it out if you haven't. This time, we're exploring Los Alamitos Elementary School. In this blog, we will discuss the schools and scores, neighborhoods that feed to this school, local parks, and the lifestyle of this area.
SCHOOLS AND SCORES

Los Alamitos Elementary School, rated an 8/10 by greatschools.org, feeds directly into Andres Castillero Middle School (rated a 6/10) which is well-known for its Performing Arts magnet designation. It has extraordinary dance and music programs including a middle school orchestra! Then, Pioneer High School (rated a 7/10), a small section of the Crossgates neighborhood feeds into Leland High School (rated an 8/10), though the middle school is rated slightly lower than some of the area schools. You'll love the location of Pioneer High School because it's on Blossom Hill Road on your way out of Almaden Valley. It's a great place if you're leaving town or want to hit some shopping.
Much more goes into picking the area to live in than just school scores so let's talk more about these other factors.
NEIGHBORHOODS
The neighborhoods that feed into Los Alamitos Elementary are TJ Martin, Almaden Meadows, Los Alamitos neighborhood, Jeffrey Fontana, The Villas, Campton Chase, Guadalupe Oak Grove, Almaden Hills Estates and part of Crossgates. These neighborhoods are all in the northern section of Almaden Valley with quicker access to the freeway and shopping. Most of these areas travel Meridian Ave or McAbee Road, eliminating Almaden Expressway for the most part.
Jeffrey Fontana and Crossgates neighborhoods are loved for their fun community centric cabana clubs. These communities have many social events and fun summers playing together at the pool.
Guadalupe Oak Grove & TJ Martin & Almaden Meadows neighborhoods are similar home styles as well.
In Campton Chase neighborhood, you will find newer style homes built in the later 1980s with higher ceilings and more spacious owners suites, but also smaller lots.
Almaden Hills Estates is a nice area tucked under Capitancillos Ridge with larger 3000 sqft. plus homes on 8000-10000 sqft. lots. I love how this neighborhood is tucked away yet so easy to get in and out of Almaden.
Lastly is The Villas This gated townhome community has spacious 1800 to 3000sqft townhomes built on the side of Guadalupe Oak Grove hill. I love the beauty of the rolling streets and oak trees in this neighborhood which also includes 2 community pools, clubhouse and tennis courts.



NEIGHBORHOOD PARKS

Some of the things you'll love about the Los Alamitos area of Almaden Valley are the neighborhood parks. There are so many great parks in this section of Almaden that enhance the lifestyle of this area.

The first is Jeffrey Fontana Park. It's a big long park with a playground, tons of walking paths, lots of open grassy fields and a dog park. Plus, you can easily enter into Guadalupe Oak Grove Park a small hidden natural area with hiking trails and views of downtown San Jose or all of Almaden Valley from the top. You can also find Almaden Lake which is easily accessible via the pathways at Jeffrey Fontana Park.

One of the highly loved features of the local parks is that they interconnect easily for a long walk or bike ride. Take Jeffrey Fontana pathways to McAbee Road and cross Almaden Expressway to the back entrance to Almaden Lake. From there you can also take the Alamitos Creek trail back into Almaden toward even more parks!

LIFESTYLE

The LIFESTYLE in this area is awesome with all of the interconnecting paths. Jeffrey Fontana Park to Almaden Lake is a great biking route and you can also use the park pathways to head to 2 of the area shopping centers which include many restaurant options. The first is Almaden Oaks Plaza at Meridian and Redmond or Old Almaden Plaza at McAbee and Almaden Expressway. These are perfect options on warm summer evenings to bike or walk to dinner with your family!

From these Los Alamitos neighborhoods you can easily access over 7 diverse restaurant options, a grocery store, drug store, coffee shop and bank, not to mention kids' activities like art, tutoring, dance and more. These neighborhoods are so convenient for all your daily needs.

I hope you found this information valuable and informative. Take a look at the properties available in Almaden Valley and review the Almaden market stats. Depending on your home budget, we can help find the right area for you. Please let us know how we can support you in your Almaden Valley Schools home search. Contact us to setup a personal buyer consultation.

ADDITIONAL RESOURCES