Moving to Silicon Valley: San Jose Neighborhood Guide
Posted by Theresa Wellman on Friday, December 16, 2022 at 3:52 PM
By Theresa Wellman / December 16, 2022
Comment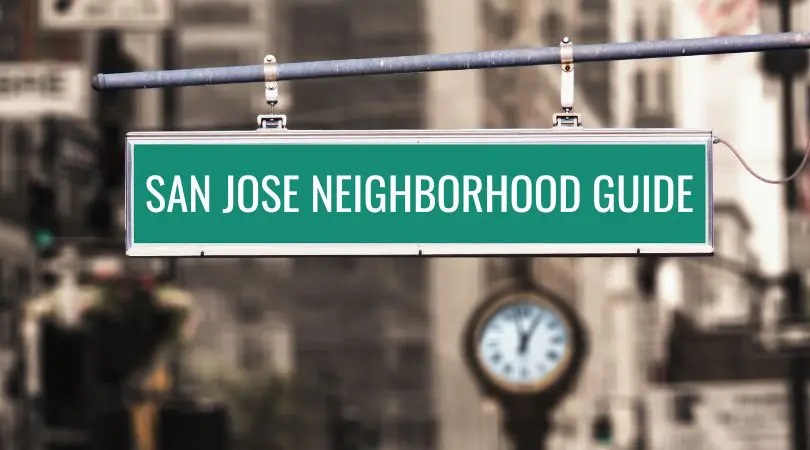 Home buyers are not always clear on which factors are essential to them. Let's discuss what should be at the top of every home buyer's list when deciding which neighborhood to live in.
Silicon Valley consists of many different cities squished together. When it comes to San Jose, there are a lot of factors to consider. The city covers 180 square miles, compared with Santa Clara's 18 square miles or Campbell's 5.8 square miles. If you're not looking in the city limits of San Jose, consider Campbell or Santa Clara, Los Gatos, Saratoga, and Cupertino as some of the other popular Silicon Valley cities.

10 Factors to Consider When Buying A House in San Jose CA

#1 DO YOU PREFER TO LIVE NEAR DOWNTOWN?
If living near downtown is something that you prefer, check out our playlist on YouTube: Living in San Jose | Lifestyle & Relocation Resources and
Explore San Jose CA | Neighborhood Tours & Community Info. Learn more about San Jose's different areas and see the types of properties available.
#2 DO YOU CARE IF YOU LIVE ON TREE-LINED STREETS?
You may be looking for the tranquility of nature surrounding you or feel tired of living among a bunch of buildings. Either way, if trees are important to you, check out the tree-lined streets in West San Jose and Willow Glen—they're the perfect place to find the beauty of the seasons changing or get a peaceful suburbia feel.

Searching for your dream home can be a time-consuming experience. Working with our professional team will make the process much more efficient!
#3 PARKS
Parks are an essential part of any community, and there are many to choose from in the San Jose area. Almaden Valley has 12 parks in its zip code alone. San Jose has dozens of parks, as do many other surrounding cities. If you're interested in dog parks specifically, there's no shortage—Butcher Dog Park, Los Gatos Creek Dog Park, and Jeffrey Fontana Dog Park are just a few options.
#4 SCHOOLS
The Homeowner Experience team works often in Almaden Valley and Cambrian because they boast some of the top-rated schools in the country, with suitable homes to match. For more information, visit greatschools.org and check out their 1-10 score system.
#5 BACKYARD OR LOT SIZE
Do you like to entertain? Do you barbecue? Do you love to sit outside and enjoy the California weather? If you've got family members that like to play ball or pets that want to run around, a backyard is likely a significant factor for you. How big does it need to be? Well, that depends on how many people you want to fit into the space.
#6 NEWER CONSTRUCTION OR NOT?
Most of San Jose was built in the 1950s, '60s, and '70s—so most homes are older. But if you like high ceilings or different kinds of construction with modern electrical wiring, you might want to consider newer construction. There are many areas throughout San Jose where developers have put a lot of money into building new houses, but your tradeoff will be lot size.
#7 STYLE OF HOME
Do you want a home with a style that reflects your personality? Do you want a home that offers character, so you can say, "I live in a cottage house" or "I live in an craftsman classic" or "I live in a Victorian charmer"? Do you want to live in a place where you can say, "I live in something really unique and fun", like the homes in Willow Glen? Or do you prefer something more traditional like the standard California single-story ranch homes that you find in most of San Jose, Santa Clara, Cambrian, and Willow Glen? What is important to you? Do you want a newer, larger multi-story home with luxury features like granite countertops and upgraded flooring? Maybe a two-story or tri-level home with lots of room that you find in Almaden Valley? Think those through if it's important to you or not. Check out our San Jose Area Home Walkthrough Tours playlist on YouTube so you can get a view of what a typical home looks like in the area.
#8 OUTDOOR LIFE
What is your outdoor lifestyle like? Do you like to go for a walk during the day? Do you walk your pet? Do you like to go hiking or have trail access? Do you bike often? There are many parts of San Jose that have great opportunities for hiking trails, walking paths, bike paths and pet areas.
#9 WALKABILITY
If you're the type of person who wants to be able to walk home from work and stroll over to the grocery store or a neighbor's house, then living in a walkable community might be a top priority for you. If you have relatives visiting from out of town, consider living in an area with many sidewalks.
#10 COMMUTE
The commute has changed since the pandemic started. Many Silicon Valley employees work a few days a week remotely. If that's the case, then the commute might not be quite as important to you as it used to be, so think through whether this is a priority or not.
WHAT TO DO NEXT?
It's wise to sit down with a local real estate agent to understand what neighborhood best meets your top three criteria and your budget.
Once you have your top three priorities written down on a piece of paper, watch our YouTube video about 5 Home Buyer Mistakes To Avoid - First Time Home Buyer Mistakes so you can avoid making those common mistakes. Your agent should work through the entire list to ensure you don't overlook anything.

WHY CHOOSE THERESA WELLMAN – HOMEOWNER EXPERIENCE FOR YOUR SAN JOSE HOUSING NEEDS?
Check out our videos on YouTube to know why we're the best in the real estate business and schedule a no-obligation discovery call as soon as possible!