Rent Vs. Buy Financial Analysis
Posted by Theresa Wellman on Friday, May 1, 2020 at 4:50 PM
By Theresa Wellman / May 1, 2020
Comment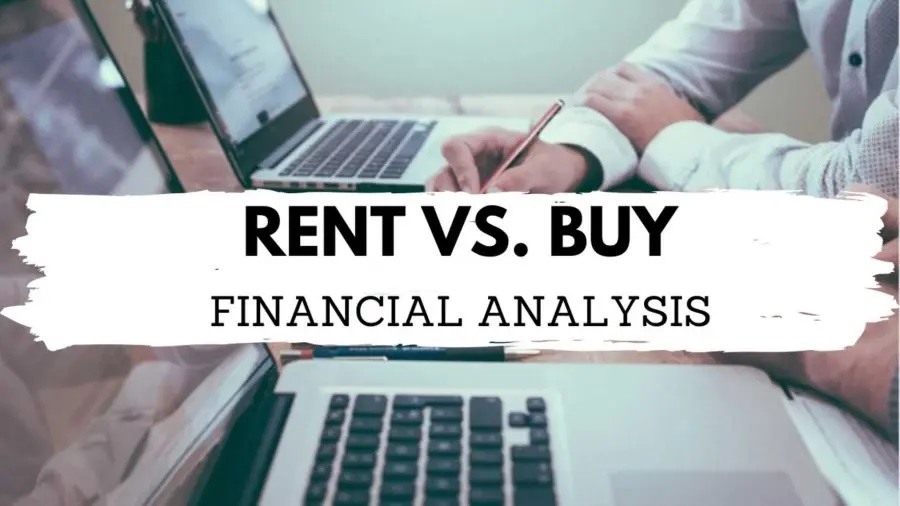 Are you wondering how much it really costs to own and a home and what guidelines you should use to figure out if it makes financial sense for you?
Let's do a quick rent versus buy analysis. If you're mentally ready and financially stable, next run some basic numbers to get an overview of the cost. You need to make sure buying is affordable for YOU.
RENT COSTS COMPARED TO OWNING COSTS
If you're renting, monthly living costs are rent and renter's insurance. You may also have some utility bills, but not much else for your housing.
If you're going to buy, monthly living costs are your mortgage, property taxes and homeowner's insurance. You're also going to need to budget extra money for maintenance. And to be financially smart and qualify for a loan, you will need "Reserve funds". Reserve funds are enough money to live without income for 3-6 months, depending on the bank.
HOME OWNER BUDGET
How do you know what housing budget is going to work for you? The quick rule of thumb for housing expenses is 28% of your income before taxes. If you make $100,000 a year, your income is $8,300 a month before taxes. Your housing budget then works out as $2,300 a month (based on the 28% calculation).
ACTUAL HOMEOWNER COSTS
Making $100,000 a year, you could afford a $500,000 condo with 20% down at a 4% interest rate. Let's look at the numbers and how that works.
You may have noticed the assumption of 20% down payment in the above scenario. Less than 20% down payment requires Private Mortgage Insurance or two loans to split the amount needed over the 80% loan. You must discuss these trade-offs with a mortgage lender.
The 20% down payment is significant, but with a $400,000 loan left, your principle and interest payment would be $1,900 at 4% interest. Then account for property taxes of about 1.25% of the purchase price, $520 a month. Homeowner's insurance is less for a condo/townhome ownership and may be as low as renter's insurance. Condos and townhomes do have Homeowner's Associations (HOA) to cover building insurance and some exterior maintenance. This monthly HOA fee will cover some of your insurance and maintenance decreasing the cost of those necessary fees in your budget.
Mortgage - $1900
Property taxes - $520
Homeowner's insurance - $50 (normally $100 without HOA)
HOA - $300
Maintenance budget $100
TOTAL - $2,870 before the tax benefit.
CONSULT PROFESSIONALS
If you take into account the federal tax benefit for owning a property, your net expenses will be close to $2,300 a month. Please discuss these details with a mortgage lender and CPA. The amount of benefit depends on your tax bracket and other financial details.
UNDERSTANDING OVERALL TRADE OFFS
Below is a detailed rent versus buying analysis that can be run to show the different factors for you to consider in your personal situation.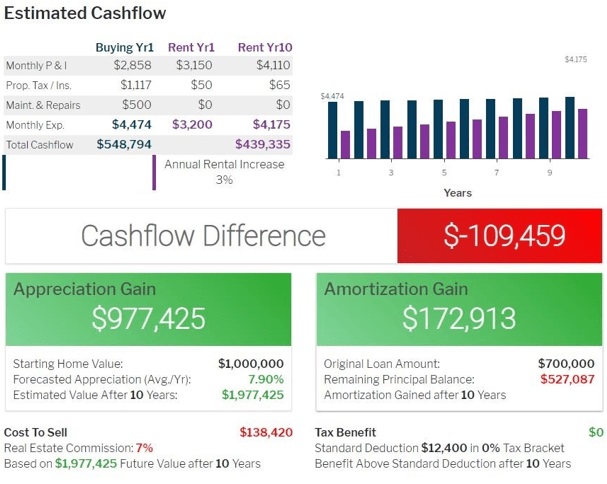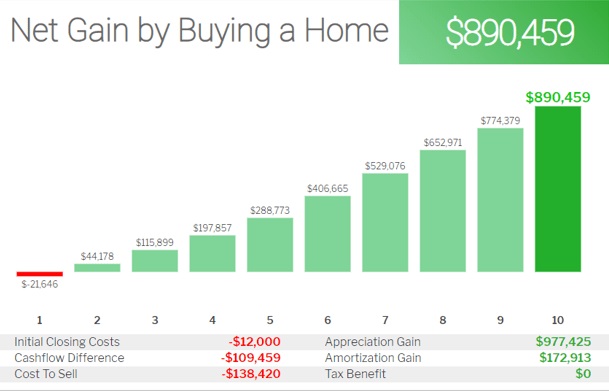 This detailed analysis takes into account market appreciation, your monthly cashflow, maintenance and repair costs. All of these factors need to be considered as mentioned above.
Even though your mortgage payment might be less than your rent, you need to account for property taxes, insurance, maintenance and repairs. The total monthly expenses for owning could end up being more than your rent.
Part of your financial consideration should also be appreciation of rents and appreciation of a property. Buying a home is a longer term (7-10 year) financial benefit so you must compare all these factors when deciding if buying a home is right for you. My San Jose Lender recommendations can help you out with these calculations.
ONE MORE RECOMMENDATION
It's highly advisable to try your home ownership payment for a few months before making the commitment. Take the extra money needed for monthly home expenses (that you're not paying on rent) and put it into your savings account. Automatically have it transferred to your savings account and live a few months this way. Do you feel too financially tight? Or is it comfortable? Is it possible to cut out some small luxuries like Starbucks coffee every day? Get familiar with the finances to help decide if you are ready to financially move towards buying a house.
Read 5 Mortgage Mistakes first time buyers often make or how to know if you're ready to buy your first home. You can also download my Home Buyer's Guide for more points to prepare to make a purchase in any market.