San Jose CA Real Estate Market Trends | March 2020
Posted by Theresa Wellman on Friday, April 3, 2020 at 5:16 PM
By Theresa Wellman / April 3, 2020
Comment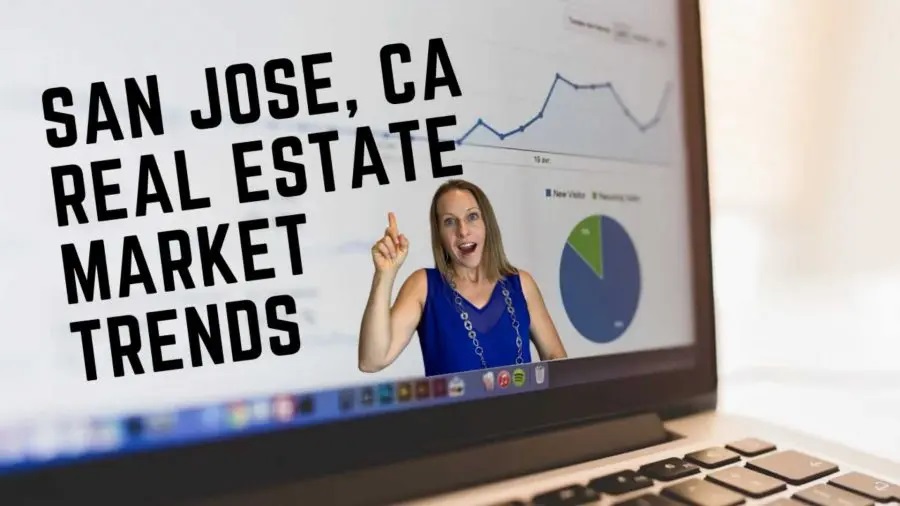 San Jose CA Real Estate Market Trends
San Jose, CA follows a traditional spring to fall sales cycle with peak closed sales in early to mid summer (May- July). San Jose averages about 500 sales per month with the summer peak around 600 homes in recent years.
How has the San Jose market recently performed?
With the extremely low, unprecedented inventory levels experienced in all areas of San Jose in late 2017 and early 2018 (see yellow line in below chart), most areas and properties for sale experienced multiple offers. The competitive buying environment spurred a quick increase in home prices. PRICES in San Jose peaked in May 2018 and then softened quickly in the later part of 2018 due to the return of more normal inventory levels and an increase in interest rates.
Spring 2019 in San Jose started off as a typical sales season with ramping inventory, sales and increasing prices. In April 2019, inventory continued to increase as usual, but sales slowed down to the lowest number for April since 2008! The lower sales trend continued through the peak summer sales season putting pressure on home prices.
As a result of the market changes in 2019 and a rebalancing of the unusual activity from 2017/18, prices returned back to levels similar to those seen in the Fall of 2017.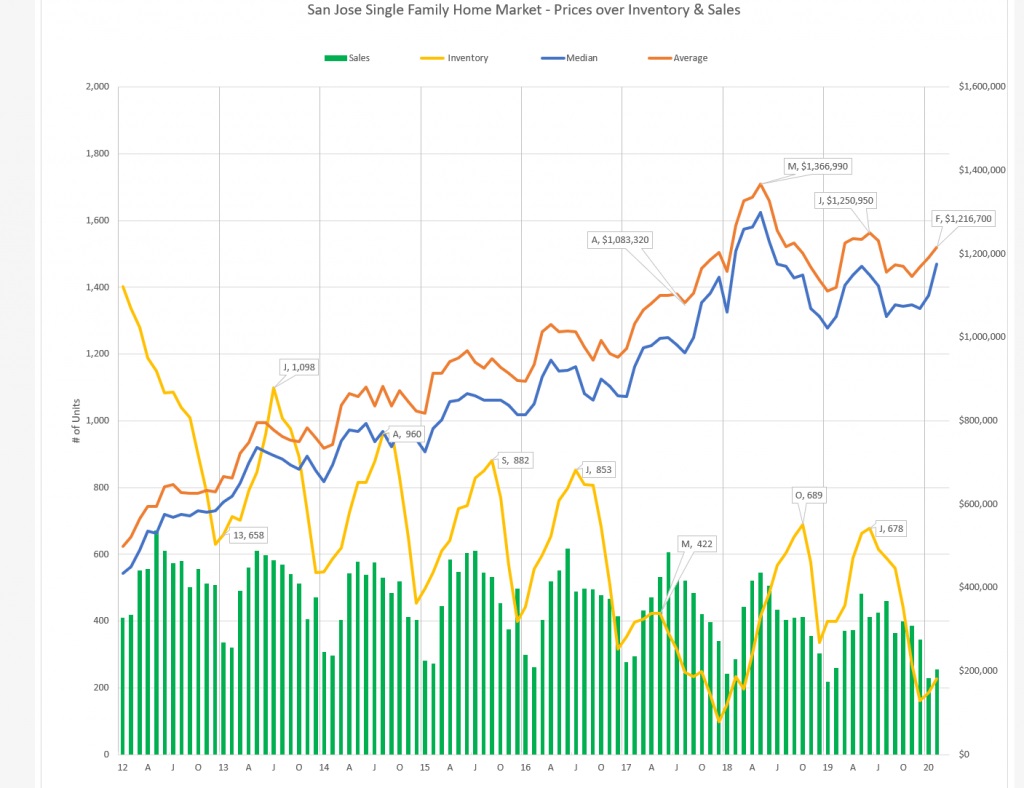 What is the CURRENT average price?
The average PRICE in January 2020 for San Jose was $1,191,470. The median price in January 2020 was $1,100,000 with an average sales price to list price ratio of 102.4% of asking price. Compared to the San Jose market peak of May 2018 ($1,366,990), the market today is down. Today's prices correlate to prices from Fall 2017. For current month market statistics and metrics, visit the raw or watch my monthly video update.
Which direction is the market trending?
Sales in recent months of San Jose have been stronger than typical for the winter months. Inventory is near records lows, yet sales are better than or consistent compared year over year.
Days of Inventory (DOI) is a monthly metric I follow to understand the speed and direction of the market. As of January 2020, the DOI in San Jose is down to 25 days, indicating a strong sellers market. Until there is a significant increase in inventory, I expect prices to appreciate due to the supply and demand imbalance.
What is the market outlook?
The overall trend of the San Jose market is positive moving forward. San Jose is still one of the most affordable areas of Silicon Valley. I expect the current healthy balanced market to conservatively appreciate in 2020 with continued historically low interest rates , low county-wide unemployment and numerous corporate development projects in downtown San Jose.
This article is updated once a quarter (next one May 2020). To see more recent updates visit my San Jose Market update videos or the San Jose Real Estate blog. The current month's market metrics are on the San Jose Market Trends page and you can sign up to be emailed my personal update on the market each month.
BONUS: Download my Home Seller's Guide. This is 100% FREE!