Is there a San Jose Housing Bubble?
Posted by Theresa Wellman on Wednesday, May 22, 2019 at 5:39 AM
By Theresa Wellman / May 22, 2019
Comment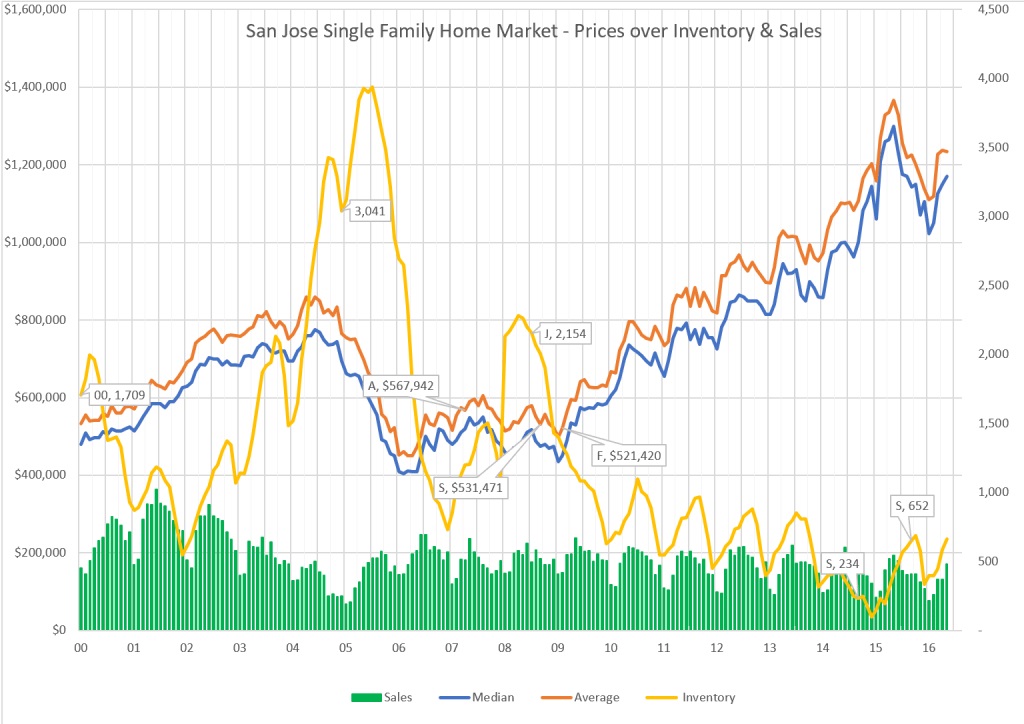 In the past ten years (since 2009), San Jose real estate prices have shown a sharp upward trend. Will that trend continue? Is there a housing price bubble?
After the stock market crash, mortgage and credit crisis, and bank collapse of late 2008, prices hit bottom in early 2009. Slowly but gradually prices climbed through 2011.
In the beginning of 2012, inventory levels seemed to have settled at a new San Jose normal. This lower inventory (yellow line in image) spurred competition in buyers and prices (blue and orange lines) took a large jump. San Jose home prices continued to appreciate, but now at even a more aggressive rate. This new appreciation continued through early 2018.
From 2012 to 2018, San Jose experienced 6+ solid years of extra-healthy appreciation. The price appreciation from June 2011 ($806,362) to March 2018 ($1,745,230) resulted in 116% equity increase!
San Jose Housing Bubble?
After such strong appreciation from 2011 to 2017, owners did not want to let go of their valuable San Jose housing asset. As a result, 2017 home sale inventory dropped to the lowest levels we have ever seen (since at least the year 2000 when I have records). Buyers competed to get in the market in 2017. Sellers enjoyed multiple offers; in some cases 20 or more offers on one property within days!
From the 2009 market bottom, San Jose real estate prices increased 224% to the peak of March 2018! Where else in the state or country can you see this kind of appreciation?!
The lack of supply, in retrospect, seems to have created an enhanced demand. PRICES in San Jose peaked in March 2018 at an average of $1,745,230 and softened to $1,413,210 in January 2019. This January 2019 average price compares to March 2017.
These retracting average prices indicate there indeed was a small San Jose housing bubble in 2017 and 2018. With 224% appreciation from San Jose real estate price bottom to peak, it is understandable that prices would retreat some. This small bubble still has left home owners with record-breaking equity gain in just a few short years!
FORECAST: Will San Jose home prices fall in 2019?
Through the second half of 2018 and now into 2019, prices continue to soften. Even though a slight appreciation was experienced from Jan 2019 to April 2019, pending sales began to decline in April. Inventory continues to increase to higher levels than we have seen in a couple years. These opposing forces (increased supply and decreased demand) will put pressure on San Jose home prices. San Jose home prices will likely fall in 2019 and then find a new normal.
How is the 2019 market trending?
The April 2019 San Jose area home price average was $1,641,690. April prices are an indication of sales that actually happened in late February and early March 2019 due to the 30-45 day escrow process. In early 2019, lower mortgage interest rates spurred an increase in buyer activity creating a momentary increase in demand.
April 2019 pending sales were similar to March 2019 when market history indicates sales should instead be increasing with spring demand. Pending sales in May 2019 are on pace for even lower sales than March 2019. With the decrease in sales and the large increase in inventory (50% increase from just 2 months prior March 2019), San Jose home prices will have to fall to find a balance between supply and demand.
Check back for updates every few months on the stats of the market. Also visit the current data for up-to-date market statistics or Theresa's quarterly overview of the Almaden Valley and Willow Glen market trends.
Does My Experience in the Field Support the San Jose Home Price Forecast?
As we finish up the spring market, what have I observed in the field and in the market data?
First, most properties are staying on the market for a longer period of time- the days on market metric. Most San Jose home sellers are getting only 1 offer on their property, sales price to list price ratio metric.
Some San Jose sellers have had to adjust their list price to attract a buyer. I have seen several instances of where current sellers are negotiating repairs and terms that used to be off the table in 2017 and 2018. The pending sales in most areas are down rather than up for spring.
So bottom line, yes – my experience in the field and the market data supports the forecast that San Jose home prices will likely fall in 2019. Check the current data to see the latest.
Is 2019 a good time to BUY in San Jose?
Buyers, celebrate that homes are more affordable! Contact Theresa to discuss whether this year is a good time for you to buy a home. There are several factors to consider including interest rates, how long you plan to live in the home, tax advantages and more. The fact is that you will spend less money buying a home in 2019, than you would have if you bought in 2017 or 2018. This price savings directly affects your pocket and that in itself may be reason to buy a San Jose home this year.
Is 2019 a good time to SELL in San Jose?
Sellers, be thankful that San Jose home owners experienced 9+ years of aggressive appreciation.
You did not sell at the peak, but you likely have still profited from the recent appreciation. Contact Theresa to capitalize on your asset. To receive a monthly San Jose real estate market update, sign up here.