San Jose Real Estate Market Trends | September 2019
Posted by Theresa Wellman on Wednesday, September 25, 2019 at 6:57 PM
By Theresa Wellman / September 25, 2019
Comment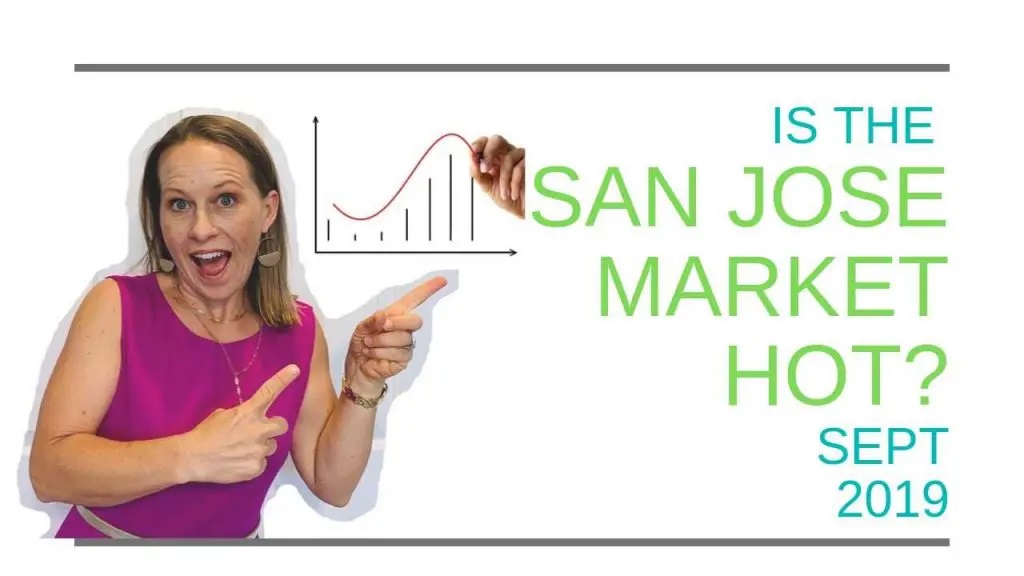 Are you looking for an overview of the San Jose real estate market as of September 2019? Read on for local San Jose monthly stats from August 2019 and a discussion of recessions and the housing market.
WHAT IS THE BUZZ IN THE FIELD RIGHT NOW?
The impending recession is creating a lot of emotion and questions. How does it affect the housing market? When is it coming? A lot of questions and I think buyers are a little hesitant.
As you probably heard on the news, experts are forecasting an upcoming recession. If you look at this chart here, it seems the majority of them expect the recession to hit sometime in 2020 so the big question is, will the recession affect the housing market? How will it affect the housing market?
Here is a chart on the housing market values (nation-wide) for the past five recessions.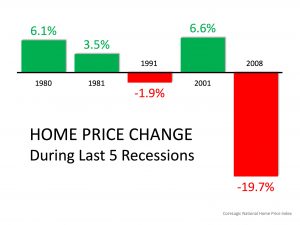 As you see here, there's several recessions where housing prices went up! Of course in 2008, (which we all still remember) there was a big impact on housing prices and also in 1991, a small impact on housing prices.
REAL ESTATE IS LOCAL
But as you know, real estate is local. So how did the local market behave in 2001 and 2008 well, I've written a blog post about this. In this article, I share the data for Santa Clara County during the 2001 and 2008 recessions.
To know if and when a recession will be affecting the local market, all we can do is track the market metrics to understand if we're heading into recession and how we should react accordingly.
SAN JOSE MARKET STATISTICS THROUGH AUGUST 2019
Take a look at the chart that I follow to get a feel for what's going on with the local San Jose market. This data is for the San Jose single family home market.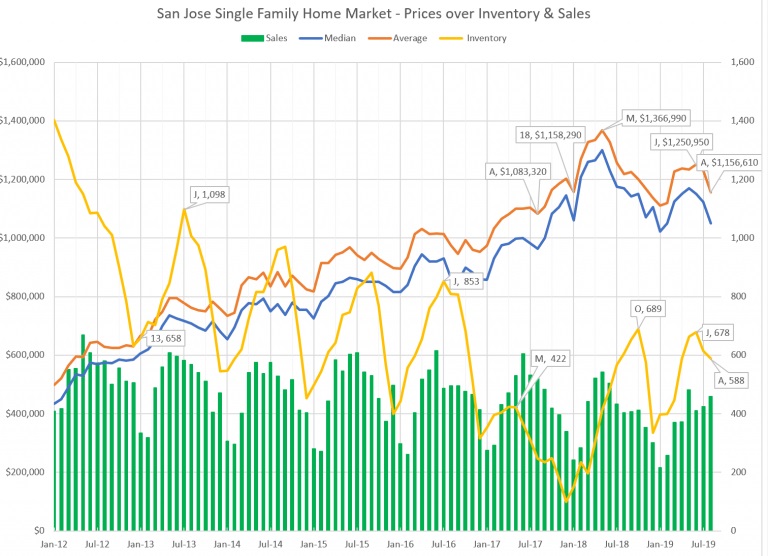 So if we look at the active listings (yellow line) in August, we finished up at 588 active homes for sale in the market in ALL of San Jose. As you can see, that declined and were far lower than inventory we had in 2013 to 2016. San jose listings got very close to the peak in 2018.
Sales in August were up from the last couple of months. San Jose was up to 459 sales in August 2019. This value is higher than July last year as well, but lower than many of the previous year's July sales.
The San Jose average price (orange line) was $1,156,000 in August 2019. That average price is down for the second month in a row. Potentially, this is a seasonal response where prices and sales softened. Today's average price value is similar to January 2018.
The days of inventory for San Jose is 38, that's actually down from the previous month. Under 90 days of inventory is still a very healthy sellers' market. Technically San Jose, as a whole, is a seller's market because there's just not much inventory and there's still pretty healthy sales.
REFERENCE CURRENT NEIGHBORHOOD DATA
As you know, real estate is local and San Jose is not narrow enough since it is such a large city with huge variances in public schools and types of homes. For statistics specific to your local San Jose area, visit my website to narrow the data down. Check out Almaden Valley real estate trends, Cambrian market statistics, Willow Glen Real Estate Market trends, Blossom Valley market data or Campbell CA real estate trends or manually select your area of interest in the menu under the report title.
LOCAL ECONOMY METRICS
The two other key factors that are really important to the economy and how the housing market behaves are interest rates and unemployment. These factors determine if the local population is employed and has money as well as how affordable it is to make a purchase.
Interest rates are currently holding at 3.5% for a 30 year fixed mortgage. Unemployment in Santa Clara County is still extremely low at 2.8%.
Today, all indicators are that we have a healthy real estate market.
Buyers get out there and buy and sellers take advantage of this low inventory market.
Please subscribe to my youtube channel to watch this update each month. Also you may sign up for my monthly email with this market update so that you can stay tuned with actual real local data.