Turnoffs to Potential Homebuyers and How to Fix Them
Posted by Theresa Wellman on Thursday, September 10, 2020 at 2:37 PM
By Theresa Wellman / September 10, 2020
Comment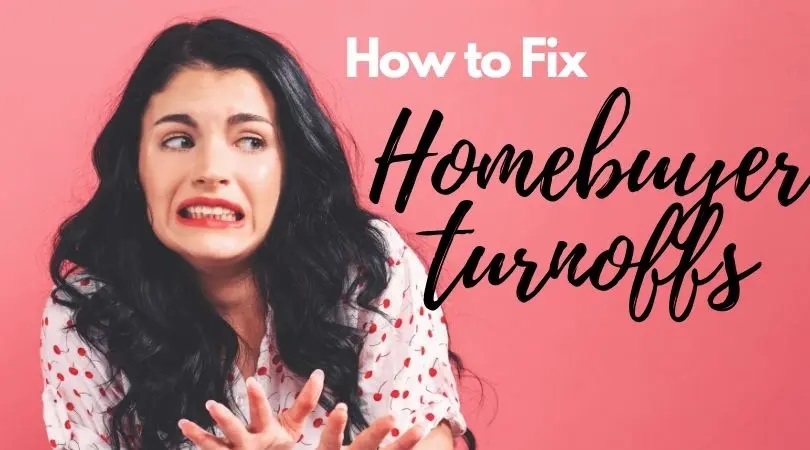 When you're getting ready to sell your home, you're eagerly awaiting potential buyers to come to see it. Your expectation is that people will love it just as much as you do.
Unfortunately, there are a lot of things that can turn homebuyers off. The ideal home for sale would look like a model home, but if you're living in it, that's difficult to pull off. Nonetheless, there are plenty of things you can do to prep a home for sale if you know what buyers really don't like. Here are six big turnoffs to potential homebuyers and how to avoid them.
Clutter and personalization
When touring a home, potential buyers like to be able to picture their own things in it. They want to imagine how it would be to live there. That's difficult to do when it's cluttered or decorated in a way that's highly personalized to your tastes (neon green walls, for example).
De-cluttering and neutralizing a home is essential if you don't want to turn off buyers. Remember: the goal is getting as close to a model home as possible. Your real estate agent should provide guidance and help with this process.
Dated materials and fixtures
Even older homes are updated over the years, and buyers have that expectation. If you have countertops from the '80s or faux-wood paneling, buyers are going to notice.
When you're selling a home, remember that your competition is other homes for sale in the area, and yours has to measure up to the rest of the locale. If you're selling a home in the Almaden Valley area of San Jose, for example, an experienced Almaden real estate agent will be able to tell you which updates other homes have so you can get yours up to par.
Things that don't work
Everyone has to-do lists for their homes, some of which never seems to get done. When you're selling, however, it's time to get to all the to-dos.
Nicks in walls, stuck windows, squeaky doors, and more can seem like little things, but every little thing that isn't working correctly or doesn't look right is a barrier to a buyer.
An overgrown yard
You never get a second chance to make a first impression, and the exterior of your home is the first impression a buyer gets. A yard that appears poorly maintained is a huge turnoff.
The good news is that you can usually spruce your yard up without a lot of effort, or if need help uses the services of a Landscaper. Cut and prune, plant some color, and definitely add new mulch to make it all pop. Again, an Almaden real estate agent will be able to advise you on current landscaping tips that will support the home sale.
Worn surfaces
Wear and tear in a home are expected over the years, but that doesn't mean buyers want to see it.
When you're selling, walls that need painting should be painted. Hard flooring that's worn, dull, or excessively scratched should be replaced or refinished. Older carpeting should be cleaned at a minimum. These are all things that make a buyer think of all the work they'll have to do when they move in.
Overpricing
Your home and yard could look gorgeous, de-cluttered, and ready for an appearance on HGTV. But if it's priced incorrectly, even a seemingly perfect home will turn off buyers.
And don't underestimate the savviness of buyers who've been searching for homes in your area. They know what to expect at various price points and will compare your home with others in your area to determine if it is overpriced. They can also be turned off just seeing an overpriced home that is listed online.
An experienced listing agent who understands San Jose real estate market trends should ensure that your home is priced correctly from the start. Selling a home can be stressful. You can reduce some of that stress by taking steps to avoid these homebuyer turnoffs. For more helpful information and tips about selling your home, check out the free reports and YouTube videos on our Seller Resources page or download the Home Sellers guide.