Buying a House in San Jose: Vocabulary Words You Need to Know
Posted by Theresa Wellman on Thursday, September 30, 2021 at 7:08 AM
By Theresa Wellman / September 30, 2021
Comment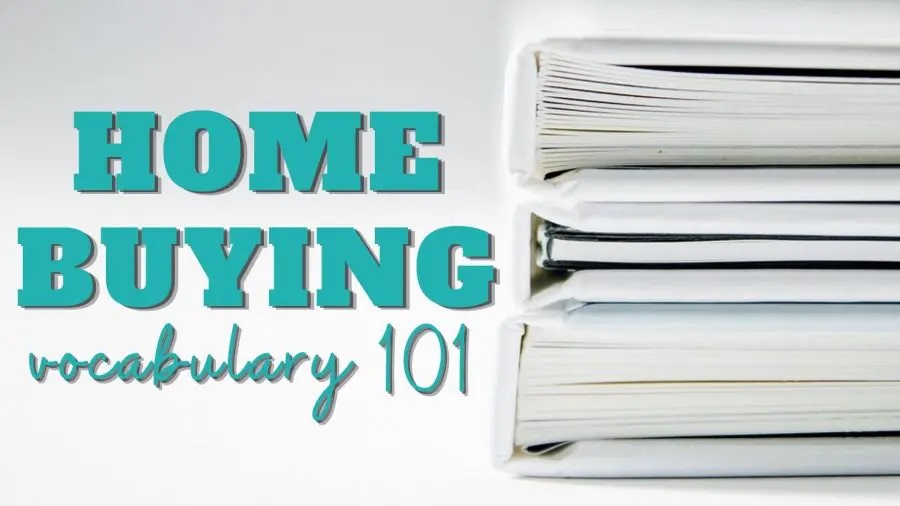 Are you thinking about buying a home but struggling to understand real estate terms? You're not alone.
Many home buyers, especially first-time home buyers, are overwhelmed with home buying terms and definitions. Is your mind flooded with questions like who's an agent? What's escrow? or who's a loan officer? How does everyone work together and how do they help you?
Read below for a home buying vocabulary (or real estate vocabulary) guide that will help you strategically plan for your next move.
There are several different sectors of people you're going to work with throughout the home buying process. Let's go through these home buying terms and definitions using this real estate terminology sheet!
Buyer's Agent, Selling Agent, and Listing Agent
You're going to be working with the buyer's agent, but technically, your buyer's agent is also called a selling agent because they are selling the property. It's a little confusing. That's why it's best to refer to the person representing the seller as the listing agent, and the buyer, a buyer's agent (skip the term selling agent).
The second person you're going to be working with is a lender or loan officer and they are a critical part of your team. Your lender is going to be your project manager for the financing or home mortgage. The loan officer should work well with your agent and have great communication during the process, especially through the home purchase contract steps. You want your buyer's agent and loan officer to work together as a team.
Listen to your buyer's agent referrals for lenders and loan officers, but choose a lender and loan officer that you're very comfortable working with. It is important that your loan officer is someone you trust, because they also are going to be advising you on your home loan options and how to submit it to get your loan accepted. If you want to know how to choose a mortgage lender and what to beware of when you are choosing between two mortgage lenders, check out How to Choose a Mortgage Lender | BEWARE Home Loan Actual Experience with Real Clients on YouTube.
Mortgage Application
A mortgage application is the first step to getting pre-approved for a loan. What's the difference between a pre-qualification and pre-approval? Watch Mortgage Pre-Approval | Differences from Pre-Qualification on YouTube if you want to know the difference between these two.
A mortgage application is part of the process to determine what amount of loan you can qualify for. A pre-approval is going through the formal application process, plus submitting all of your financial paperwork to the lender. Once the lender has reviewed all your financials in details then hopefully they say, "Yes, you can afford this amount of mortgage." And you are pre-approved!
Fixed Rate Mortgage and Adjustable-Rate Mortgage
Fixed rate means that your interest rate is fixed on your home loan for a set time, typically 30 years. An adjustable-rate mortgage is only locked at an interest for a shorter time, and then, adjustable after that; hence it's called adjustable-rate mortgage. You may choose an adjustable rate mortgage to get a lower starting interest rate (to help you afford more home/ a larger loan), but it should be fully understood to understand the timing risks and consequences. Please discuss with your loan officer.
Closing Costs VS. Cash to Close Down Payment
Down payment is the amount that you're going to put down for the property, such as 20% down. Closing costs are the loan fees and city transfer tax fees that are charged to close a loan or sale.
Cash to close is also sometimes called closing costs, but properly used, cash to close is the full amount of money you need to bring to close escrow, including your remaining down payment (after your earnest money deposit).
Escrow and Title
Escrow and title can be used interchangeably, but escrow is a third-party company, an intermediary, that brings together the buyer and the seller to make sure that the financial aspect (in terms of the contract) is followed. Escrow is going to make sure the buyer gets their earnest money deposit in and they're going to make sure the seller fills out all the paperwork to clear the title for transfer. Escrow is also going to transfer title/ownership of the property and disperse the funds at the of the sale to make sure that the title/ownership can be transferred into the new buyer's name.
Residential Purchase Agreement (RPA) Offer
Your buyer's agent will guide you through this residential purchase agreement (the technical terms for the many pages that are the purchase contract).
Contingencies
Contingency in a real estate contract is an investigation period where your earnest money deposit is not at risk. The contingency period allows the buyers to look into details of the property or their loan further without risk of another buyer trying to purchase the property. During your investigation period (AKA contingency period), the buyer could choose to back out of the purchase if they find something not satisfactory.
There are three main contingencies in the California purchase: the loan contingency, the appraisal contingency, as well as the property investigation contingency. You can do homework ahead of time with your agent to minimize those contingencies and make your offer very attractive.
Home Inspection
You'll hear real estate terms like general property inspections, roof inspections, termite inspections, foundation inspections, and even soil inspections.
There are several details involved, however, you must remember that your buyer's agent is your reference from the very beginning of your home purchase, so ask your agent any questions. As your project manager, the buyers agent will help advise as to which inspections you might want or who you should hire for those inspections.
Hopefully, you found this vocabulary and overview lesson valuable! Before you go, DOWNLOAD Home Buyer's Guide for FREE!