What Happens To House Prices in a Recession?
Posted by Theresa Wellman on Friday, September 6, 2019 at 7:10 PM
By Theresa Wellman / September 6, 2019
Comment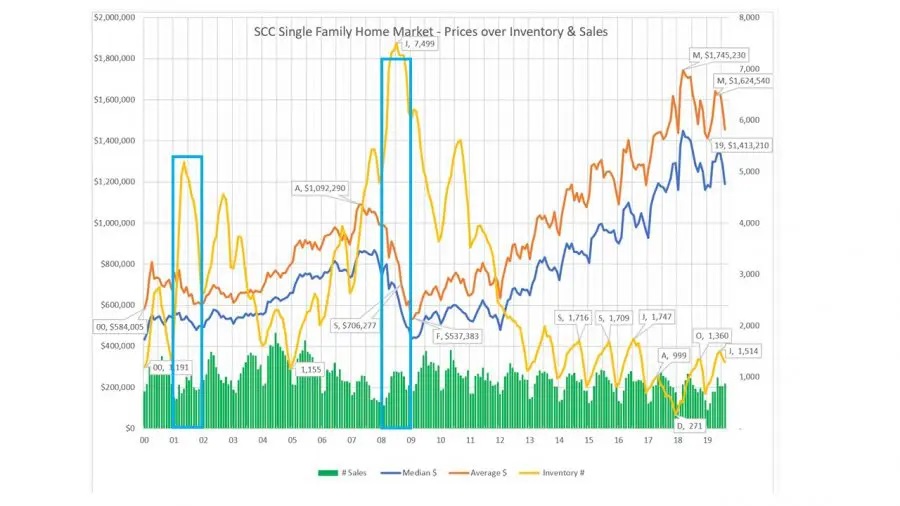 I sense a recent concern from many buyers that the San Jose real estate market is headed for doom. Predictions of a recession coming soon have brought back memories from the 2008 housing crash and the Great Recession. Younger millennial buyers have only experienced the 2008 recession as adults, so their fears from this experience are growing into concerns of another San Jose housing bubble crash.
When is the next recession expected? Are buyer fears grounded in historical data? What happens in a recession? Do house prices drop in a recession? What are the housing market predictions for 2020? How can you prepare as buyer or seller in or near a time of recession? Read on as I address these questions.
Next Recession predictions
The next recession forecast has been published. Several economists interviewed by the Wall Street journal and Pulseonmics believe a recession will hit in 2020. See these survey results below.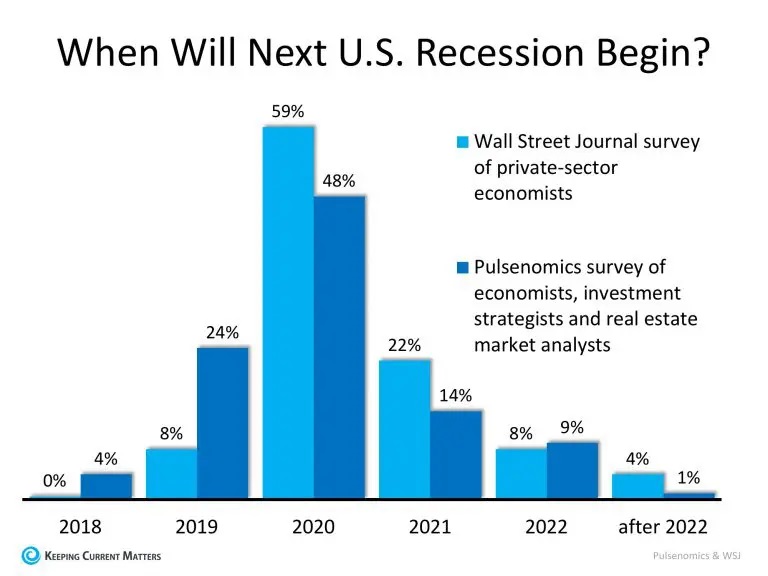 National Housing market and Recession data – Are Fears Grounded in Data?
A recession is a period of temporary economic decline generally identified by a fall in GDP in two successive quarters. Read more on Investopedia. A recession can be as short as 2 quarters and as long as a couple years or more. Economic decline is not something anyone wants to experience, but it is part of the natural economic cycle, typically every 8 or so years. The big question I will address today is understanding a recession's effect on real estate.
To know what happens to real estate in a recession, let's look at real estate recession history. The last 5 recessions from 2008, 2001, 1991, 1981 and 1980 show mixed results in relation to home prices. 2008 was obviously the most significant in regard to housing price impact, so it is not surprising that many young buyers have fears of this level of recession coming again.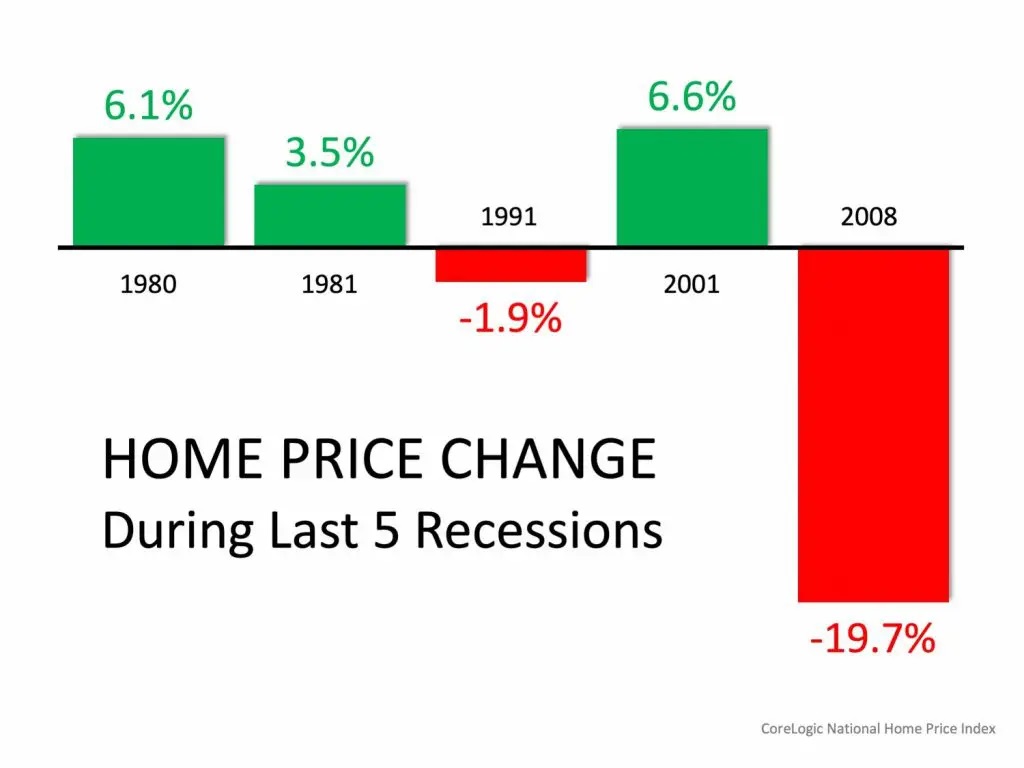 BUT "The 2008 recession didn't cause the housing market to go into freefall. The housing market going into freefall caused the recession." The mortgage market went haywire, allowing high-risk loans to become prevalent, resulting in many people defaulting on their mortgages. These bad mortgages lead to a financial system collapse. Therefore the 2008 recession was an anomaly and the next recession forecasts indicate we will not repeat 2008.
But it is possible that we will experience a smaller recession similar to the dot-com bust in 2001.
Silicon Valley Housing Market | Real estate recession history - Are Fears Grounded in LOCAL Data?
Even though nationally home prices appreciated in the 2001 recession, was that true of the Silicon Valley Housing Market?
The 2001 recession was highly a result of inflated values on computer and tech companies. Many of these tech companies were head quartered in Silicon Valley. Due to this focused geographic impact, it is possible that local real estate had a different reaction to the 2001 dot-com recession.
Real estate is local, so we should evaluate San Jose house price history to understand the local impact of the 2001 and 2008 recessions. Refer to the Santa Clara County single family home real estate market chart below with data from 2000 to current.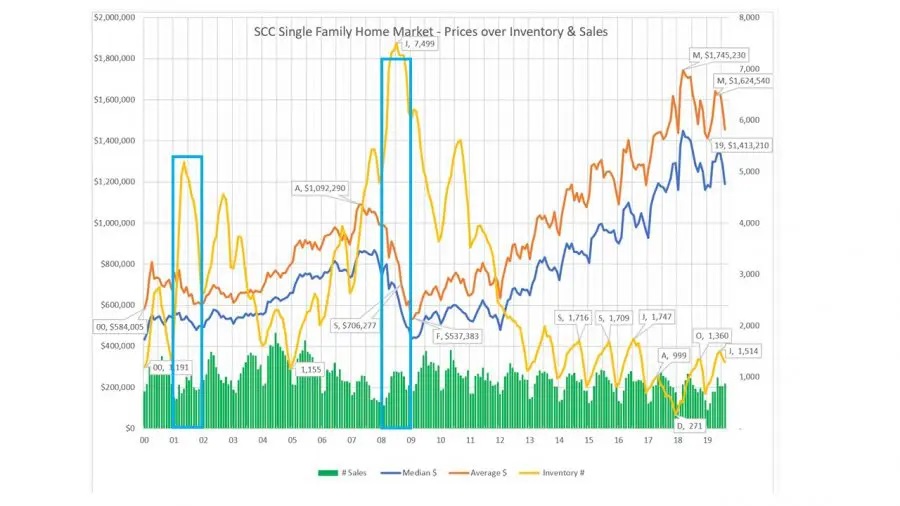 From this Santa Clara County real estate market data, it is apparent there was a decline in home prices (blue line-median price and orange line-average price) in 2001 and 2008, see image above.
Evaluate Local Housing Data
The 2001 recession officially started in March 2001 and ended by November 2001. A 21.7% decline was recorded in the Silicon Valley housing market from March 2001 ($769,109 average price) to Dec 2001 ($602,185). Quickly in Spring of 2002 the real estate market recovered from this recession with prices bouncing most of the way back, then settling and gradually returning to pre-recession values in summer of 2004, just 18 months later.
The impact of the 2008 recession was much more extreme. As discussed above, the spoiled mortgage and banking system actually caused this recession. Since the recession was focused around real estate, obviously home values took a bigger hit. In Santa Clara County, home values peaked in April 2007 ($1,092,290) and drastically declined in the spring of 2008 to the bottom in January 2009 ($530,717). This was a huge drop in local values! Also since home sale inventory spiked immensely due to the influx of foreclosed homes, there was a much longer recovery.
Prices slowly recovered in 2009 through 2012 and then sharply increased from Jan 2012 onward. The peak price from April 2007 was achieved again in Spring of 2014. The quick drop and 5 year recovery has left a big impact in the minds of local homeowners.
Keep in mind the unique appreciation of home values in Silicon Valley. Even with these large impacts to local housing prices, the market recovered in a relatively short time. No where else in the country benefits from such significant equity growth. Due to this "good time' appreciation and the emphasis on good paying jobs in Silicon Valley, it is apparent that the economy of the local area has a direct impact on the housing market.
Therefore read below on the current local economy to understand the risk of another recession.
Housing market predictions 2020
Experts believe the next recession WILL NOT resemble 2008, but many feel the pain of that blow still and are therefore concerned.
Today is not as risky as 2008 because we have:
QUALIFIED buyers getting 30 year low interest mortgages, not risky loans like pre Great Recession.
Low Home Sale Inventory - 2001 and 2007 both started out the recession with a sharp rise in home sale inventory
Low Unemployment - mid 2001 and late 2008 both show significantly higher unemployment.
CA Association of Realtors (C.A.R.) forecasts a 2.4 percent GDP by year-end (2019), an CA state unemployment rate of 3.7 percent, a 2.4 percent increase in real disposable income. By year-end, C.A.R. projects home sales will dip 4.3 percent, the median price will increase 4 percent, and the 30-year fixed rate interest will be at 4 percent. Read more details on the C.A.R. market predictions.
Economists interviewed stated "People are jittery, even with a strong labor market" yet "there are no obvious indicators to support a recession." (Leslie Appleton-Young, CA Assoc of Realtors Chief economist).
At this point, the local economy, state economy and real estate market are still healthy. It is a more affordable time than many recent years to buy in San Jose real estate market. Read on to be prepared in case these economic signs change.
How to Prepare for a Recession as a Buyer or Seller of Real Estate
How do you move on with the looming prediction of a recession and the unknown impact to the real estate market?
Selling soon?
If you are considering selling your property soon, CA Assoc of Realtors chief economist stated "It's just absolutely critical to price the property correctly, and by that I mean don't overprice it or you're going to be following the market down. The price strategies that worked in the market in 2017 don't work in the market in 2019." To understand how to price your property correctly, work with an experienced real estate agent in San Jose CA. A local expert will also tell you that today the condition of your property is critical to getting it sold as well.
Planning to Buy?
If now is a good time for you to buy financially, then jump in. Interest rates are extremely low and housing prices have softened from the peak in 2018. Now is a great time to take advantage of this extra affordability. Buying a property in San Jose is especially attractive if you still do not own your primary residence.
To protect yourself of what may come, make sure you have a stable fairly recession-proof job and a good down payment saved up. Buy for the longer term, not for instant equity. Interest rates today are attractive and there are many sellers who want to or even need to sell. Due to this you may be able to negotiate an attractive price. "If you are buying a home during a housing recession, getting a good price is just as important as being able to hold and ride out the housing recession." (The Balance)
How to know when the recession has hit
Using the indicators listed above in the recession history, watch the San Jose Real Estate market. Track home sale inventory, interest rates, local San Jose area unemployment rates and other real estate market metrics. Sign up for Homeowner Experience's monthly market watch email or reach out to discuss further.
Curious about housing price impact due to COVID-19? Read my updated blog post on this topic.