What Not to Fix When Selling a Home in San Jose
Posted by Theresa Wellman on Saturday, March 26, 2022 at 3:46 AM
By Theresa Wellman / March 26, 2022
Comment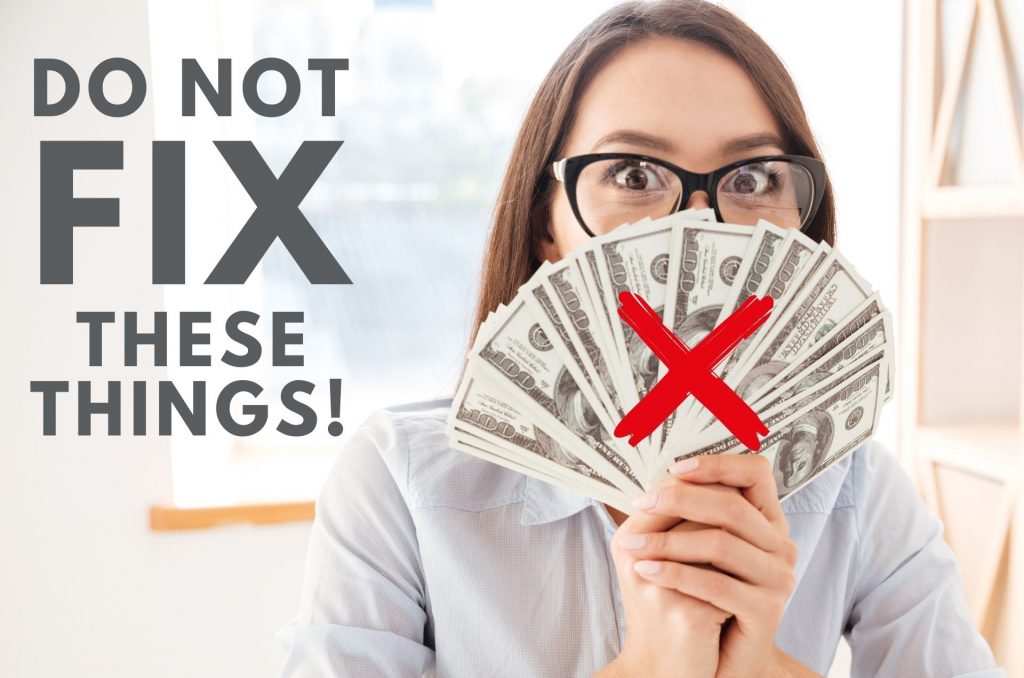 I often get asked, what should I fix before selling? However, not many realtors talk about WHAT NOT TO FIX when selling a house. No one wants to throw away good money by fixing things that won't add value or help you sell your home faster. With my 18+ years of real estate experience, I made a list of 10 items that I think aren't worth spending money on. Your ultimate goal is to yield a vast ROI as a home seller. Let's make that happen by going through this checklist.
Driveway And Walkway Cracks
Many older homes have cracked driveways and uneven surfaces in San Jose, California. Are you thinking of improving that because it is part of your entryway and curb appeal? Remember that hardscape is expensive, so fixing concrete or walkway cracks is not advisable.
Old But Functional Shower Or Tub
It makes sense to repair or update bathrooms if there's a leak. But if the shower or tub is in functional condition, you should not fix it. You can improve the accessories around that shower or bathtub, such as the vanity or light fixture, but don't dig into a big project like a shower or bathtub remodel.
Old Electrical Outlets
Homes in San Jose were built around the 50s, 60s, and 70s. Some of them don't have the three-pronged outlets or still have old almond-coloured light switches. I recommend not spending money on these little things. But here's a little tip for you: what you can do is if you've got old almond outlets, make sure you've got almond covers to match them, do not mix old almond outlets with a white outlet cover.
Window Coverings
Heavy curtains give quite a traditional look and may not suit everyone's taste or décor. The good thing is, you don't have to replace them, but you can simply remove them! It's good to let as much natural sunlight in the home as possible. Use sheer curtains for the windows where privacy is a concern like a bedroom window off the front porch, but otherwise leave windows without any coverings.
Updating Recessed Lighting to LED
Here's my advice for you: Recessed lighting is already considered an upgrade, so it's best to keep older recessed lights as is.
Major Landscape Work
Do not plan an overhaul of your yard for selling. A new landscape can be expensive so avoid too much work here. It is worth your money to spruce up your landscape by trimming to make it overall more presentable. Also, you should fertilize your lawn, add fresh mulch, and display fresh flowers that are inexpensive to make the landscape more presentable.
Front Door
You won't get ROI on a new front door. What you can do is to have someone paint it with fresh colour and replace the front door hardware to coordinate with the rest of your home for a fresh new look.
Fireplace
I've seen a lot of homes with outdated brick fireplaces. Do not cover up the old brick or paint the brick. Just update the fireplace screen and do your best to make it look presentable and ensure it coordinates with your home interior design.
Brick Planters, Patio, or Walkway
Brick especially on the exterior is a little bit outdated, but what's more important is that everything coordinates. I challenge you to work with an exterior house color and other exterior surfaces that blend with the brick. Check out one of my videos on YouTube about Selling a Home in San Jose that Led to 10x Return!
Replacing Carpet with Hardwood or Solid Flooring
If you've got carpet that's worn or dirty, it either needs a deep clean or a replacement to a basic carpet. Paying extra to put a laminate or hardwood flooring doesn't guarantee ROI. Buyers are eventually going to replace it with their preferred flooring anyway.
Do you want to get more money out of the sale of your home? A clean and prepared property not only helps you sell it for top dollar but can also make a considerable difference in the time it takes to sell it. How do you get there? What is worth the money and effort? Check out my YouTube video about 8 Improvements to Add Value to Your Property. You can also download a FREE copy of Preparation Tips to Maximize Property's Value. If you have more questions, set up an initial conversation with me about home selling in San Jose!