AREA LOCATION: Blossom Valley San Jose is located Northeast of Almaden Valley, just over the East side of the Los Capitancillos Ridge. This more affordable area contains smaller homes typically 1000-1800 sqft with some larger homes in newer developments. There are 2 sections, 95123 mostly on the south side of Highway 85 and 95136 - north side of Highway 85
Blossom Valley borders are Monterey Rd (North), Almaden Expressway (West), Coleman Rd-> foothills (south) and Cottle Rd (East)
LOCAL HOME SPECIFICS: smaller homes typically 1000-1800 sqft single story with a few 2-stories around 2000 sqft (especially in the North section-95136)
PRICE RANGE: $900,000 - $1.4M+
Search the MLS for Blossom Valley homes
AREA DESCRIPTION: Blossom Valley is a southern San Jose neighborhood offering relaxing views of the foothills and convenient access to highway 85, 87 or 101. Named Blossom Valley due to the area's history of fruit orchards in the 1940s, this area was built into homes in the 1960s and 1970s. The suburbia feel of the neighborhood and lower prices makes it a great place to buy your first home. Blossom Valley Neighborhood Association hosts many events throughout the year for fun around holidays such as 4th of July. This neighborhood association is volunteer based and coordinates service projects to maintain the community including routine projects such as making sure the dog bag stations are stocked at local parks. This BVNA group keeps in contact with residents through its Facebook page.
Why Blossom Valley San Jose?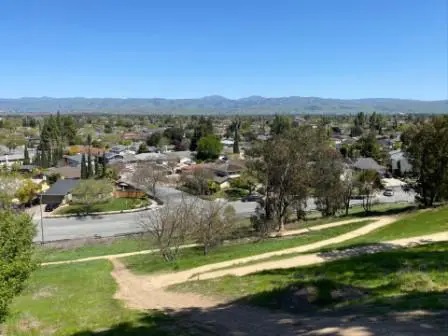 Blossom Valley is a wonderful community with more affordable homes and good public schools. Many people love this area as it is far enough away from downtown San Jose and tech companies to feel like its own world, yet easily accessible via freeways. Once you are home in the evening or weekend, you don't need to leave Blossom Valley due to many shopping and recreation options in the immediate area.
Outdoor Recreation Options
Located near the foothills, many convenient hiking opportunities exist. Visit Foothill Park, Santa Teresa County Park and walking trails at Martial Cottle Park. There are also many city parks that allow interacting with the community and enjoying the San Jose area weather. Rancho Santa Teresa Swim and Racquet Club as well as Boulder Ridge Golf Club offer many other recreation opportunities with membership.
Blossom Valley Shopping
The main shopping area in Blossom Valley is Westfield Oakridge Mall which includes a large Target, and many restaurants. Several other local shopping centers are speckled throughout the area with the next largest located at Cottle Road and Great Oaks Parkway. Drive down Blossom Hill Road and you will find many other shopping areas located very convenient to the housing in Blossom Valley.
SCHOOL DISTRICTS: San Jose Unified and Oak Grove Elementary District with East Side Union High school district
Oak Grove Elementary School District
(lookup which property address goes to which school or see a map)
East Side Union High School District
Blossom Valley Homes in SAN JOSE UNIFIED SCHOOL DISTRICT (lookup property addresses here):
Take a look at the properties available in Blossom Valley and review the Blossom Valley market stats. Contact us to setup a personal buyer consultation.