The San Jose Housing Market follows a traditional spring-to-fall sales cycle with peak closed sales in early to mid-summer (May- July). San Jose's 10-year average is about 450 sales per month with the summer peak month near 600 homes. Scroll down for this month's San Jose housing statistics and a chart of the San Jose house price trend.
The analysis of the San Jose housing statistics on this page includes the fourth quarter (October thru December 2022) and San Jose Housing market data is updated each month at the very bottom tables and charts. Next update in April with closed sales numbers through March 2023. Listen to the video below for a monthly update.
How has the San Jose Housing market performed over the last several years?
With the extremely low, unprecedented San Jose housing inventory levels experienced in all areas of San Jose in late 2017 and early 2018 (see the yellow line in the chart below), most areas and properties for sale experienced multiple offers. The competitive buying a house in San Jose environment spurred a quick increase in average house prices in San Jose California. The San Jose house price trend peaked in May 2018 and then softened quickly in the later part of 2018 due to the return of more normal inventory levels and an increase in interest rates.
Spring 2019 in the San Jose Housing market started off as a typical sales season with ramping San Jose housing inventory, sales and increasing prices. In April 2019, inventory continued to increase as usual, but sales slowed down to the lowest number for April since 2008! As a result of the market changes in 2019 and a rebalancing of the unusual activity from 2017 and 2018, prices returned back to levels similar to those seen in the Fall of 2017.
2020 started off as an extremely healthy market with low San Jose housing inventory (see yellow inventory line in chart) and strong number of home sale closings in February, March and April. But the effect of Shelter-in-place due to the COVID-19 pandemic (which started locally on March 17, 2020) showed up in the April pending sales numbers and then in the May San Jose home sales. May 2020 pending sales were back to normal seasonal levels and actually continued strong through the rest of 2020.
The strong demand seen in the Summer of 2020 continued through 2021. In 2020 there was a total of 4,529 single-family home sales. In 2021, sales were up to 5,672 (25.2% higher!). While the San Jose Housing Market experienced more sales than usual, the San Jose Housing inventory in 2020 and 2021 was at a record low, similar to the market of 2017. (Note the reverse of the yellow inventory line and green closed sales bars on the chart).
2022 started off with exceptionally low San Jose housing inventory, but a contrasting high demand - largely fueled by record-low interest rates making affordability easier. Many San Jose homes sold after multiple offers, including some updated properties which received over 10 offers! As interest rates increased midyear and the stock market saw huge declines, overbidding quickly disappeared and the San Jose house price trend reversed (overbidding peaked in March at 18% over asking price on average to 0% over asking price in August 2022). The 2022 autumn season in the San Jose Housing Market closed with 803 sales from October to December. The last quarter of 2022 sales were much lower than the same months in 2019 which sold 1126 single family homes.
Want to follow the San Jose housing statistics each month? Signup for the local San Jose Housing Market Newsletter.
For other San Jose Neighborhoods and their specific area statistics, visit those pages: Almaden Valley, Blossom Valley, Cambrian.
For a historical view back to 2000, visit the Santa Clara County Market Stats page.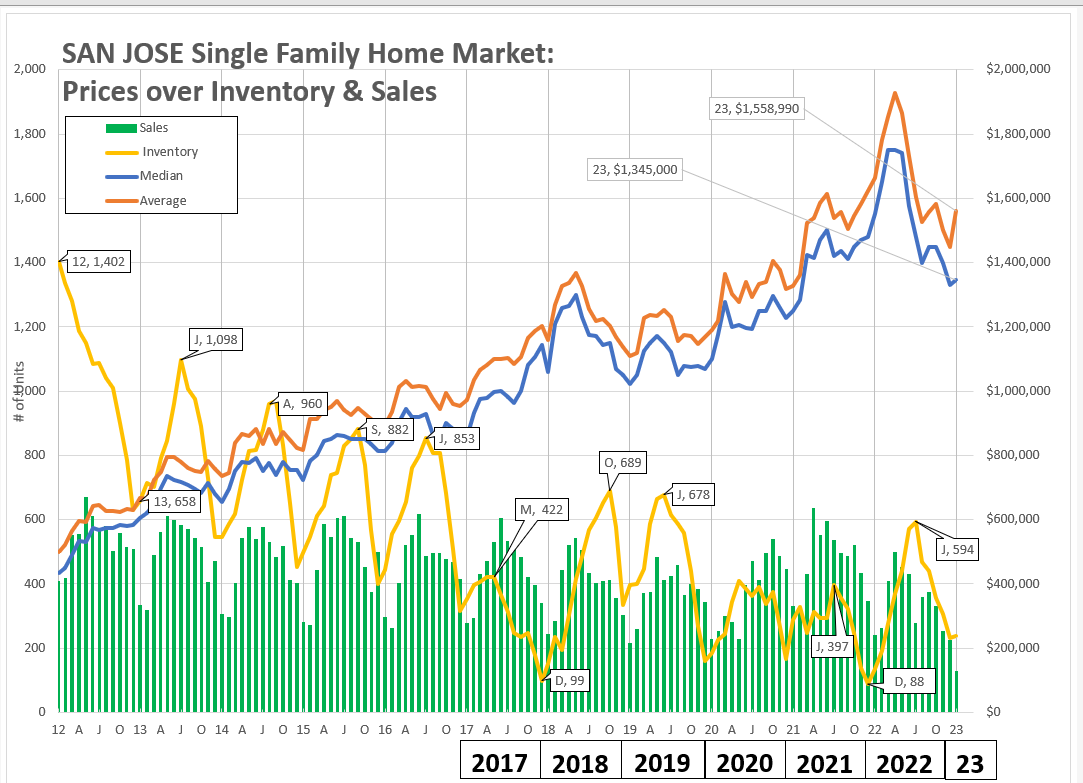 What are current San Jose housing statistics and home prices?
The average San Jose home sales price in January 2023 was $1,558,990. The January 2023 median price for Homes for Sale in San Jose was $1,345,000. Homes closed this month closed below list price, with the average sales price to list price ratio of 98.7% Compared to the San Jose housing statistics of the pre-pandemic market, sold home prices from January 2023 have appreciated 22% (Median price $1,100,000 in January 2020)
For current month housing market statistics and metrics, review the data below or watch the monthly San Jose Housing video update or find our what is your San Jose home worth?
Want these San Jose housing statistics sent to you each month? Signup for the local San Jose Housing Market Newsletter.
Which direction is the San Jose House Price Trend?
Young Millennial homebuyers are aging into buying a house and ready to find their own place, yet low inventory continues to be a challenge with homes for sale in San Jose.
With current interest rates over 6%, there are many buyers finding home prices less affordable. Though the current San Jose home sales prove that some buyers can still make the numbers work. The local San Jose housing market has always been fueled by tight inventory and today this still applies. While buyer demand is not as strong as in the Spring of 2022, prices and other market metrics are showing signs that the market has settled into a new normal.
Days of Inventory (DOI) is a monthly metric I follow to understand the speed and direction of the local market. As of January 2023, the DOI in San Jose is at 57 days, still considered as a good sellers market. Until there is a significant increase in San Jose housing inventory, I expect prices to continue to hold strong despite rising interest rates.
My prediction for 2023 is price appreciation of about 3% due to the low inventory or likely to improve interest rates going through 2023.
What is the San Jose Housing market outlook?
The overall trend of the San Jose Housing market is positive moving forward. San Jose is still one of the most affordable areas of Silicon Valley and is home to a revamping downtown. The market is currently fueled by good home buyer demand especially by young buyers who are aging into homeownership. The lack of San Jose housing inventory, in a historical perspective, combined with various home loan options to make interest rates more palatable (such as 7-year ARMs), is keeping the local San Jose housing market balanced.
The single-family San Jose housing inventory in January 2023 was 243 homes, a low number for the area which will continue to keep the San Jose housing market slightly tilted toward a sellers market (January 2023 inventory is 48.2% higher January 2021, but lower than January 2019 (398), and still lower than the 10-year San Jose average January inventory of 354).
Will the San Jose housing inventory increase in Q1 2023? Seasonally home inventory (yellow line on chart) does increase through mid summer yet 2023 inventory may remain low as many homeowners are rated locked from their refinance over the last few years. Out in the field we are seeing sellers who are relocating to a retirement home or making big life changes, but very few move up buy/sell clients.
Stay tuned with San Jose Housing monthly updates by watching my San Jose Housing Market update videos or by Signing up for the local San Jose Housing Newsletter.
This article is updated once a quarter (next update is mid-April 2023 with data through the end of March 2023).