AREA LOCATION: Central section of San Jose, just Southwest of Downtown San Jose district. Bordered by highway 280 (North), Highway 87/Almaden Exp (East), Hillsdale (South), and Highway 17/Bascom/Campbell border (West)
LOCAL HOME SPECIFICS : homes of unique character built over a large span of years as early as 1910. Homes range from 2 bedroom bungalows to large rebuilds.
PRICE RANGE: $1M to $2.5M+, see Willow Glen San Jose market trends
AREA DESCRIPTION: Willow Glen San Jose is centered around the attractive downtown section on Lincoln Ave with the most valuable properties located walking distance to this "small town" downtown area. Great restaurants and boutique stores on the main street of downtown and local festivals hosted by the area's business association. Gorgeous tree-lines streets and city parks with a very convenient proximity to major highways and downtown San Jose.
Why Willow Glen San Jose?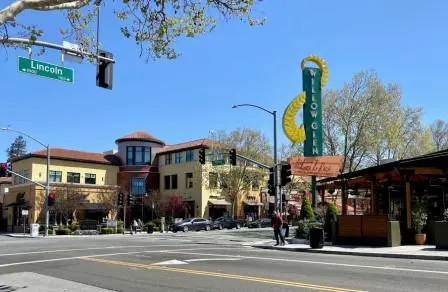 There are many reasons why Willow Glen is a great place to live, including the central location! Willow Glen feels like it is the heart of it all with easy access to several highways and downtown San Jose CA. The quaint downtown is a wonderful community gathering place and a fun spot for evenings and weekends to enjoy boutique shopping and amazing restaurants. You will notice that homes in this area are all unique. If you are looking for a cute bungalow, sprawling ranch home or large newer built-property, you can find it all in Willow Glen!
Outdoor Recreation Options
Willow Glen has many city parks. My favorite park is Willow Street Frank Bramhall Park at Willow Street and Hicks Ave. This large park has an expansive grassy area, fun playground, tennis courts, baseball field and surrounding ranch style homes. Another popular park is River Glen Park. Throughout Willow Glen streets, you will notice many people walking around for fresh air and exercise. Also Willow Glen High school track is busy on the weekend with people out exercising.
Willow Glen Shopping
Shopping in Willow Glen is focused around the downtown section of Lincoln Ave. People who live in Willow Glen also enjoy shopping and dining around Meridian Ave and Hamilton Ave intersection and travel to nearby Pruneyard shopping center.
SCHOOL DISTRICTS: San Jose Unified, Campbell Union and Cambrian Union School districts
San Jose Unified - includes most of the schools in Willow Glen (see map or lookup property addresses here):
Includes:
WILLOW GLEN AREA:
Campbell Union Elementary District:
Lookup addresses and school websites here
Cambrian Union School District: The below schools service edges of the Willow Glen Area
Take a look at the properties available in Willow Glen and review the Willow Glen market stats. Contact us to setup a personal buyer consultation.